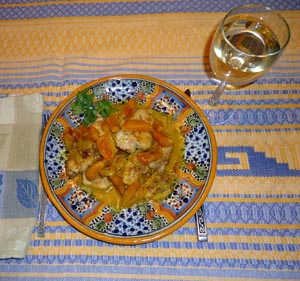 Many years ago, our intrepid little band of gypsies became hopelessly lost on a trip through what was then relatively undeveloped Baja California. Too dark to be on the road, and too late to find accommodations, the situation called for some ingenuity, and we got permission from a farmer to park our van alongside his vineyard for the night.
Awakening to a misty dawn in the Valle de Santo Tomas, we were greeted by cool air, subtle sea breezes, and the sight of row upon row of deep green vines, laden with grapes that would become Mexican wines. This rustic valley would one day be part of the Ruta del Vino, the Baja wine country that is now a popular travel destination, with dozens of wineries, bed and breakfasts, crafts boutiques, and world class restaurants.
Although the Vendimia, or wine festival, is celebrated in Baja in August, the upcoming holiday season, a time for toasting, seems like a good reason to talk about pairing wines with regional Mexican dishes. Holidays are occasions for proudly serving the best family specialties, from the elaborate stuffed turkey of Veracruz, with its characteristic Spanish flavors of olives, almonds and raisins, to Yucatan-style marinated quail, flavored with the local recado, or seasoning blend.
Although other areas of Mexico, including Aguascalientes, Sonora, Coahuila, Durango, Zacatecas and Queretaro, also produce wines, 90% of the country's wine is from Baja California. Table grapes and raisins account for some of Mexico's grape harvest, with 60% of it going toward making wine, and we'll take a look at which wines pair well with different Mexican dishes. But first, a little history.
A small, acidic grape, called acacholli by the Aztecs, was used in pre-Colombian times to make a beverage with honey, but there was no wine making as such. In 1524, Hernan Cortes, then Governor of New Spain, ordered colonists to plant a thousand feet of vines for every 100 indigenous inhabitants of each tract of land granted by the Spanish crown under the encomienda system. Grapes were also cultivated by the missionary friars, who needed wine to celebrate mass. Wine production in Mexico was so successful that the Spanish crown ended up forbidding the cultivation of wine grapes, concerned that it would compete with Spain's own production.
The missionaries, however, continued to plant wine grapes, which thrived in Mexico until the late 19th century, when a large number of vineyards were attacked by phylloxera, aphid-like insects that feed on the roots and leaves of grape vines. This, coupled with the devastation caused by the 1910 revolution, drastically limited the country's wine production, which partially recovered in the 1920s-'40s, but was again adversely affected in the 1980s, when a trade agreement permitted more imported wine.
Despite its roller coaster history, wine making in Mexico has increased and even flourished in the 21st century, gaining popularity in both Mexican and international markets.
Wine, with its complex, multi-layered flavors, is a natural accompaniment to Mexican food, which is itself the result of an elaborate blend of flavors. Different regional dishes of Mexico, each characterized by its own combination of herbs and spices, are complimented by different kinds of wine.
The crisp flavors of vinegar- marinated dishes, such as Yucatan's escabeches or the Italian-influenced rabbit with fresh herbs of Chipilo, Puebla, are best accompanied by a clean-tasting sauvignon blanc, whereas a cabernet can stand up to a rich, dried chile-based dish like Oaxaca's mole colorado. A full-bodied zinfandel is a match for the totol, or holiday turkey, served in Veracruz, and the deep, distinctive flavor of food cooked with achiote is well-matched with a petite sirah.
The old red-wine-with-meat, white-wine-with-fish rule went out the window a long time ago, and diners today tend to drink what they prefer, and look to the character of a dish when choosing a wine pairing. Is the dish earthy? Fruity or tart? Light or heavy? Citrusy or sweet?
Following are some suggested wine pairings with regional recipes from Mexconnect. Have fun exploring, tasting, and trying different pairings of your own.
Serve a petite sirah with
Steamed turkey in Mexican achiote sauce: Pavo al vapor en recado colorado
Duck in Mexican red pipian sauce: Pato en pipian rojo
Serve a cabernet with
Mexican huazontle tart with pasilla chile: Tarta de huazontle with pasilla chile
Mexican beef chichilo by Pilar Cabrera: Chichilo de res por Pilar Cabrera
Serve a zinfandel with
Mexican winter fruit mole with hazelnuts: Manchamanteles con avellana
Mexican stuffing for Christmas turkey: Relleno para totol de Nochebuena
Serve a chardonnay with
Aguascalientes style chicken with fruit sauce: Pollo de Aguascalientes
Mexican pork tenderloins with guavas: Escalopas de cerdo con guayabas
Serve a sauvignon blanc with
Rabbit with wine and herbs: Conejo con hierbas de olor
Yucatan style quail: Codorniz a la yucateca
Serve a Riesling with
Stuffed poblano peppers: Chiles rellenos
Fish filets in Mexican hoja santa: Filetes de pescado en hoja santa
Published or Updated on: November 22, 2012