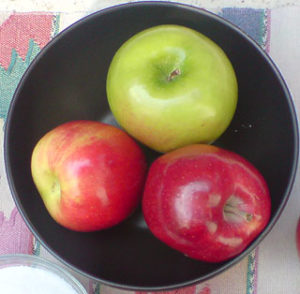 This is a beautiful fall entrée, and goes well with a simple side dish like puree de papas or white rice.
Ingredients
1 4-pound boneless pork loin roast
3 cloves garlic, minced
1 teaspoon dried thyme leaves
1 teaspoon salt
½ teaspoon freshly ground black pepper
1 tablespoon butter
1 tablespoon olive oil
3 large, tart apples, peeled, cored and cut into thin crescents
1 medium onion, sliced into thin crescents
½ cup dry white wine
1 cup unsweetened apple juice or cider
Cut the roast lengthwise, almost to the bottom, but do not cut all the way through. Open the roast like a book.
Mix the garlic, thyme, salt and pepper. Rub this mixture onto the cut sides of the roast.
Heat a large skillet with the butter and olive oil. Sauté the apples and onion until soft. Spread them on one cut side of the roast, fold the other side over and tie the roast with kitchen string at 2 inch intervals. Do not wipe the sauté pan.
In the same pan used to sauté the apples and onions, sear the roast, turning carefully to sear both sides to a golden brown. Place the meat in a roasting pan. (If a bit of the filling falls out, tuck it around the roast.)
Deglaze the sauté pan with the wine, reducing it to half. Add the cider, scraping up any brown bits from the pan. Pour the pan liquid over the roast.
Roast in a preheated oven at 400 degrees F until a meat thermometer registers 160 degrees F. Baste from time to time with the pan liquid to keep the meat from drying out. Serves 10.
Link to Source Article
September in the Mexican sierra: an abundance of apples
Published or Updated on: September 19, 2009