Lake Chapala: A Postcard History
Tony Burton. Sombrero Books, 2022.
Available from Amazon Books: Paperback / Kindle
Tony Burton's most recent book, Lake Chapala: a postcard history, is an interesting pictorial romp through the Lake Chapala area from just before the twentieth century to about 1960. Over 150 postcards mostly taken from Burton's private collection give a broad overview of what life was like around the lake from the time when the stagecoach and river boat were the only way to reach the area to when the railroad and the first paved roads opened the region to the world.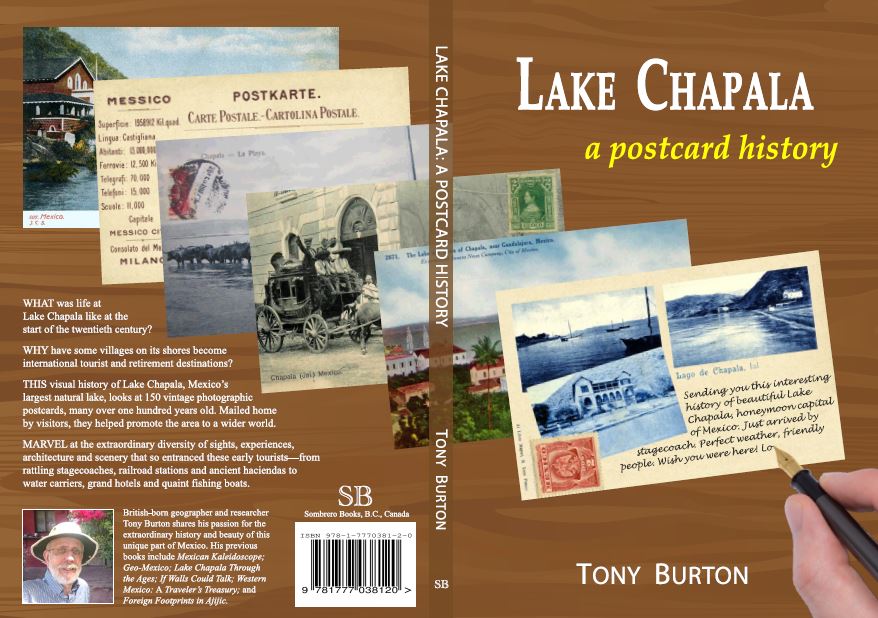 These postcards are a collector's treasure and valuable keepsake, their function since replaced by the digital camera and cell phone. As I looked at each of the postcards, I could feel myself being carried back as though in a time machine. There is something magical in looking at old postcards. Age gives them the same patina one feels looking at old photographs. Back then it was mostly friends and family sending home postcards that exposed us to the wonders of parts of the world we didn't know. Photographs were more expensive, had to be sent to a lab to be processed, and often only took in the traveler but not the ambiance.
MexConnect is reader-supported. Purchases made via links on our site may, at no cost to you, earn us an affiliate commission.
Learn more.
Postcards were an inexpensive way to be exposed to the landscape and daily life of another culture without the sender being center stage. At the same time, they kept us in touch with friends and family without having to say too much, giving us more time for exploration and amusement. For those of us growing up in the time of postcards, there's a nostalgia that comes with viewing them in Burton's book.
The book is divided into eleven chapters, each dealing with a different period of the history and taking us over a wide area around the lake. Fortunately, two maps have been included so that I could situate each of the villages in the postcards since I hadn't traveled to all of them during my stay in Ajijic. Another plus with having a map is that when I return to Ajijic, I am now motivated to visit villages I hadn't been to before. Also, knowing some of the history of a place before traveling there is a bit like visiting an old friend one hasn't seen in years. The familiarity lends itself to a comfort level that increases the pleasure.
The first postcard in the book is from a photograph that dates the image between 1896 or 1897, though it was published in 1901. It's the waterfront in Chapala that is almost bare of buildings except for the Hotel Arzapalo, Casa Capetillo, Villa Tlalocan and the Villa Josefina. The mountain is prominent in the background as are the fishermen along the shore. The change along that waterfront today is striking. Many of the postcards show that evolution from small fishing villages to sophisticated and architecturally elegant buildings—mostly in Chapala due to the influx of high society vacationers from Mexico City and wealthy foreign residents who came and then stayed, enthralled by the lakeside's quality of light, weather and vegetation.
One of the more engaging features of the book is the historical stories told along with the postcards—many of which I hadn't known before. Hotel La Quinta in Jocotepec is one example. It opened its doors to visitors in 1824 and by 1970 was billed as "the oldest public hostelry in continuous operation in Western Mexico." The hotel was s typical adobe building with a tile roof, shuttered windows and wrought-iron work. It was built one room deep around three patios. You entered through a tropical garden filled with banana and orange trees. Bougainvillea and geraniums filled the patio. Famous international writers and artists stayed there as well as many dignitaries. The magic of Burton's description makes me wish I had been there before the building fell into disrepair to be remodeled into a discotheque in the mid-1980s. In the 1990s the building was demolished. I wish I had been there when it reflected so much of the beautiful craftsmanship and flowering gardens that makes living in Mexico so splendid. It's now just a memory of a time that is frozen inside a few surviving postcards.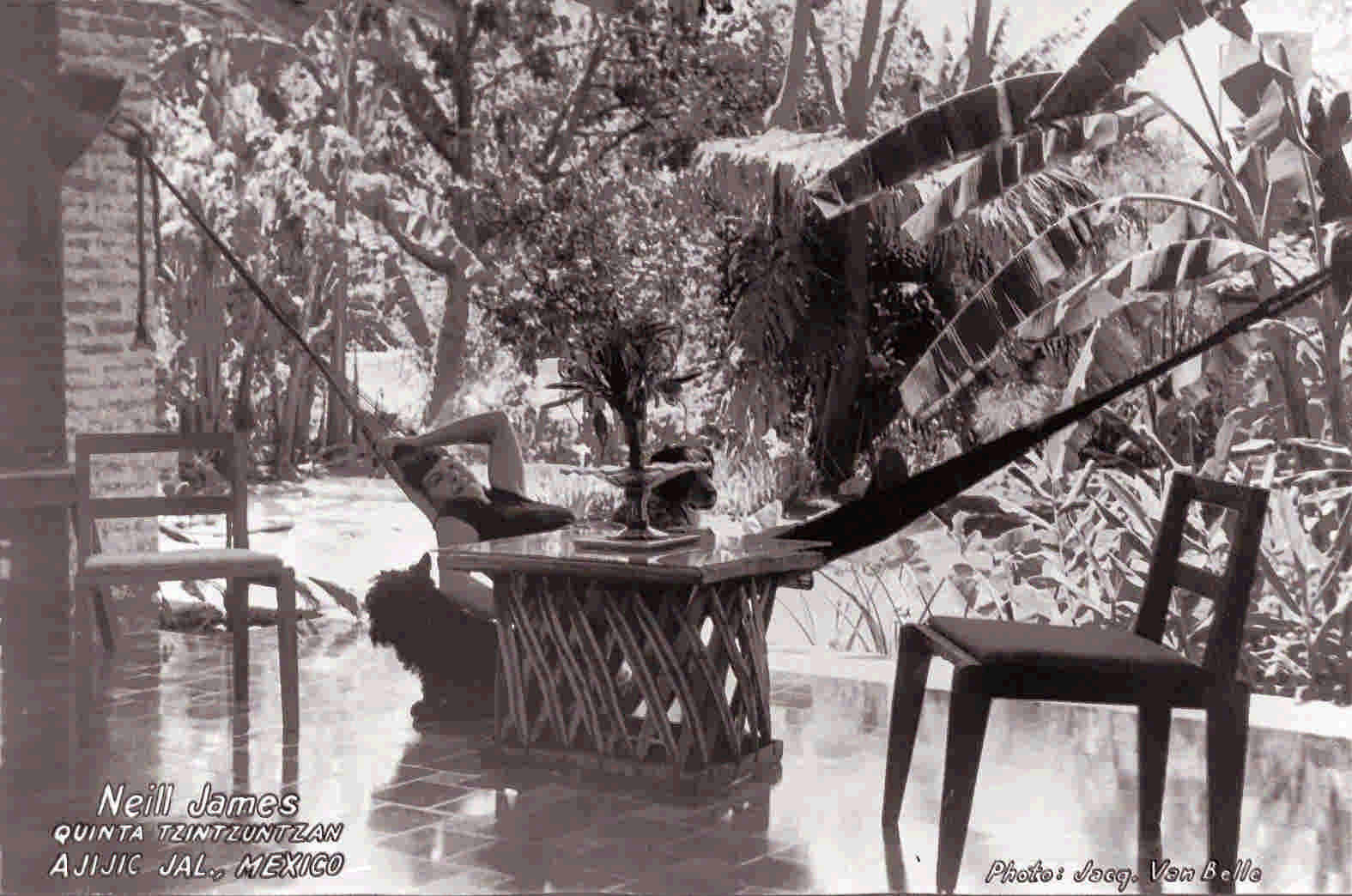 Another story that caught my interest was that of Neill James. Though I already knew the story of Ms James, the postcards reflecting scenes from her life brought the reality of her contributions to Ajijic closer in awareness. There's a postcard of Ms James in her hammock, another of her beekeeping enterprise, and another of a local woman spinning strands of yarn for one of her looms. A postcard of Ms James entertaining guests at her home was particularly evocative. That she left this property to the Lake Chapala Society was a gift to the community that keeps on giving.
A visual delight in this book is to peruse the many types of boats that at one time were the only transportation in and out of the area. The lake had been a vital link connecting central Mexico to Guadalajara. "Local-craft criss-crossed the lake every day ferrying all manner of goods and provisions from one small port to the next." There were fishing skiffs, flat-bottomed launches, row boats, sail canoes, and eventually paddlesteamers. The lake canoes with their huge sails were quite elegant, as noted in one of the photographs, and must have been a beautiful vision skimming the lake on a breezy day. Along the beaches firewood was stockpiled to supply the large paddlesteamers.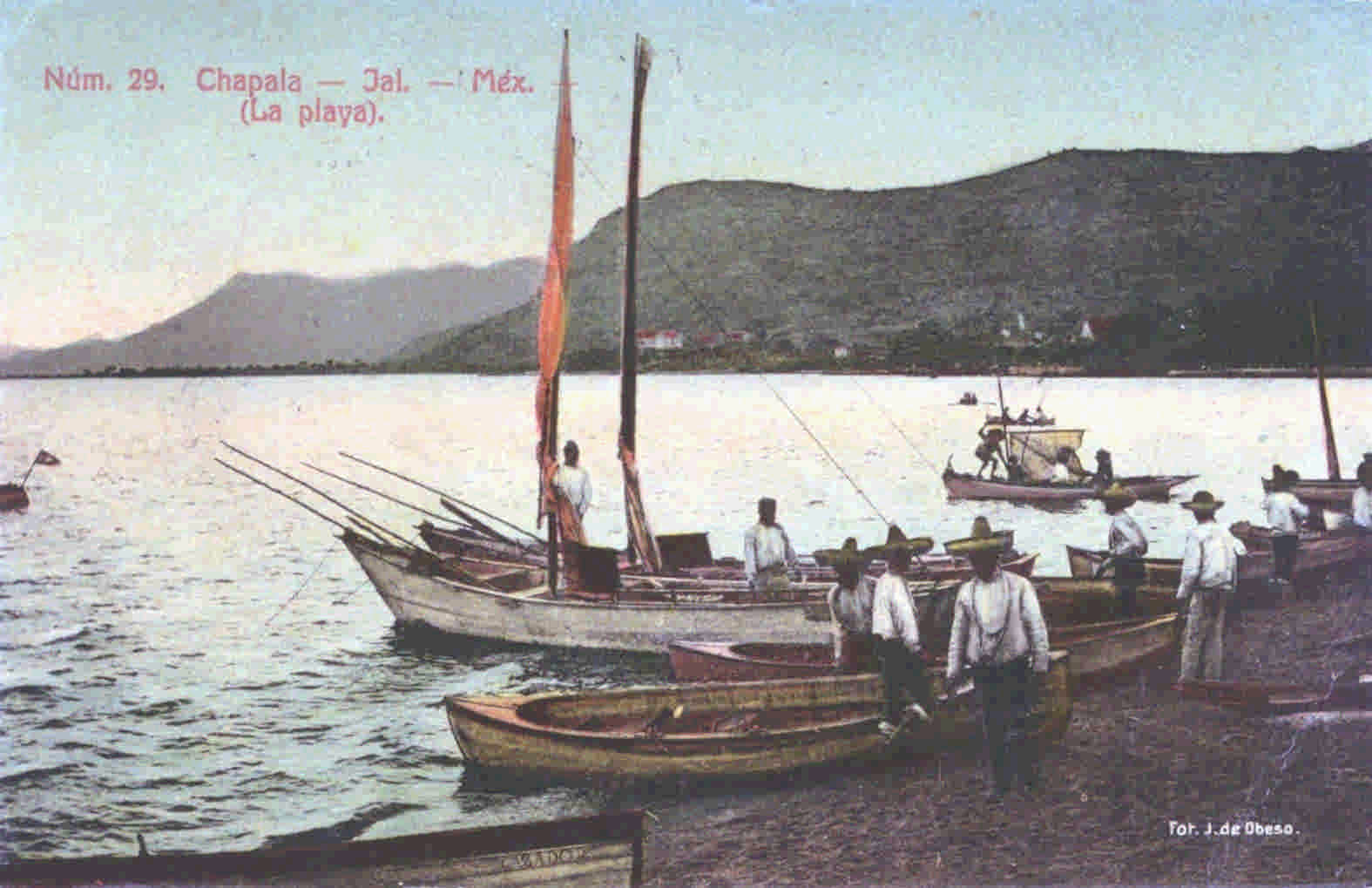 I learned that the first steamship was commissioned in 1866. It was built in San Francisco, disassembled, brought to San Blas, and then carried over the mountains on donkeys to Chapala for reassembly. It was the first iron steamship ever built in California, and was seventy-five feet long. It offered regular sailing from Chapala to La Barca, Ocotlán and Jamay every Saturday, returning the following Monday, and was called the Libertad. It capsized in 1889 while approaching Ocotlán taking the lives of 28 passengers. The story is that the people aboard were having too good of a time and moved to one side of the boat unbalancing it, causing the accident.
Although I arrived too late in its history to see the lake dotted with all manner of vessels, the postcards bring me back to the time, and I can imagine what it must have been like. It's no wonder so many were attracted to this area long before I discovered it.
One of the things that surprised me when I first arrived in the lake country was the stately and architecturally sophisticated homes along the Chapala waterfront. It's not common to see buildings of that caliber in a small fishing village. Burton's postcards show an array of these houses as they came to be built. Each house has a story, and the stories bring the houses alive. That includes the histories of the hotels that sprang up in the town. Once you read about the background of these places, your appreciation of them is enhanced. I look forward to my return to Chapala with this more enlightened appreciation. It does make a difference to have some knowledge of what one is looking at whether it's a painted postcard or photograph of a place. Each anecdote that accompanies a card beckons me to return.
Lake Chapala: a postcard history is well-researched and enlightening. It brings alive for us a greater appreciation of the small towns along the banks of Lake Chapala, and should be on the book shelf of everyone who lives in the area. The book is 139 pages and beautifully designed with photographs of the postcards on every page—sometimes two on a page. Each postcard comes with a story. Pictures ground the imagination and at the same time expand it. Burton's book makes me nostalgic to return to the lakeside, but with a greater appreciation of its offerings than when I lived there before.
Tony Burton's Lake Chapala: a postcard history is a gem of a book and a gift to anyone living in proximity to the lake.
***
Lake Chapala; A Postcard History is available at Diane Pearl's in Riberas; Hotel Villa QQ in Chapala; at La Nueva Posada, Mi México and Ajijic Museo de Arte (all in Ajijic); and via Amazon (both print and Kindle editions).
Published or Updated on: August 1, 2023