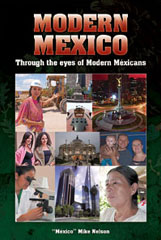 By "Mexico" Mike Nelson
The University of Texas-Pan American Press
Edinburg, Texas 2010
Available from Amazon Books: Paperback
MexConnect is reader-supported. Purchases made via links on our site may, at no cost to you, earn us an affiliate commission.
Learn more.
"Mexico" Mike Nelson writes a working-man prose, sturdy, usually direct, often repetitive, sometimes rambling… but usually interesting. I like his books and have found them useful, and I particularly like the "human touch" that is one of Mike's trademarks. Mike is what my mother would have called "a good soul."
To write Modern Mexico: Through the Eyes of Modern Mexicans, Mike talked with lots of people: "There are roughly thirty people in this book. I interviewed at least one hundred." The people live in towns like Tijuana and Ciudad Juarez in the north and Puerto Escondido and Cozumel in the south, and towns in between like Oaxaca and Quéretaro and Morelia and Guadalajara and Mexico City.
On the opening page he makes his purpose clear: "…most Mexicans don't live on dirt farms, wear sombreros and eat only beans and tortillas. Most Mexicans stay in Mexico because they think the quality of life is better than in the United States. … These are their stories." He promises us his book will not be a "rosy picture of all things Mexican. I let the Mexican people tell their stories, the good, the bad and the ugly."
Who are some of the people we meet in Modern Mexico?
Laura Escobar is "part of the new breed of Mexican woman who does not need a husband to be fulfilled." Laura is 49, divorced, with two daughters 19 and 13; she lives in Querétaro where she is a realtor. We also discover that women have a lot more choices in modern Mexico than they had in the past, and that for office positions, "Women are hired over men because they are perceived as being more efficient…." "In lower-level jobs, women are also preferred as clerks or cashiers because they are considered more honest."
A question Mike asks interviewees throughout the book is, "what makes you middle class." Some answer by saying when you can afford a maid you are then middle class. Laura's response, a common one, is monthly income between $10,000 and $20,000 pesos, roughly $1,000 to $2,000 USD per month.
Luis Miguel López Alanís, "a thoughtful, introspective middle-aged man," is a tour operator in Morelia. And, as in other interviews, Luis Miguel talks about family life: "My own family goes to the market to buy fresh things. We eat almost nothing coming from cans. … When we are home, we turn off the TV and we talk at the table."
Rodolfo Reyes — Rudy — is a Nahuatl Indian. "Mexico" Mike notes that "I've known Rudy since neither of us had grey hair." They have each helped each other throughout their lives… when "Mexico" Mike lost his job writing guidebooks he almost moved to Rudy's tiny town of Tamazunchale in San Luis Potosí and, when floods destroyed lots of homes in Rudy's area, he asked Mike for help. One of the things I like in Mike's writing is the introduction of the personal, illuminating and strengthening his observations.
Another chapter is about "William Bussear, Quadriplegic by Accident, Mexican By Choice and Marriage, Isla Aguada, Campeche." This chapter is Bill Bussear telling his own story, his injury while in the Marine Corps, and after more than a year in VA hospitals his trip to Mexico with two buddies, where he was immediately accepted by the Mexican people.
Bill's experience:
"I want to emphasize that Mexicans are always ready to assist someone who is disabled. It is amazing how when you need to go up some steps, two Mexicans come to help you and that attracts others. Soon, you are being carried up the steps by eight strong Mexicans and everyone is laughing and having a good time. They will also tell you that when you want to go down the steps they will be there to help you. When you are baptized in that kind of humanity, it is extremely difficult to go anywhere else."
Bill's Mexican wife Thelma was born in the jungle at San Manuel, Tabasco, Mexico. Her father, incidentally, after a canoe accident became a quadriplegic. And Bill says, "Before you ask the question I think I should answer it. Yes, she does think that it is more than a coincidence that her father became a teacher and then a quadriplegic and died in the water. I became a quadriplegic, lived through the water and became a teacher."
José Sanchez, after working illegally in the United States for several years, returned to help out on his father's ranch and do contracting work in Nuevo Ideal, a small town in the northern part of the state of Durango. He met up with Mike in a restaurant run by Mennonites ("a whole 'nother story'"), where he talked about life in the US and in Mexico: In the US, "in all the jobs I worked, I never saw an American trying to get it." José remembered talking with the guys who worked at meat packing plants. "¡Ay caramba! That is an ugly chamba (job). Americans would come, last two days and quit. Only the Mexicans and the Central Americans would keep doing it."
José was not deported. He came home simply because he was "tired of living up there." Mike asked him whether he would go back to the States to work if he had a chance. He told Mike he was doing well in Mexico. "By US standards, this would be a poor neighborhood. But in the US, people would feel poor and act poor. Here, people are proud and are happy. That's a big difference. We don't expect our government to take care of us. We take care of ourselves, our families and our neighbors."
In Modern Mexico, you'll also get to know a hotel desk clerk who makes $7.50 USD a day and owns a three-room apartment; a mid-level state politician who talks candidly but anonymously about the realities and challenges facing Mexico; a traffic cop turned real estate magnate in San Miguel de Allende; a physician who moved from McAllen, Texas, back to her home city of Guadalajara bringing with her over 200 cats, dogs, horses and goats she had rescued; a medical doctor in Ciudad Juarez with roots both in Mexico and the US. And many more.
Well, there you have it. Mike writes, this is "a glimpse into the Mexico and the Mexican people that I know and love." If you are fascinated by Mexico and its people, buy this book.
Published or Updated on: May 6, 2011