We take the coastal road south as it winds through the tree-covered Sierra Madre del Sur mountains and past vistas of the blue waters of the Pacific far below, traveling to Zihuatanejo, pronounced Zi-Wat-En-Ay-O, as anyone who has ever heard the song of the same name knows. Often called Zihua for short, the name comes from either the Nahuatl word "Zihuatlan" meaning "land of women"or from the Purépecha for "water of the yellow mountain."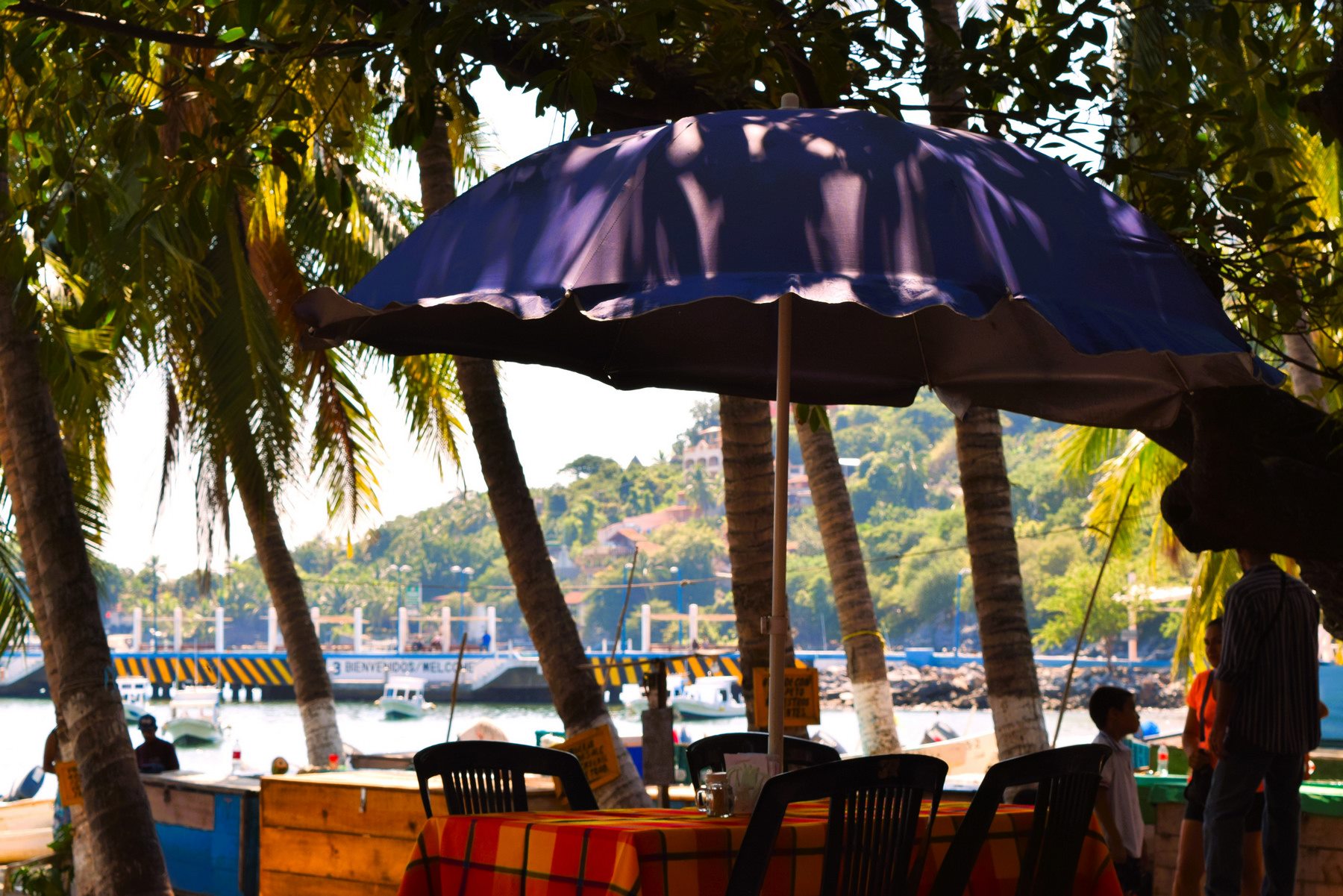 MexConnect is reader-supported. Purchases made via links on our site may, at no cost to you, earn us an affiliate commission.
Learn more.
Though it's part of Ixtapa-Zihuatanejo—the fourth-largest city in Guerrero and the third most popular tourist mecca in Mexico after Cancun and Puerto Vallarta—somehow Zihua has retained the vibe of a small fishing village.
Arriving at the Playa Principal in the area of town known as El Centro fronting Bahia de Zihuantanejo, it's all colorful small fishing boats bobbing in the water, cobblestone or brick streets, small family-owned shops, sandy feet, fishermen unloading the morning catch, coconut palms brought by Spanish explorers from the Philippines centuries ago, families picnicking, and pangas available for rent to cruise the bay and connect to nearby beaches.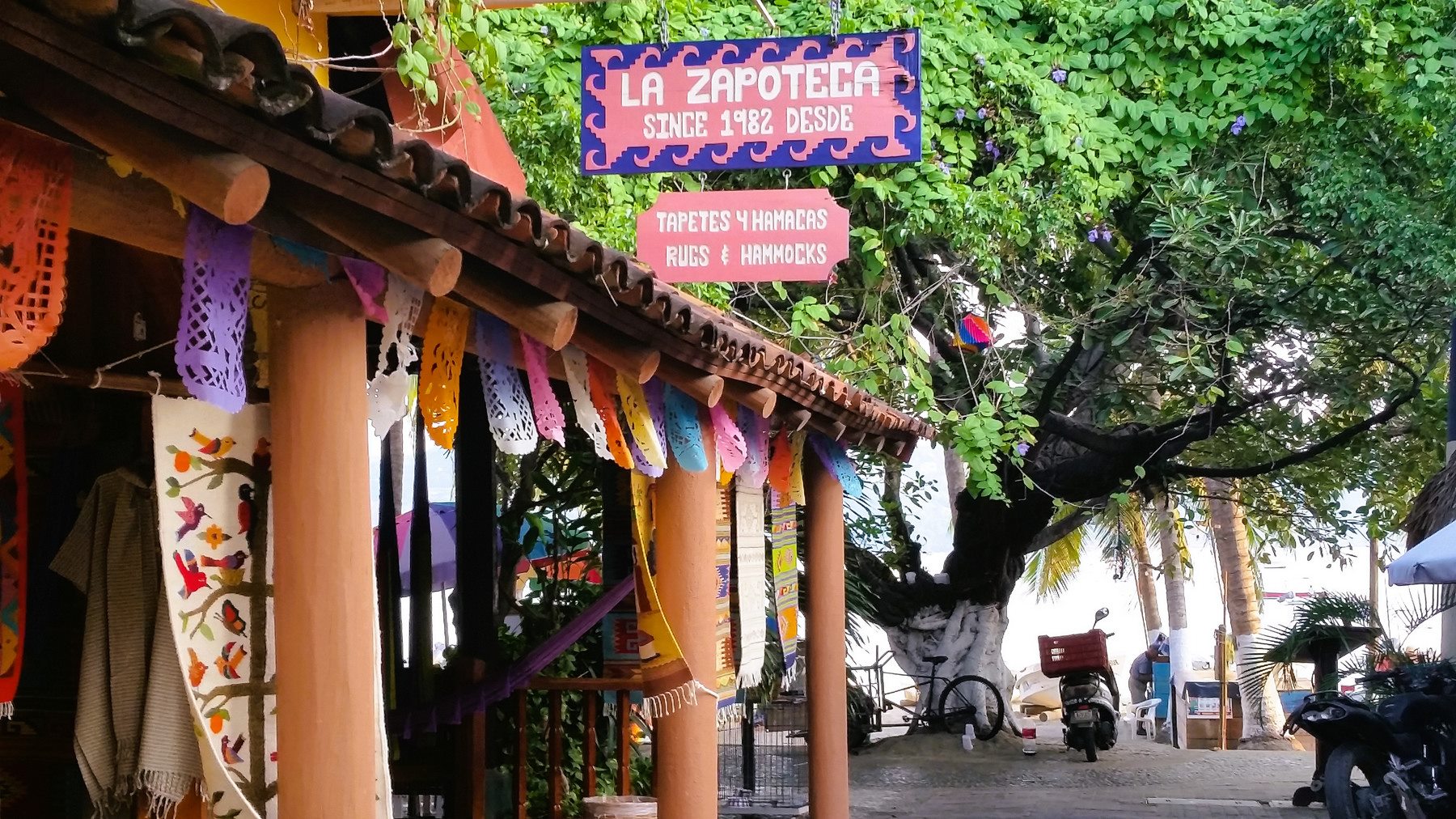 What isn't there is just as noticeable. There are no chain stores and no overabundance of tourists. Not that I have anything against tourists—after all I am one, but there's that snobbish part of me that doesn't want to jostle with a lot of people shouting tequila and looking for the closest Señor Frog.
No need to worry about that here. It's all laid back charm, restaurants opening up to the beach, and a pleasant walkway called Paseo del Pescador that follows the water and crosses the river that flows from the bay.
It's Saturday, so we head to the local farmers' market Eco-Tianguis Sanka, a beachfront market open from 9.00 am to 2.00 pm where vendors sell fresh produce, regional food offerings, local artisan crafts and handmade goods, souvenirs, and plants. I wish I'd brought a cooler so I could take such prepared meals as chiles en nogada—meat stuffed poblano peppers in a walnut cream sauce topped with pomegranate seeds—and pozole de setas, champiñones, calabacita, and ejotes con su guarnición—a hearty hominy stew made with squash, corn, and mushrooms—back to my hotel room where I have a refrigerator and microwave.Being at the market with its bustling ambience, live music, people, pets, and lots of charm, is like being part of Zihua.
I've been here before and having discovered Boutique Sunset, where they sell great beach hats in an assortment of styles and colors, on my first trip, that's where I go next. Each time I come to Zihua, I buy several because I don't know when or if I'm coming back or if the store will still be there. But this is my third visit and remarkably the majority of the shops and restaurants I like remain. My friend Jeri asks if I want her to accompany me. She and her husband sailed along the Mexican coastline for years, mooring at various ports, and she speaks fluent Spanish, and knows how to negotiate, but the hats are so inexpensive that I feel badly about trying to get a lower price. After all, I know I'd pay four or five times as much in the U.S. for something similar.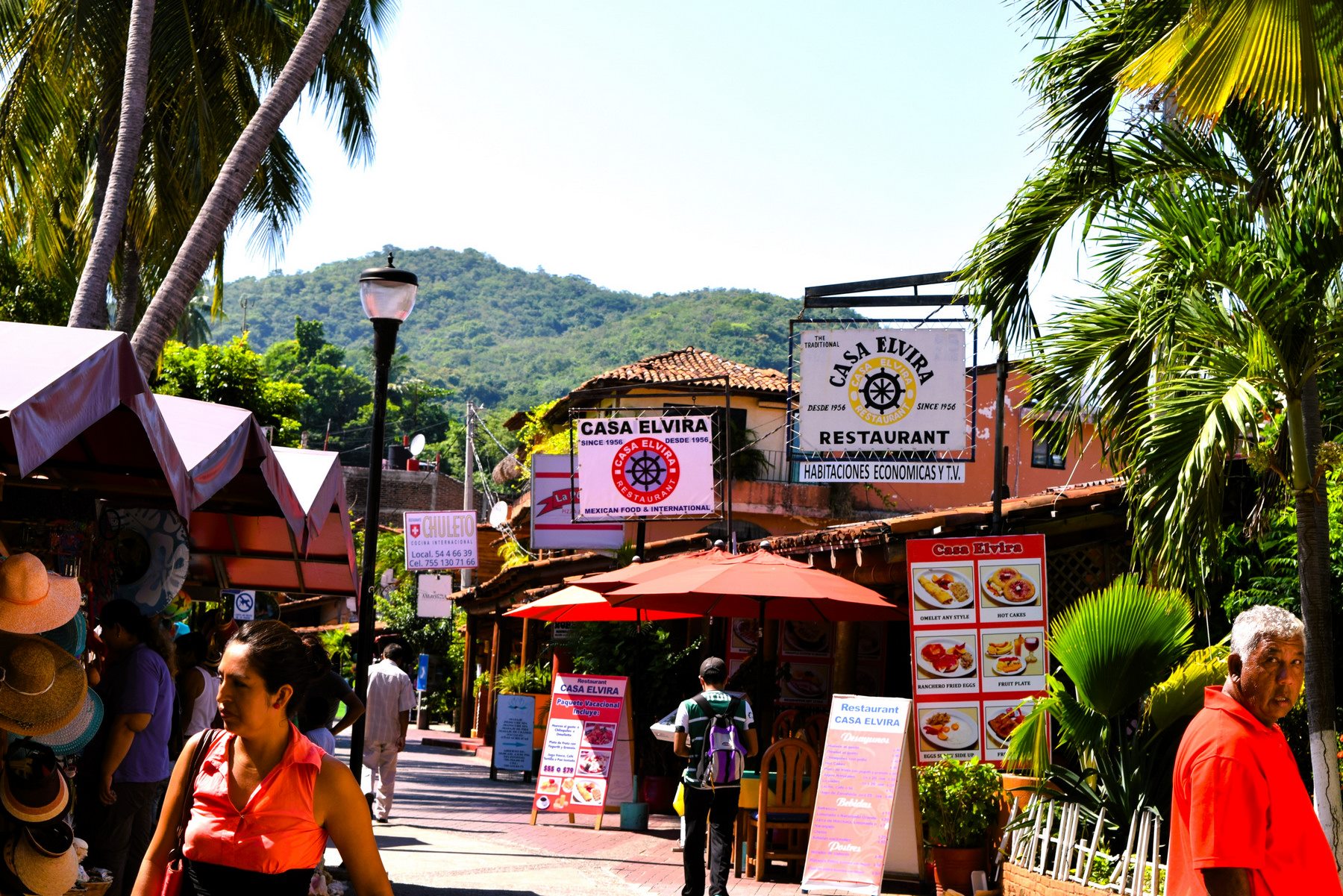 But I do let her help me in the warren of shops nearby, with their variety of items, some folk art level, painstakingly painted, woven, embroidered, or assembled by hand. I spy a shell hanging lantern and I imagine it on my patio in the summer. Sure I have several similar ones already sitting in a box in my closet. Somehow what looks so right here just never seems to fit in once I arrive back north, in an environment where there's snow and gray skies instead of sun. So maybe I won't have Jeri negotiate that one. But then I see a collection of catrinas including one that's a take-off on a Venetian gondola with the catrina being ferried by a skeleton (calaca) who is standing up in the bow. How could I not want to take that home with me? Of course, my husband up north isn't that fond of these things but, oh well….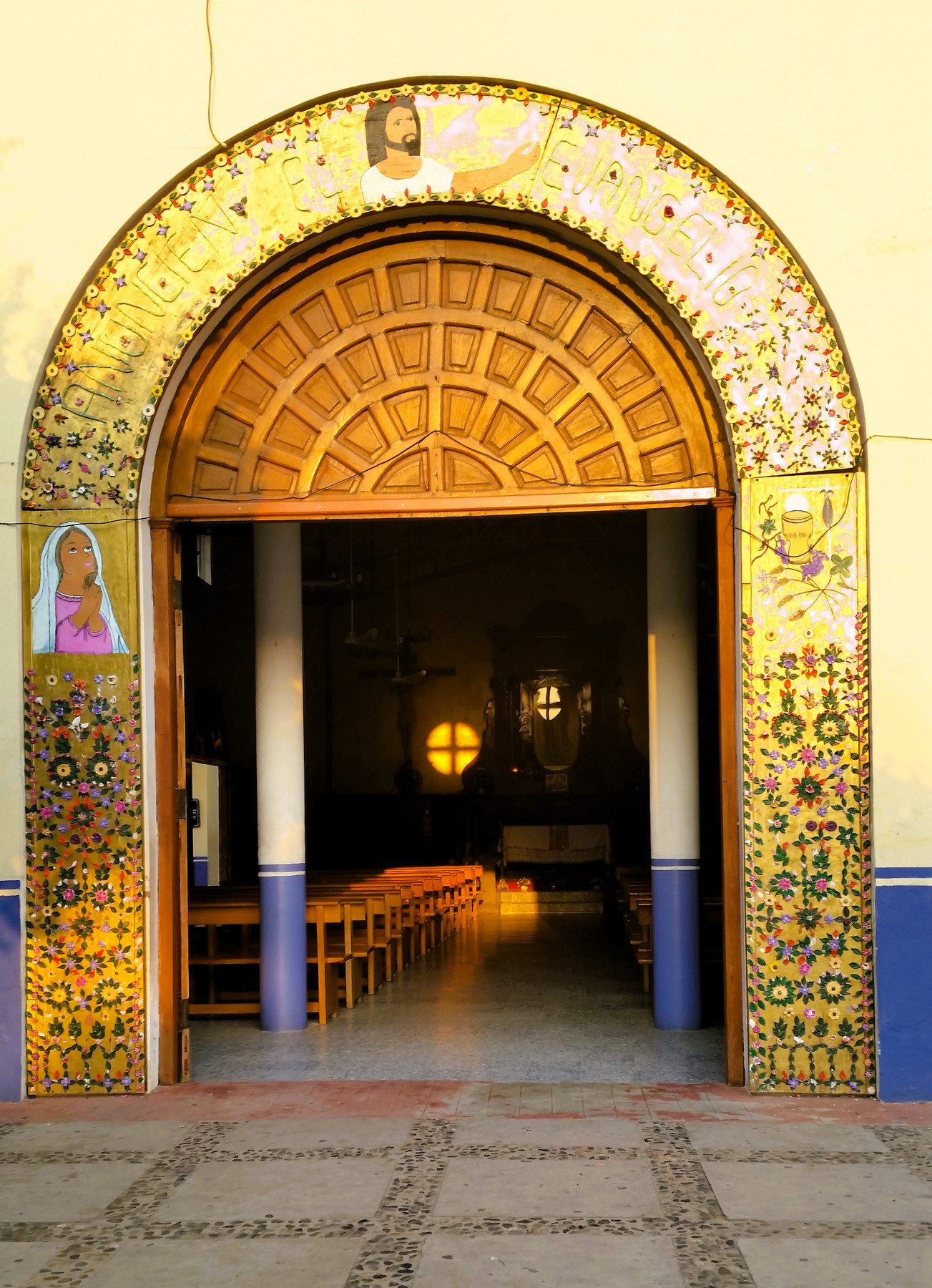 With shopping completed, we meet the rest of our group at La Sirena Gorda notable by its sign of a plump mermaid which is what the name means. Here we sit under large umbrellas, watching the bustle of the seafront and boats coming and going, sip their signature ginger margaritas and dine on an assortment of dishes. Each time we try something new: on this trip, it's tacos de pescado al pastor—fresh fish marinated in achiote, pasilla and ancho chilies, pineapple, lemon, and orange juices, a tad of vinegar, chopped onion, oregano, paprika, salt, and pepper, pulpo tatemado—thickly cut and grilled octopus, ceviche, and try nuestro riquísimo, an elaborate molded rice dish with seafood and vegetables, topped with slices of fresh avocado.
Afterwards, a walk along Paseo del Pescador and a chance to escape the heat by visiting the Archaeological Museum of the Costa Grande. Its six rooms are filled with exhibits of utensils, ceramics, weapons, and other artifacts from such historic cultures as Olmec, Teotihuacan, Tarascan and Mexica.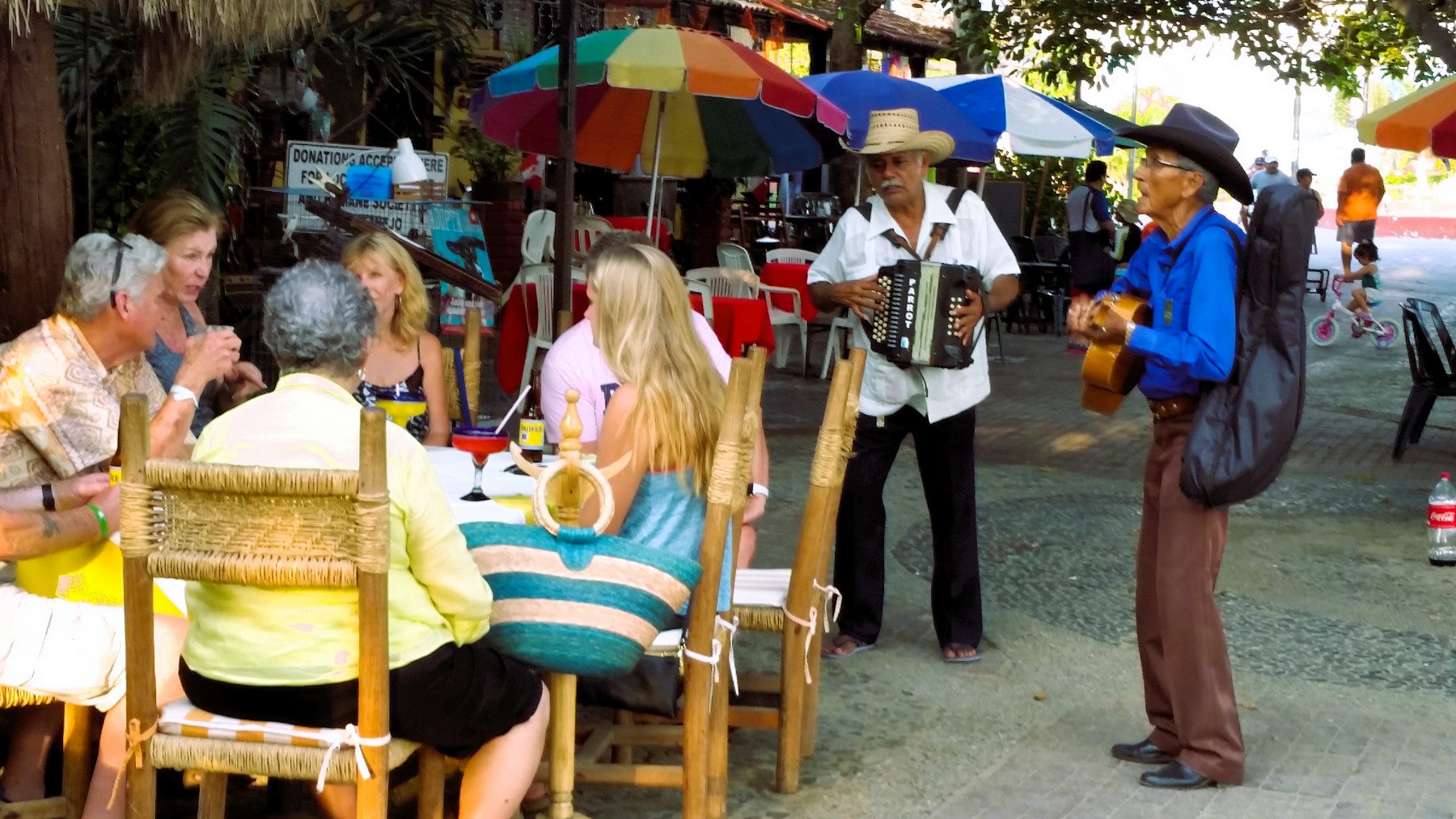 Though its waters makes a pretty backdrop to the downtown, Playa Principal is less popular for swimming as it's crowded with boat traffic, so we climb aboard a panga and head towards the mile-long Playa La Ropa, often described as Zihua's best swimming beach. Ropa or clothes refers to a cargo of rich fabrics and luxury materials that washed ashore when the cargo of a seventeenth-century wreck floated to shore.
There are other beaches running along the curve of the bay (bahia) to explore as well, including Playa Contramar, Playa Madera and Playa Larga, and the intriguingly named Playa Las Gatas (Cats' Beach), so called because of the cat sharks that once plied the waters here. But that will have to wait for another day.
The waters of La Ropa are clear and calm, and after a swim I lay out my towel. It's time for a nap. It's been a perfect day.
Related articles on MexConnect
Published or Updated on: October 3, 2023