Gallery: Discover the magic of papelmalecho in Tapalpa
"Mexico has colorful folk art traditions," says the diminutive woman in white, pointing to a series of papier mache creations. "Ours are always amiable or nice, like a pleasant dream." Patricia Villalever flashes a smile and adds, "So when you write about us, more people can share our dream!"
The director of the Centro de Integracion in Tapalpa motions towards the walls of the second-story classroom. Smiling, crawling, cavorting creatures romp across the shelves and walls. Fat, spotted cows gambol among speckled angels and frolicking clowns. Winged suns and moons fly by virgins of protection. Carousels twirl at a touch. Puppets jump up sticks.
"Tapalpa has strong artistic and ecological traditions," says Villalever. "The town's name comes from the Nahuatl word, tlapalpan, meaning land of colors. The pre-Hispanic people here used pigments derived from polychromatic mineral earth to dye cloth. Tapalpa is a haven for artists. And our school is dedicated to nurturing the artistic, creative and academic potential of special-needs children."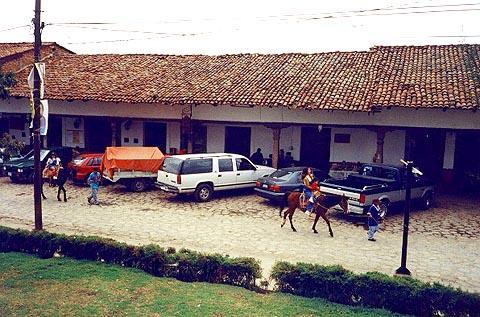 Tapalpa is an alpine town two hours south of Guadalajara. Pine-clad hills, creeks and small lakes surround the small colonial town. Sturdy wooden columns supported whitewashed houses with red-tiled roofs. Neat cobblestone streets weave around restored churches. Out the school window, I watch horses graze on the edge of town. (More about Tapalpa.)
Villalever and her husband started the school after her son suffered a riding accident many years ago.
"After the accident, he needed 33 operations," Villalever explains. "Our family needed a place to heal and recover. Through our experiences, I realized that I wanted to support other families with children with special needs like our son. So my husband and I decided to build a school here. We stay in Tapalpa Monday through Friday and spend the weekends in Guadalajara."
Today the school serves over 300 students, with approximately 30 children aged from five to 25 in school at any one time.
"Many of the students could not attend school before this program existed," Villalever says. "They thought of themselves as useless to their families and community. They didn't fit in. That has all changed now."
Down the stairs and across the parking lot, a second building, the workshop, is filled with long tables covered with newsprint, tools, paint and unfinished projects. Dressed in paint-pocked clothes, the school's creative maestro Marco Canizales explains how the child artisans discover their creative talent.
"They renew a strong connection to their native land," he says. "Recycled garbage transforms into beautiful things."
Under Canizales' watchful eye, a jumble of plastic Coke bottles, aluminum cans, egg cartons and Styrofoam trays are turned into papelmalecho (an invented word playing on papelmache or papier mache). The figures resemble alebrijes — fantastic creatures carved from wood.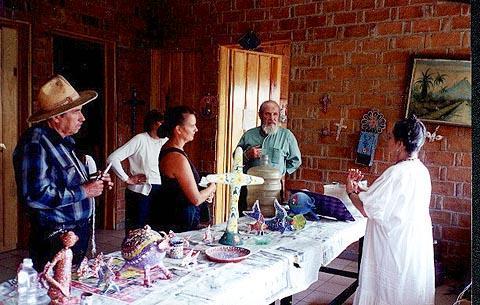 "We call our creatures colibrijes," Villalever says. "Each piece is painted with hundreds of tiny dots in the traditional style of flor pintura, or flower painting. The students' creatures, however, differ from traditional alebrijes in one significant way.
"Ours are never scary or nightmarish," Villalever says. "They are only like good dreams."
The people of Tapalpa donated the land for the school and built it with volunteer labor. Villalever explains the school is privately run but every child attends for free. She worries about what will happen to the school when she is unable to run it.
"The Mexican government at the moment is paying the teachers' salaries. However, pay is low for teachers in Mexico," she says, "People can help by donating money, computers and school materials, as well as by supporting art shows and purchasing papelmalecho creations."
Villalever welcomes visitors to the school and is always happy to receive volunteer help. She presses two large blue Papelmalecho wings to my back and smiles, "Now on the Internet, you can fly our dream around the world."
For more information about Centro de Integracion de Tapalpa:
Spanish speakers may contact director Patricia Villalever Monday to Friday in Tapalpa, at (01) 343-20570, and weekends and holidays in Guadalajara, at (01) 3615-6696. English speakers may contact Pilar Taty in Guadalajara at(01) 3824-1188 or Wendy Devlin in Canada at (604) 483-9268.
Published or Updated on: February 16, 2007