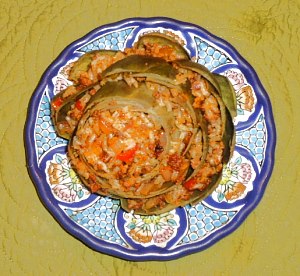 Cooking and draining the chorizo separately before mixing with the rice cuts down considerably on fat, and adding vegetables ups both fiber and flavor. Feel free to add other vegetables you have on hand, or to swap out the rice for cooked quinoa.
Ingredients:
4 large artichokes, cleaned, steamed, and chokes removed, stems trimmed
2 ounces Mexican chorizo
2 tablespoons olive oil
1 medium onion, finely chopped
1 small red bell pepper, finely chopped
1 tablespoon tomato paste
2 cups cooked rice
Salt and pepper to taste
Chicken stock as needed
Preheat the oven to 375°F.
Remove the chorizo casings and cook the chorizo in a skillet, breaking up large clumps. Using a slotted spoon, remove chorizo to a paper-towel lined plate. Pour off the fat from the chorizo and wipe out the skillet.
Return the skillet to the stove, add the olive oil, and sauté the onion and pepper until softened. Add the tomato paste and cook for another minute.
Return the chorizo to the skillet, add the cooked rice, and stir to combine thoroughly. Add salt and pepper to taste.
Stuff the artichokes, starting with the cavity left by removing the choke, and opening the leaves to push additional stuffing into the spaces between them.
Place the artichokes into a baking dish, add chicken stock to a depth of 1 inch, and cover the baking dish with foil. Bake for 15 minutes.
To serve, remove the artichokes from the baking dish, and drizzle a little additional olive oil over each.
Makes 4 servings.
Published or Updated on: March 28, 2015