It has been said that beauty is where you see it and genius is all around, waiting to be identified.
Beauty — Quinta Tesoro de la Sierra Madre is an adobe house and little wildlife refuge on the banks of Rio Corona, at the end of the road, 25 or 30 miles from Ciudad Victoria, capital of Tamaulipas, in the middle of a truly majestic geographical and cultural setting.
It could be the backdrop for a really good, very old movie.
Genius — David Christian Newton, a tall Tex-Mex retired from citrus farming and tour operations, picked this place to build a home and unique business — a guest house with just one guest room, two beds and breakfasts, three-day minimum, available with three weeks advance notice.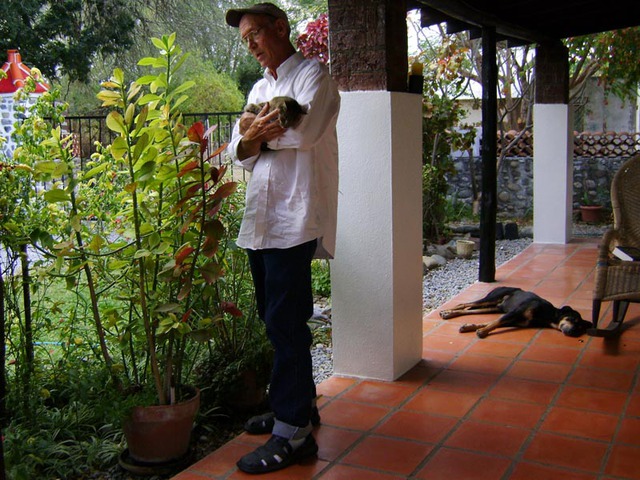 He sells relaxation that can be slowed down to tranquility.
One guest said "This must be where God comes to gather His thoughts and lower His blood pressure."
Another said the modest fee "beats the heck out of paying a therapist."
David Christian Newton would disclaim any traces of genius. In real life, he is a hard-shell conservative who still thinks the wrong side won the Civil War and that Texas really should secede from the aggravating United States.
What makes him a genial host is that he kind of likes Mexico, loves living on the outer edge of civilization and realizes he has a treasure to share. He has just enough visitors to keep the lights on. He has the rare ability to keep quiet or share delightful stories of long, long ago.
He says, through the years, he has housed people from afar, even France and Japan, and quite a few Americans and Canadians. Some are academics doing research. Some are serious bird-watchers. Some are history enthusiasts.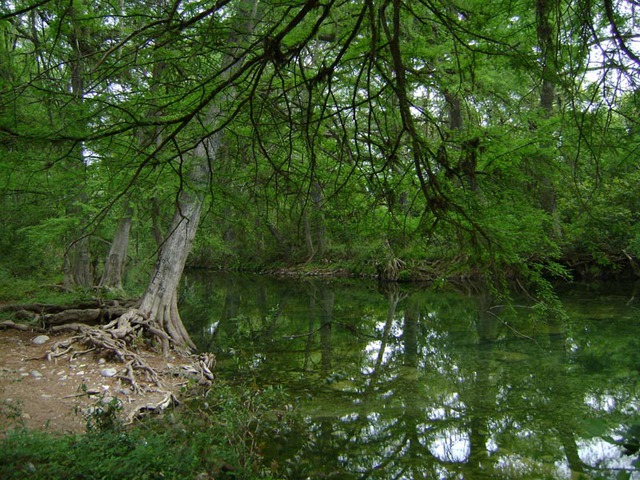 "We have had photographers, artists, horse trainers, ghost hunters, even reporters.
"This is a place where you can be pleasantly bored," said Newton. "You can drink beer or not drink beer, feast or fast, or do almost anything that is tolerated by the somewhat antiquated social standards of our peculiar little rural community."
And what a setting — foothills, a spring-fed river lined with towering cypress, a green zone with no connection to Al Gore or tree-huggers, just the result of property owners agreeing to keep things as they were to ensure reasonable habitat for wildlife.
Next door are the remnants of La Hacienda de Santa Engracia, a legendary place established in the early 1700s, originally a half-million acres, self-contained, self-supporting, self-defending enterprise.
Newton's excursion company was the first to bring in visitors after the rehabilitation of Santa Engracia in the late 1970s.
"We introduced four or five thousand folks to the hacienda."
There was a time when touring Mexico was big business. David Christian Newton made it work at a high level for more than 20 years.
"We had very good clients — well-to-do people of some refinement, intellectuals and pseudo-intellectuals, and Lawrence Welk-HeeHaw types who could all get on the same touring coach and really enjoy and learn about Mexico."
Newton guesses he hauled 40,000 people here and there, to nearly every state. He recalls Mazatlan, Copper Canyon, train trips from Merida to Mexico City.
He remembers adventures in Oaxaca, Palenque, Veracruz at Mardi Gras, Xilitla with Los Pozos and the tales of Sir Edward James, Merida, Catemaco, and on and on.
He says his favorite place among truly hundreds was Monterrey. It was a magic mix, rough and tumble, more than a little sophisticated and even arrogant, but very blue-collar in that every third man was some kind of master, glass-blower, machinist, mechanic or watch-repairman.
Monterrey people made things for sale to the rest of Mexico and to the world.
Elections in Real de Catorce
One of Newton's best stories comes from Real de Catorce.
Real, once a thriving silver-mining center, turned into a ghost town in the high and dry hills of San Luis Potosí state. It came back as a pilgrimage site for Catholics and Huichol shamanists. International tourists appreciated the desert ambience. Some thought they felt spiritual energy.
Newton took a group to visit in the summer of 1981. Higinio Gomez and his wife Estella had just opened the Meson de Abundancia hotel and restaurant.
Gomez, a big-city fellow properly aligned politically, decided to run for president municipal (county executive). Because he was PRI, that meant he was essentially elected.
As Newton tells it, Gomez had the support of everybody that mattered, from the governor to the President of the Republic. The campaign theme had been about the federal government providing many pesos for public works to make Real into another San Miguel de Allende.
Opposition was a labor-union organizer who doubled as an extortionist.
Newton and 24 gringo tourists showed up on election day.
"Gomez and his son took the ballot box to the Secretary of State of San Luis Potosi. We found it strange that a candidate would deliver the newly voted ballots, but, hey, who were we to say."
The tourists had a nice dinner. Miners provided entertainment. They had formed a medieval Spanish choral group with stringed accompaniment. Not bad, not bad at all.
While songs were being sung, a young hotel/restaurant staffer came to Newton with a whispered warning: "Estella says the boy Roberto has a revolver in his waistband and that his brother and the ruffians are by the cathedral and they are all drunk."
It sounded as if they were sore about losing the election.
Newton and his tour assistant, Rudy, confronted Roberto in the bathroom, quietly disarmed him and tied wrists to ankles. He was deposited in the kitchen pantry.
Estella and her daughter, Estella Jr., emerged with four pistols and a gallon of ammunition. There was a .45 automatic, two .38s and a nine-shot .22 that fired hollow points.
Estella Jr. had the big gun. She caught Newton's curious look and exclaimed, "What? I know how to shoot better than you. I've qualified as an expert with rifle and pistol."
What Newton said was where are the police or someone with the authority to detain these people?
"I was reassured that the driver of the Coca-Cola truck had promised to stop at the military garrison on the other side of the tunnel and tell the commander that there was an insurrection in Real de Catorce because of the election."
The tourists had no idea what was going on as the hotel firing squad left for the church. Estella Jr. and Rudy led the charge, guns aloft. Newton was smart enough to maintain a secondary position.
Not a shot was fired but there was a clatter of rocks, machetes and even a pair of old (inoperable) pistols on the cobblestones. The gaggle of ruffians essentially evaporated.
"The next morning, a very young Mexican Army lieutenant arrived with orders for the tour group: 'Retire from this community at once. That will be without delay.'"
In a matter of minutes, two little, tunnel-sized busses were in front of the hotel, taking on luggage and gringos who wondered why departure was rushed.
There was a command Jeep and a large troop transport with an escort of fully armed soldiers.
"We were soon 5000 feet down the mountain, on our way to Saltillo."
Roots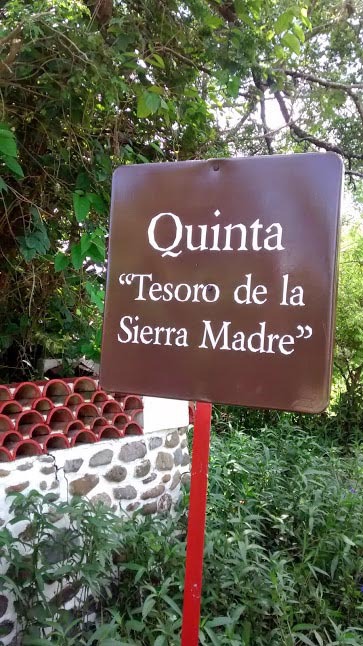 David Christian Newton is also a story. He says he has an Anglo-Southerner/Latin – Spanish colonial Texas marriage.
He says his wife (Diana) is an urban sort, privileged to have had a private Roman Catholic education in the Rio Grande Valley and was almost entirely English-speaking from birth. He was born to a mix of real Yankee bluebloods and East Tennessee people who were substantial farmers.
David grew up on a farm and spoke mostly Spanish as a youth. His parents operated a citrus grove with Mexican help.
"For the first eight years of my life, I was pretty much surrounded by people from Mexico, working in my parent's business. From 1934 through 1966, we had in and out of our house Mexicans of Indian, mestizo and white ethnic and racial backgrounds.
"As an aside, we had no locks on our doors and had there been locks, we had no keys."
Roots?
"Oddly, from my mother's Tennessee line, I am a second cousin to Rush Limbaugh."
His great-grandfather, Peter Bonesteel Christian, was involved in the establishment and modernization of the various grain milling operations in Minneapolis. The business gradually became what is known today as General Mills.
David went to school in McAllen, Texas and at Southwest Texas State University. His brother Milton earned a doctorate at Louisiana State University and headed up the college of earth sciences, geology and geography.
David's mother and brother sometimes served as Mexico tour guides. They couldn't resist. It was an interesting business, travel by buses, trains, horses, hiking and even a few flights.
They took some groups to Acapulco, Zihuatanejo and Huatulco but eventually concluded their people weren't really beachcombers. They did a combination Copper Canyon-Mazatlan-Guadalajara trip.
They never lost a client or a peso to a drug gang. They did get stranded in a rare snowstorm and spent a few hours in traffic stalled by a protest featuring a million rocks painted white and strategically placed over hundreds of yards of highway pavement.
Mexico City? Ah yes.
"Mexico City still remains fascinating if only because it works, somehow or another, in spite of itself. It has many beauty marks, but people see the scars, scabs, lesions and defects.
"The brooding Popocatepetl with smoke and snow, Chapultepec, The Basilica, the great public buildings and, of course, the incredible engineering — it strikes me as a terminal patient who never really dies.
"But the food, almost always, is really good."
There is a rumor that the food is also good at Quinta Tesoro de la Sierra Madre, even better if Diana is there.
Do remember to provide three weeks advance notice of intended arrival and probable appetite.
Published or Updated on: February 11, 2015