Photo Gallery: Dishes and delights from the mountains of Veracruz
Although mention of Veracruz usually brings to mind a tropical Gulf Coast climate and an abundance of fish and seafood, the western region of the state is home to a mountain range, a cloud forest, and a huge variety of plant and animal life in one of the most beautiful habitats in Mexico. It is also a food lover's paradise, a place where going locavore, or eating local products, is easy and delicious.
On a recent trip from Puebla, we passed through landscapes ranging from pine covered woodlands to tropical highlands full of prehistoric-looking elephant ear plants, along with orchids and bromeliads. One of the most stunning views was of mile upon mile of Joshua trees in full bloom.
The Joshua tree (also known as the palm yucca, although no relation to the tuber called yucca) is locally named palmito, and its delightfully edible flower is called flor de izote. This is a delicacy in the region, and we bought some to bring home and cook, hoping the flowers would keep fresh in the cooler.
Also called flor de novia, or bride's flower, the white petals are boiled, then sautéed with onions and jalapeño chiles for a simple tortilla filling, usually scrambled with eggs. (The flowers we bought kept well, and ended up in a delicious sauté.) In Veracruz, flor de izote is used in a pork and chipotle sauce filling for tamales wrapped in banana leaves.
Our first meal stop was in Perote, known for its Spanish style cured meats, the legacy of the Spanish community that migrated here in the 1930s. We sampled some jamón serrano, Spanish chorizo and Catalan sausage, and added some wonderful Serrano ham to the cooler. This stop included a meal of tortilla española, the classic Spanish potato and egg dish made with copious amounts of good olive oil.
Continuing on toward Xalapa, the state capital, we skirted around the city, which we'd visited often (A culinary tour of Xalapa: Dining in the home of Jalapeños) and went on to revisit Coatepec, famous for its mountain grown coffee. This small colonial city, one of Mexico's pueblos mágicos, or "magical towns," is often referred to as Mexico's coffee capital. The café de altura, or shade grown coffee from the mountains, is known for its smooth body and flavor.
Several coffee houses and cafes dot the town — many located right around the central plaza — and most offer a nice array of sweets or small snacks to go with it. I don't drink coffee, but hardly ever pass up small snacks and, while my friend savored the rich, freshly roasted brew at a café with beautiful antique coffee grinders, I enjoyed a delicious cup of hot chocolate decorated with a star made of cocoa powder.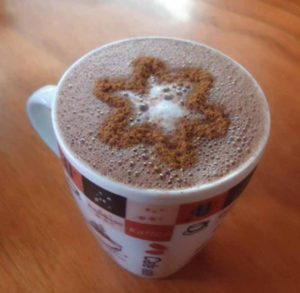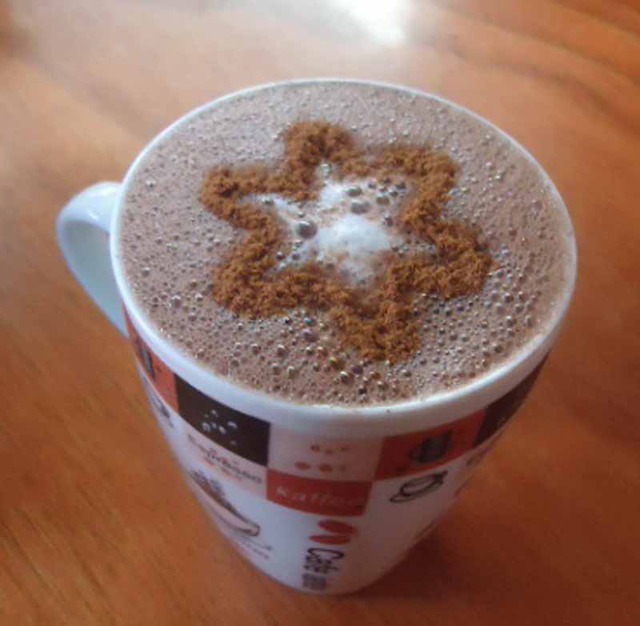 Walking along the streets of this welcoming town, we stopped to try several of the offerings sold by local vendors. Among the tastiest were small but exquisite chiles rellenos, made with pickled chipotles that had been stuffed with picadillo and batter fried. Naturally, a substantial order of these, packed "to go," ended up in the cooler. The women preparing the chiles were also selling mole from another local town, Naolinco, and containers of this were added to the booty in the now essential cooler.
Almost as good were the local specialties on sale in the atrium of the church on the plaza. Every Sunday morning, parishioners set up a food court outside the church, with long tables that beckon with tamales, picaditas covered with red and green salsas and queso fresco, and gorditas filled with creamy black beans. It was here at the church breakfast sale that we had what may have been the best beverage of the trip, local coffee notwithstanding.
The atole de guayaba was everything a fruit atole should be. Warm, thick and smooth, it was distinctly, but not overwhelmingly, flavored with cinnamon and piloncillo. The heady aroma of fresh guavas wafted up from the cup as I sipped. I could easily start every day with this.
We had gotten up early on Sunday to allow a space for digestion between the spread at the church and the afternoon comida that we knew was coming in Xico, a town as well-known for its mole as for the nearby Cascada de Texolo, the waterfall famously used in the film Romancing the Stone. Not surprisingly, this is another pueblo mágico.
But before shopping for mole, we needed to be fortified with a good lunch, and Xico did not disappoint. The black bean soup, with little dumplings called bolitas de masa, or masa balls (not to be confused with matzo balls) was flavored with a local herb reminiscent of epazote. The little rounds of corn doughy goodness were the perfect foil for the herb-flavored soup.
After the soup came dobladas de cacahuate, a kind of folded-over tortilla covered with a velvety peanut sauce, a specialty of the region. (Dishes containing peanuts are found all over the state of Veracruz, a reflection of the Afro-Caribbean influence on the cuisine.) The dobladas were followed by the almost obligatory enchiladas de mole, filled with chicken and bathed in the unforgettable local sauce. We were now ready to walk off some of this feast and look for mole paste to bring home.
For the truly dedicated, mole tasting in Xico involves a walk up and down the winding streets of the hilly town, and stopping at nearly every tienda and puesto advertising mole de Xico. Most of these are family operations, using recipes that have been passed down by, and named for, an ancient female relative.
The labels on jars of mole paste with names like Abuelita Rosa and Tia Chela are adorned with what appear to be old photos of these venerable women, and if you didn't know better, you might think they were trying to kill you with this stuff, so grim are the expressions on their faces. Maybe the kitchen was hot on picture day.
But don't let the photos fool you. These are some of the richest, most mouthwatering moles in Mexico. The depth of flavor comes from the sweetly fruity taste of plums and raisins, balanced by peanuts and almonds, and underpinned with the smoky flavor of dried chiles. After tasting a good number of them, selections were made, and jars of mole added to our stash of treasures.
And so ended our little gastronomic adventure, and we headed back to Puebla with light hearts and a heavy cooler. Following are some recipes from the pueblos mágicos of the Veracruz mountains.
Published or Updated on: July 10, 2014