Dining at Playa Los Arcos
Hotel Playa Los Arcos stretches from Avenida Olas Altas to the seashore boardwalk.
The Café Maximilian on the avenue serves breakfast with steaming coffee, fresh fruit juices and a variety of prix fixe breakfasts and a la carte options, from Continental to Mexican.
In the evening, Kaiser Maximilian Restaurant and Café serves exquisite European cuisine for an authentic touch of Germany in Mexico.
Right on the beach, Mi Pueblito Restaurant combines a sumptuous buffet with a la carte selections from 8 a.m. to 11 p.m.
Right alongside, the Tlaloc Palapa Bar takes its name from the pre-Hispanic god of rain. It makes a great prelude to lunch or dinner, and live shows with music and dancing last well into the evening.
Monday combines Mexican music and folkloric dance with a barbecue buffet dinner.
Wednesday features music and dance from around the world and an Italian buffet with wine.
Saturday's Mexican Fiesta invites audience participation and a sampling of Mexico's most traditional foods.
Service is efficient and friendly.
For snacks on the beach, a corner of Mi Pueblito serves sandwiches, burgers, hot dogs, fries, tacos and snacks to take to the lounge chairs shaded by parasols that line the shore.
Driving in from the airport, you pass high-rise towers along the beach that affirm Puerto Vallarta has everything a modern resort town can offer. Three cruise ships a week put into the Marina, and five golf courses challenge aficionados with tropical sceneries.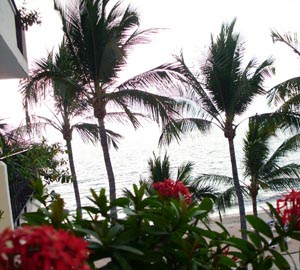 New development in Mexico's Nayarit Riviera has brought a wealth of world-class amenities to a coast that was largely virgin jungle in 1964. Then John Huston filmed The Night of the Iguana with Richard Burton and Ava Gardner. Elizabeth Taylor came down, too. She and Burton bought vacation homes and the jet set discovered the quiet town.
Puerto Vallarta, or PV, as it is often known, has something for everyone. I like the modern shopping centers, chic boutiques and galleries, and exceptionally fine dining. But for me, Old Town brings back memories of Vallarta visits in the 1970s and '80s when the town was an eight-hour drive over two-lane roads from Guadalajara.
Mother lived in Hawaii in the 1940s. Each time we settled into our hotel, she'd gaze at the emerald-clad mountains reaching to the sea and sigh, "This reminds me of Oahu when I was young."
Now, I relive my own memories in the Romantic Zone. "Hotel Playa Los Arcos is the prettiest hotel in that part of town," a Canadian travel writer told me. I think she's right.
Traditional Mexican hospitality
But more than pretty, Playa Los Arcos is traditionally Mexican, from the design that sets the rooms around a central patio to the décor, the music and the staff uniforms — restaurant personnel dress as charros or gentleman horsemen, and housekeepers wear the colorful full skirts of folkloric dancers.
"In 1976, a gentleman from from Guadalajara bought this property with the dream of one day building a hotel," Sales Manager Ramon Tapia tells us. He should know. From a part-time job helping out after-school, he has risen to the managerial position he has held since 1997.
"This was a beachfront hibiscus grove where the red flowers known as jamaica were cultivated. The original hotel had 12 rooms. In the 1970s, tourism took off, and the owner expanded the hotel, adding two more wings and two more floors. But he has always maintained its Mexican essence."
Indeed, staying at Hotel Playa Los Arcos feels a bit like staying with a Mexican family. The owner's adult daughter oversees the decoration, both here and in the two sister properties. Staff members are a treasure; many senior members have spent their careers here. And they go the second mile for guests.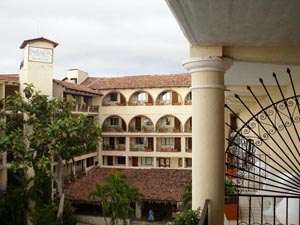 I was in Puerto Vallarta recently when an old knee injury flared up and I caught a cold while on a moonlight cruise of the bay. I decided to spend the morning in bed, and mentioned to the housekeeper that I wasn't feeling well.
Within an hour, the concierge called to inquire about my health.
"May I send a doctor up to check on you?" she asked.
I assured her a morning of bed rest would do wonders, but she insisted. "Thank you," I replied. "I'll just come downstairs in a little bit for a bowl of chicken soup for the cold."
"Why don't I send the chef up to your room and we'll see what he can prepare for you?"
I politely declined. But I felt pampered and genuinely cared about, and I'll never forget the experience.
The Playa Los Arcos Spa Experience
Right on the beach, the Holistic Spa is a bit of paradise for the senses. Complimentary glasses of water freshened with chlorophyll and subtle meditation music set the scene for relaxation and wellbeing. Treatment rooms look out on the ocean.
Specially trained staff offer massages for relaxation, deep tissue massage, shiatsu, therapeutic and Swedish massage. Body treatments include hot stones, holistic massage, reflexology and pre-natal massage.
Facials and exfoliation leave the skin glowing. How about a professional manicure and pedicure for a weekend on the town? There's waxing, too, to look great in that new swimsuit.
Many of the guests have been coming here for years. Don't be surprised if someone invites you to join a game of cards or scrabble.
The hotel itself is shaped like a horseshoe looking toward the pool.
Hotel staff organizes volleyball, both in the pool and on the beach, water aerobics, water polo, dance classes and more.
There's nothing lonely and impersonal about a stay at Playa Los Arcos.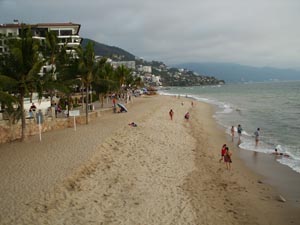 Old Town in Puerto Vallarta
Boutiques, restaurants and convenience shops line Avenida Olas Altas, and a tianguis sets up in a nearby park on the weekends. Itinerant musicians play jazz while locals shop for organic produce and home-baked pastries. Everyone browses the artisan offerings, including cool cotton apparel so right for PV.
When the moon comes up, the cool evening invites you outdoors.
Pizzas, paninis, salads and more are the late night fare served in sidewalk cafes along the avenue. Sidewalk bars are spots to meet and quaff a cold one while listening to music
I queried a number of people out on the Avenue on a weekend evening — and not one of them felt unsafe in Old Town even well after midnight.
"This is the Romantic Zone," I was told. "We feel at home here and come back year after year."
I will, too.
Published or Updated on: May 14, 2012