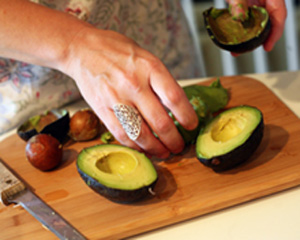 This guacamole recipe is super simple and fresh. Beware — it's also addictive. The best part about guacamole is experimenting and making it uniquely yours. Here is our version, but you can add more or less of each ingredient to satisfy your personal palate.
Ingredients
4 avocados
1 clove of garlic, minced or ½ teaspoon garlic powder
1/4 cup white onion, minced or 2 tablespoons onion powder
1 jalapeño, minced (optional)
1 tomato, chopped
1 tablespoon salt
1 to 2 tablespoon fresh lime juice
Cut the avocado in half. Twist to remove the pit. Scoop out the pulp. Place in a medium-size bowl and mash the avocado with a fork so that the mixture is a bit chunky.
Add the tomato, onion, garlic powder, and salt. Sprinkle the lime juice over all the ingredients and give everything a good stir, but don't overdo it. Serve with tortilla chips.
Link to source article
A Mexican menu for Cinco de Mayo
Published or Updated on: May 4, 2011