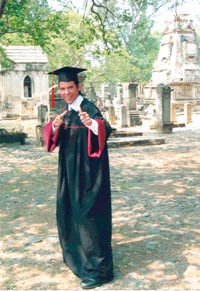 Besides the seemingly endless string of fiestas, weddings, baptisms and saints' days throughout the year, the warm months bring graduations galore. Everything from a kindergarten commencement to the completion of a PhD is celebrated exuberantly in Mexico. And the season's balmy weather invites merrymakers to move outside.
Even the start of the rainy season does not deter al fresco festivities. Places that rent tables and chairs for parties throughout the year do a vigorous business in tents and tarps during the spring and summer. We've been to open-air fiestas under white tents on expansive lawns, and to several held underneath tarps strung up over humble patios.
Younger children's end-of-the-school-year parties often take place on the last day, with parents contributing different dishes, especially sweets, for the class to share. Many years ago, when my younger daughter was in primaria, or elementary school, she spotted boxes of Rice Krispies in a neighborhood store and decided that we should bring "crispy treats," the classic concoction for kids that dates back to the 1930s.
Although the directions on the box were in Spanish, apparently nobody had read the box, and the gooey squares, made with multicolored Mexican marshmallows, were the hit of the party. We were asked to bring them to class parties several times after that, and only the novelty of something different explains how the kids could prefer them to the tasty tortas, beautiful gelatin creations, and tres leches cakes that left a deliciously soggy mess on the paper plates. Lots of people would gladly pay restaurant prices for some of the fare that showed up at these junior food fests.
Tastes change as we get older, but one thing that remains a constant at most Mexican milestone celebrations is cake. Even my students at the state university in Puebla had to have their cake and, at graduation time, it made an appearance at both afternoon functions and evening cocktail parties.
Cocktail parties are perfect venues for Mexican food, because this cuisine has a nearly endless variety of botanas — snack food that is currently called "small bites" in restaurant parlance. These can be as simple as seasoned nuts, pickled vegetables, or totopos (fried or baked tortilla chips) with salsa.
A buffet is one of the easiest ways to serve this kind of food, and works well for both children and adults. It lends itself particularly well to outdoor gatherings, and summertime means less emphasis on food served hot. Finger foods are great, and so are dips and salsas. A selection of salsas could include a red salsa, a green salsa, and a fruit salsa. See Tomatoes and Tomatillos: Salsa Essentials (Mexico Connect, April 2007) for savory salsa suggestions, and Adding Zest to Summer's Bounty: Salsas de Fruta (Mexico Connect, July 2000) for some fruit salsa ideas.
The perfect beverages for kids are Mexico's fruit aguas, healthier by far than the disturbingly wide array of soft drinks sold in the small stores that pop up on every other block or so. See Mexico's Delicious Fresh Fruit Drinks: Aguas Frescas (Mexico Connect, July 1999) for recipes, or make horchata, the refreshing rice drink served ice cold.
For a cocktail buffet, wine and wine coolers are always fine, but the quintessentially Mexican alcoholic beverage is tequila, and there are many variations on the classic margarita. Frozen varieties, the kind made by the gallon for tourists in Cancun, don't much resemble the classic version, but are easy to make in quantity and great in warm weather.
Whether you are celebrating a graduation, a birthday, a housewarming, or a shower, try giving it a Mexican theme and select a few recipes from the menus below. And please don't forget the cake.
A children's Mexican party buffet
A Mexican cocktail party buffet
Published or Updated on: June 10, 2012