Zacatecas – a place to return to!
Photo Gallery: Visiting Zacatecas, a UNESCO World Heritage City
Millions of Americans today look to the Mexican state of Zacatecas as their ancestral homeland. In this section, we focus on the fascinating state of Zacatecas, which supplied so much of the country's wealth during colonial times.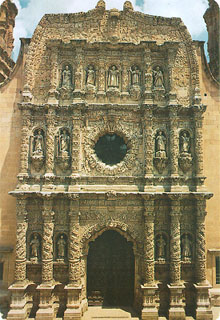 Main articles for this section:
Zacatecas – A Labyrinth of Riches
Tony Burton guides you round the main sights in the city of Zacatecas.
Zacatecas the City – An Easy Step into Mexico
Alan Cogan tells why Zacatecas is more than a 'stop-over' on the way to somewhere else.
Visiting Zacatecas, a UNESCO World Heritage City
Jane Ammeson walks us around the sights of the narrow, twisting and turning streets of the beautiful city of Zacatecas,
Persian qanats in Western Mexico
John Pint writes of how to get water from point A, where it abounds, to point B, where it is desperately needed.
Guadalupe in Zacatecas: masterpieces of colonial art
Jane Ammeson's experience of Guadalupe. Located just east of Zacatecas city, Guadalupe's palm-fringed Jardín Juárez has the special charm found in so many Mexican towns.
Jerez, Zacatecas: A magical town
Jane Ammeson explores Jerez.
Explore Sombrerete, Silver and a National Park with Tony Burton as your guide.
The indigenous past of Zacatecas
John P, Schmal explains the murky early history of Zacatecas, focusing on the various groups of people involved.
Tony Burton describes a fascinating archaeological site and an undiscovered colonial monument.
Karen Hursh Graber explores the evolution of traditional regional cuisine and includes 5 delicious recipes.
Melville King tells the story about the Santo Niño de Atocha in Jérez de García Salinas.
Maps for this section:
Galleries for this section:
Zacatecas Links to Explore!
Gobierno del Estado de Zacatecas
Published or Updated on: September 1, 2011