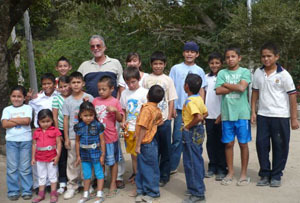 Southbound gringos of retirement age have the uncanny ability to immediately identify changes that should be made in Mexican lifestyle. Maybe you've heard the laundry list.
"Punctuality is in desperate need of instant adjustment. Mexicans simply can't tell time."
"There would be no language barrier if Mexicans would just speak English."
"These people are devoid of sensitivity. They show no concern for the environment, animals or taillights. And they don't know how to drive. They turn on their left blinker and just keep right on truckin'."
What's more, those blasted topes have got to go.
San Quintin Escuela, a small neighborhood school near La Cruz de Huanacaxtle, on the Bay of Banderas, on the left bank of Mexico, in the edge of Nayarit, not far north of Puerto Vallarta, between the last range of the Sierra Madres and the Pacific Ocean, has been targeted by a gringo. It was mostly an accident. The maid missed the bus.
Edd Bissell, 70 or 80 going on 42, a retired pharmacist and gentleman farmer transplanted from Tennessee, bought a red pickup truck and a condo on the bay, picked a special spot for sunsets and designated La Cruz as his new heaven on earth.
As rich as he is, he treated us commoners as he wanted to be treated, shared a sip now and then, picked up an occasional lunch check and found himself invited to an assortment of social events. He developed a fine circle of Mexican friends.
One, Patricia, his maid, singing as she worked, lost track of time and missed her bus home. Edd fired up his truck. As they drove along, Patricia was lamenting the poor condition of the community school. On the return ride, Edd stopped and peeped through a window.
"Sad shape."
He made a list of needed repairs. He saw no teaching materials and concluded there were none. He counted 12 desks and later discovered there are 15 students.
Edd is smart, very smart. He is wildly enthusiastic when he believes in a cause but he is not a bull in a china shop. He asked Alfonzo, a village pal who speaks limited English, for input. Would the fathers join in a rehab job? Paint the walls? Tile the floor?
Alfonzo said "Sí, señor," but there are no pesos for paint and tile.
Edd invested 138 carefully preserved U.S. dollars. He solicited donations from other affluent Americans. Alfonzo developed a worksheet with names of who would do what and when. Several were suddenly involved, before they realized they had volunteered.
Edd donated a computer and TV to the school A guest at his condo purchased a DVD player and discs. Edd sent out a batch of e-mails and was delighted with the response.
"One of my token Yankee friends purchased 57 Spanish books off eBay," said Bissell. He immediately qualified the relationship.
"We rednecks are permitted at least one token Yankee friend and this one has been partially rehabilitated. She now lives in San Diego."
The books were shipped to Tennessee, packed in luggage and smuggled into Mexico by the next houseguest coming to visit Mr. Edd.
The school project became contagious. Alfonzo or Flavio or one of the fathers heard about government grants. If the community would spend 5000 pesos for school improvements, the state would contribute 31,000. Bingo! Edd had more than enough receipts to meet the qualifying requirement.
Dangerous wires and a utility pole were moved from the playground to the edge of school property. The state provided another computer and any day now, somebody will invent the internet. Dirt was trucked in to level the schoolyard. Bissell bought two picnic tables and benches to go under a shade tree.
"I may have been a sucker but I also purchased a trampoline."
There are new rules at the Bissell condo. If you're coming to visit, you must bring something for the school or make a sizable donation.
"It's still cheaper than hotels."
Already San Quintin school has soccer balls, volleyballs, basketballs and a combo copy machine and printer. There's a new table and four chairs for the larger students, a water dispenser, a supply of toilet paper, a mop, loads of notebook paper, pencils, construction paper, poster board, art supplies, pencil sharpener, flash cards, toys, colored yarn and paste for crafts and a collection of clothes for those who might run short.
So far, Bissell and the gringos have invested $1060 of their money. Visitors come with unusual gifts. One brought a box of ballpoint pens, each imprinted with an insurance company ad.
"Some parents had never been to the school. One father admitted he was ashamed to go. All of a sudden, they are very proud. All they needed was the idea that better was possible and Alfonzo to rally the troops."
Edd Bissell checked on the little school just the other day. The new teacher is doing fine. Progress all around. There's talk of building a casita so teacher doesn't have to sleep on the classroom floor.
Good old Edd brought along a package of Oreo cookies. You could hear the cheers a block away.
This is my gringo-butting-in story and I'm sticking with it.
Published or Updated on: October 1, 2008