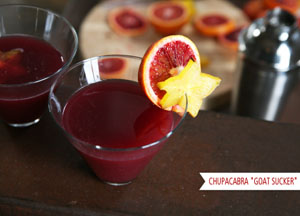 El Chupacabra Martini will set your honey's heart afire. The fiery red blood orange juice infused with the explosive Brazilian aphrodisiac of acai is sure to make sparks fly.
Hints of guava and pineapple nectar in this drink are fruits from Puerto Rico (where Chupacabra sightings were first reported).
This sensuous drink with a beautiful mix of juices is perfect for Valentine's Day or any romantic occasion.
You can barely taste the coconut rum in this sweet drink, which makes it extra dangerous, just like its namesake.
Makes: 2 drinks
Ingredients
4 ounces coconut rum
2 ounces açaí juice
1 ounce guava nectar (recommend Jumex)
1 ounce pineapple nectar (recommend Jumex)
1 cup crushed ice
1 blood orange, sliced
1 star fruit, sliced
Link to source article
A Mexican menu for Cinco de Mayo
Published or Updated on: May 2, 2011