Mexico's outdoors provides wonderful opportunities to climb mountains, volcanoes and caves, to sail and kayak the waterways, bays and oceans, to para-sail Mexican skies and to fish the lakes and deep seas.
Everybody's Happy At Morelos's Las Huertas Adventure Paradise
Climbing Mexican mountains, volcanoes and caves.
Climbing Mexico's volcanoes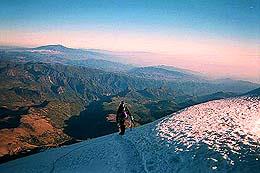 Pico de Orizaba (Citlateptl) 5700m 18,700ft
Popocatepl 5452m 17,887ft
Iztaccihuatl 5286m 17,342ft
A Mexican Mountaineering Expedition
On Pico de Orizaba, Mexico's highest volcano (Citlaltepetl in Veracruz) – with PHOTO GALLERY
Exploring caves in Mexico: the speleologist's new frontier
El Pozo de la Pestilencia, La Cueva de la Villa Luz, Naica caves and Mexico's other caves and cenotes.
Sailing in Mexican waters
Very informative description of everything a blue water sailor needs to know about Mexican waters, legal requirements and sailing advisories.
Para-sailing in Mexican skies
A Parasail is like a parachute, designed to resemble a wing, enabling the flier to glide and soar along Mexico's mountain ridges and valley thermals.
Camping & Fishing
Other articles including self-guided tours
Galleries – visual touring
Published or Updated on: July 30, 2011