Everybody's Happy At Morelos's Las Huertas Adventure Paradise
Close your eyes and imagine warm water rushing over your shoulders and massaging your back as you recline in the shade, leaning against a log. Open your eyes and you are at Las Huertas enjoying the artesian fed stream at the heart of the park. Paraiso Adventura Las Huertas (Adventure Paradise Las Huertas), located in southern Morelos along the Amacuzac River, is both adventurous and relaxing. It is a relatively small park, of about three hectares (approximately seven and a half acres), with both man-made pools of varying depths and a cascading waterfall, with artfully enhanced natural pools.
Swimming and Lounging at Las Huertas
Just after entering Las Huertas you see the aqua-colored eye of a warm spring. The spring is surrounded by a C-shaped edge that provides places for bathers to lounge. The mouth of the "C" is a stepped waterfall where people can sit and enjoy a warm body massage. The stream continues down slope forming a series of shaded pools and falls, all perfect for exploring and lounging with friends and family.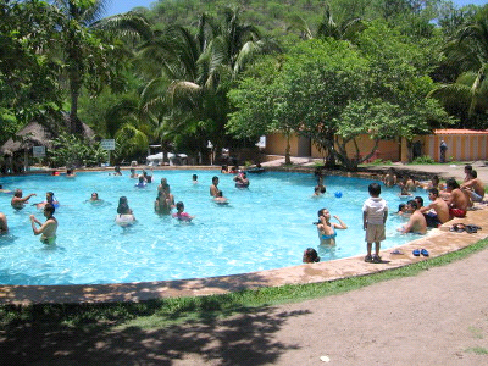 The bottoms of the pools are sandy so it's a good idea to bring some kind of water footwear in order to explore with gusto. The coarse sand is fun to scoop up in your hand and let slide out again while you observe the colors and shapes.
It is easy to access much of the stream from the bank, which is bare of vegetation, and on Sundays elderly women can be seen enjoying the warm, flowing waters. As long as you aren't there on a weekend, there are plenty of private nooks further down the falls, near where the spring joins the chocolate colored Amacuzac River where you can get a sense of solitude. As you recline in your choice location, you occasionally catch a very faint hint of the smell of sulfur.
There are also a couple of places where you can lay on your back and float a short distance, gazing up at the leafy canopy. If you look closely you will see that many of the trees produce the squishy black fruit called zapote negro.
The natural pools reminded me of my childhood days of playing in the streams of the Pacific Northwest with my sister, though I appreciated that in this case the water is warm and you can stay in it for hours in the shade without getting cold. I went to Las Huertas on a Sunday, the traditional day for family outings in Mexico, so the park was packed. Everywhere I could see bathers reclining in the water, chatting with their companions.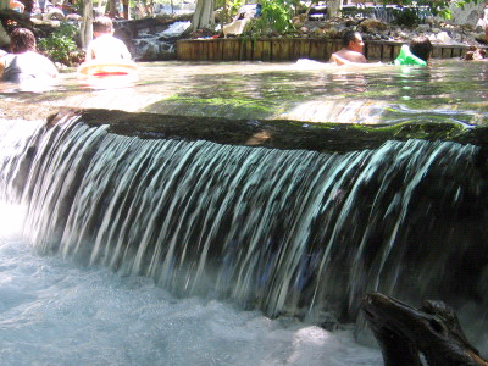 While I appreciated the falls for their natural look, shadiness, moving water, and sense of adventure Las Huertas also has three round swimming pools of various depths and one rectangular pool, ranging from less than a foot deep, to about four feet deep, which are perfect for children's rollicking games. The rectangular pool is surrounded by thatch-roofed palapas for those who wish to sip their ice-cold drinks and read while the kids have their fun in the sun. The pools are clean and free of mysterious little yucky things, so you can fully enjoy them. Bring your water wings, inner tubes, and beach balls to enjoy these sparkling play areas.
The Facilities at Las Huertas
Adventure Paradise Las Huertas provides picnic tables throughout the park stationed near the stream and pools so you can stake one of these out as your home-base. You are allowed to bring your own food and drinks, though glass containers are strictly prohibited. There are relatively few barbeques in the park so, if you aren't going on a weekday, it would be smart to bring your own portable if you have one. I had to laugh at the sign at the entrance prohibiting microwaves! I guess the park staff has seen it all, as Mexicans are used to transporting all sorts of equipment for work and recreation because electric hotplates, propane tanks, pets and weapons are also prohibited.
Camping is allowed anywhere you would like in the grounds on a first come first serve basis. Level areas are limited, so come early to get your spot. There are many small trees and, if you have a hammock, you can bring that along for a relaxing siesta. On the Sunday that we visited the afternoon smells of beef and longaniza cooking over hot coals made my stomach growl with longing.
I appreciated the noticeable lack of trash throughout the park. Despite the fact that on the day we visited there were easily 1,000 people packed onto the grounds, I only saw three Styrofoam cups all day long. Garbage cans are available in convenient locations and it is clear that staff members also move through the park, keeping it clean.
The only disappointment at Las Huertas is that the bathrooms are standard Mexican bathrooms. There was no toilet paper in the lone toilet paper dispenser and no soap – not even soap dispensers to give the illusion of the presence of soap. By the end of the day, mountains of used, imported T.P. were flooding the bathroom stalls, though the bathroom had been cleaned recently enough that there was no odor. Secondly, mud is tracked into the bathroom and changing area. Mud in and of it's self is OK but there are no hooks or shelves in the changing area to allow you to keep your towel and other things out of it. Ni modo. You're in Mexico and you have to take the good with the bad.
There is plenty of good to be had. As we were enjoying the kiddy pool, a father loaned our son his daughter's little inner tube and beach ball, just out of the kindness of his heart. Later on he saw us getting ready to leave and told us that if we wanted, his family had left over beef that we could throw on the barbeque. "We always bring lots," he said. "Really, you are totally welcome to it." He told us that we reminded him of his family when his first child was a baby and asked us about sights to see in downtown Cuernavaca, as he had come from Mexico City. This kind of hospitality is infectious and makes traveling in Mexico a joy.
As it was, we declined his generous offer and went to the palapa restaurant at the uphill edge of the park, open from 9:00 a.m. to 5:00 p.m. Here you can order all types of gorditas, quesadillas, or a fried carp as well as classic snacks such as potato chips, pop (that's soda for those of you not from the West), and packaged cookies. The prices are reasonable. The gorditas and quesadillas are large and handmade on a comal for only $10 pesos a piece (approximately $1 U.S.). The fried fish is huge and comes on a bed of lettuce with a dressing on the side for $80 pesos (or approximately $8 U.S.). I was impressed with the prices because the park is in the middle of nowhere and could easily get away with charging higher prices for foods. A second restaurant in the modern style building at the entrance sells hamburgers and French fries, also for reasonable prices. Next to the burger restaurant is a store that sells bathing suits, floatation toys and other things for fun in the water.
The park allows visitors to enter from 8:00 a.m. to 6:00 p.m. daily and the entrance fee for adults is $50 pesos (approximately $5 U.S.) with reduced fees for small children. If you stay the night you can enjoy the park for two days for $150 pesos per person and $75 pesos each additional night.
Tourism Jobs
We talked to a park employee who told us that the park employs 40 people regularly and 70 on holidays and vacations. These jobs are an alternative to the farming and grazing that are available in the tiny towns a few kilometers away from the park.
How to Find Las Huertas
Getting to Las Huertas is a real Mexican adventure that is best done in a private vehicle. From Cuernavaca, take the toll highway, south, following signs to Acapulco. You pass through the first toll booth and pay $56 pesos for passenger vehicles. From the toll booth, you travel an additional 31.5 kilometers through hot, grazed forest and occasional sorghum fields. Here's the trick. The turn off is an unimproved cattle guard at the end of a cut bank. You can't see this turn off as you approach it. The one and only warning that you have to flick on your turn signal and slow your speed is that about 100 meters before you will dive off the narrow highway shoulder you see the small kilometer marker (just like the mile markers we have in the U.S.) for kilometer 149. Keep your eyes on those kilometer markers and as soon as you see the marker for kilometer 149, slow your speed and prepare for a rough exit. Do not miss this because it will be many kilometers before you can turn around and you will probably be charged at two more toll booths to do it.
As soon as you cross the cattle guard, you see a large sign for Las Huertas and a second water park. Turn left at the signs and cross the bridge to the other side of the highway. Next you travel a little over three kilometers on a graded dirt road through the booming heat of southern Morelos, catching glimpses of the Amacuzac River. You pass only two solitary sheds where you can buy quesadillas before arriving at the parking lot and park entrance. Don't let the tricky access road stop you. On your next visit to Morelos, let Las Huertas fill your heart with joy.
Published or Updated on: January 1, 2008