Photo Gallery: Fly to Puerto Vallarta, but stay in Rincon de Guayabitos
Let the adventure begin! The children were understandably excited as we exited Puerto Vallarta airport after flying from Seattle via Los Angeles. They were going to revisit some of their favorite haunts for the first time in several years. Smiling immigration officers were quick to deal with the sudden influx of passengers disembarking from the Alaska Airlines flight and, within minutes, we were at the carousel, waiting for our checked bags.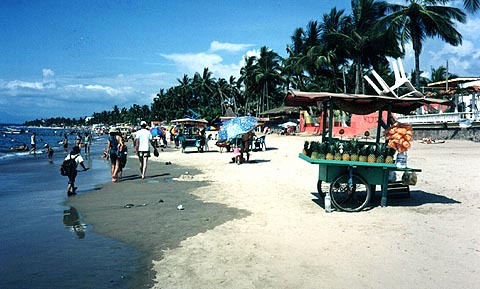 Then a momentary attack of panic when we realized that the one-of-a-kind stunt-flying kite we'd carried carefully as hand luggage all the way from Seattle had been abandoned on the plane, forgotten in our rush to set foot in Mexico again. We explained our "problem" to an airport employee whose response was "No hay problema" – "There is no problem". A few minutes later, even before the rest of our luggage had reached the carousel, he was cheerfully handing us the kite, a gift for our kids' best friends and childhood neighbors. He even apologized for the fact that no-one had noticed it earlier!
Moments later, luggage in hand, we approached the famous "traffic light" in customs. A green light gives you free passage; a red one means your bags will be opened and inspected. Our youngest is the lucky one in the family but when we pushed him forward to press the button, the customs officer grinned and said that children are not permitted to try their luck since if they happened to get a red light, their parents might be angry at them!
The warm and friendly reception by officials at Puerto Vallarta airport was an early sign of the courteousness that we soon found to be characteristic of this part of Mexico, from taxi drivers to shopkeepers, from boatmen to hotel receptionists.
Our flight had arrived in the mid afternoon, so we had decided to spend our first night in downtown Vallarta, placing us close to the beach promenade and a myriad of stores. A luxurious, though expensive, airport taxi whisked us in air-conditioned comfort through the traffic to our chosen hotel: the Gaviotas Vallarta, a favorite for Mexican families. This taxi cost us 25 dollars, or about a dollar a minute, whereas our return cab, hailed on the street, was a much better bargain at less than 5 dollars! Moral of the story: avoid airport cabs, if at all possible!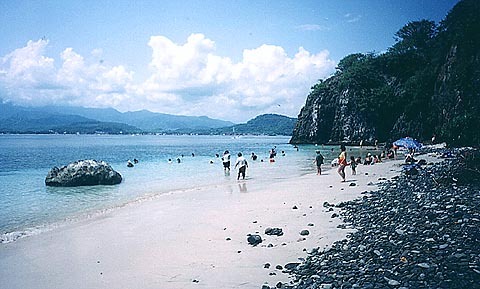 In the late afternoon, we strolled a few blocks, looking in various stores and changing some money at a Casa de Cambio. "Money exchange houses" are so common in downtown PV that rates do not vary greatly from one establishment to another. Once we'd acquired some pesos, a quick spin around a local supermarket to stock up with bottled water, sunscreen and sandals, and we were all set!
As the sun went down over the ocean, we had dinner at a beachside palapa (thatch-roofed) restaurant almost next to our hotel. The food was good, the prices reasonable, and the ambiance outstanding. Feet in the sand… stars overhead…. a gentle breeze… a Corona in hand… What a pleasant change from the cool, wet and windy weather of the west coast of Washington State or B.C.!
While it's always fun to spend a night or two in Vallarta, we realized, after wandering through a few tourist-class hotels, that the city is still quite an expensive place for visitors, compared with other parts of Mexico. Ever since the romance of Elizabeth Taylor and Richard Burton, international "high-flyers" have helped keep the city's hotel and restaurant prices elevated. There may be fewer high flyers about than there were during the stock market boom years, but prices haven't dropped.
Fortunately, there is a really excellent alternative to PV for families preferring to vacation on a more modest budget: Rincón de Guayabitos, a small tourist-oriented beach town less than an hour's drive away. And, given that we don't consider ourselves "high flyers", that is precisely where we headed.
The quickest, simplest way to Guayabitos from Vallarta is by taxi; the cheapest way is by a combination of local buses. Opting for simplicity, we hailed a cab on the street and agreed that the suggested fare of 450 pesos (about 48 dollars) was reasonable. As we sped north towards Guayabitos, the taxi driver proved to be a mine of information about local events and happenings, taking the tedium out of a rather uninteresting, winding highway.
We had been to Guayabitos several times before and have always made it a point to stay somewhere different each time. This time, a friend had suggested we try the "Villas Buena Vida", one of several relatively new upscale accommodations which are gradually moving Guayabitos into the tourist mainstream.
Our comfortably furnished "standard" room was spacious, with two double beds, as well as a bathroom, dining area with table and chairs, cable TV and full kitchen. The Villas Buena Vida also has numerous (palatial?) 2-bedroom, self-contained "suites", some of which are wheelchair accessible. All the Villas Buena Vida rooms are well designed to catch whatever breeze is blowing to provide some cross ventilation. Some rooms have efficient ceiling fans; others have air- conditioning. Each room has its own private balcony overlooking the central pool area and the beach.
The beach is, of course, the main attraction of Guayabitos. The broad sweep of Jaltemba Bay allows only gentle waves to swish onto the warm sand, making it much safer for children than most of the Vallarta oceanfront. For the next couple of days, the kids alternated between spells playing on the beach or splashing in the warm shallows and prolonged leisurely wallowing in the cooler hotel pool, interspersed only by snacks, meals and sleep.
When hunger drove them indoors, it was easy to provide them with tasty snacks such as nachos, alongside fresh avocado and fruit. Alternatively, take some tostadas (deep-fried crispy tortillas) and pile them high with beans, cream, avocados and grated cheese. Yummy!
One of the great things about Guayabitos is that nowhere are you very far from a small store or mini-supermarket. All the better hotels are on the beach. Access is via a series of dead-end roads, cunningly connected by walkways for pedestrians only. The town's main street (for vehicles) is one block back from the beach, ensuring not only that visitors don't have to contend with traffic when they leave their hotel, but also that they don't have to walk more than a block or two to reach one of the numerous small stores on the main street. The stores are open from early in the morning until late in the evening, so that, even if you don't have refrigeration in your room, you can easily purchase even perishable items, "just in time" as they say these days.
One lunchtime, we hiked along the beach to the far end of the bay and sampled the food in the beachside La Tropicana palapa restaurant. We weren't hungry enough on this occasion for freshly prepared seafood such as giant shrimp. Instead, an attentive waiter kept us well supplied with steaming hot tortillas as we shared a cheese fondue (queso fundido) spiced up with Mexican sausage or chorizo. This wonderful "do-it-yourself" snack meal cost a whopping 84 pesos (9 dollars), plus tip, for the four of us. This included soft drinks (bottled sodas and limonadas).
We found all the restaurants we tried in Guayabitos to be reasonably priced, which is more than we could say for Vallarta. After a half-day boat excursion later in the week, we tried a different a beachside "palapa" and found that they, too, charged just 45 pesos for a cheese fondue with chorizo, though the 20 peso price on the menu for naranjadas (orangeades made with fresh orange juice) seemed a tad steep, until they arrived and we saw the gigantic bowl-shaped glasses, filled to the brim.
Our morning boat ride had been good value, but, predictably, the boatman hadn't been able to find the exact change when we'd paid him as we set foot on terra firma once again. He'd asked us where we intended to eat and promised to find us with the missing 5 pesos. Sure enough, ninety minutes later, as we sauntered along the beach after paying our bill for the lunchtime snack, the boatman suddenly materialized with the five pesos in hand, apologetic that he'd almost missed us. Now, correct me if I'm wrong, but I can't ever remember anything quite like that happening in Puerto Vallarta (" Costa Mucha"). It's another great example of why we feel much more at home in Guayabitos!
It's fun just sitting on the sand and watching the many different vendors stroll by with their wares. Whether you're looking for a silver trinket, a hat, or a blanket, it's likely to walk past you before too long. And, should you get peckish while waiting, then why not try some churritos? The artistically sliced mangos on sticks look tempting, too, as do the pineapple shells filled with chunks of topical fruits, but buyer beware – unless you've peeled it yourself, eat at your own risk. The musical tinkle of the ice-cream salesperson attracts young children while an older woman who specializes in hair-braiding quietly waits at the landward edge of the beach for her next customer. How elaborate the style is dictates how long the process will take and how much it will cost.
We did a little comparison shopping, just for curiosity, and discovered that identical craft items were priced from 30% to 50% less in Guayabitos than in Vallarta, and that this difference remains even after bargaining. Our son bought some small "nodding" animals, with heads that sway back and forth. The price in Vallarta? 35 pesos. Guayabitos price? 20 pesos. His best buy was a wonderful Tilley-look-alike sombrero (bush hat) for just 45 pesos. He couldn't resist buying a knock-off of a Nike baseball cap, either, for 40 pesos, and has scarcely had his head uncovered since. Our daughter has better taste and spent several minutes examining small glass animals and figures on thin necklace chains. The Indian woman selling them kept producing more examples long after my daughter had chosen the one she wanted, presumably in the hope that someone who buys one of them may want two, or even three… After a brief bargaining session, my daughter emerged thinking she was triumphant, having acquired a pretty glass dolphin for just 8 pesos. Of course, the real winner was probably the Indian lady for having sold a 5-peso dolphin for 8 . . .
After a day or two of doing very little, you may want to explore. One popular option is to take a half-day glass-bottomed boat trip out to an island, Isla Islote, in the bay. Depending on the precise arrangements made beforehand, this may include a short guided tour of the coast for half an hour or so en route. A private boat (suitable for a party of 4 to 10 people) will cost around 250 pesos (27 dollars) round-trip; alternatively, the "collective" boat costs 50 pesos a person, also round-trip.
Apart from offering some great photo opportunities, you'll also get close-up views of some of the thousands of marine birds that roost on the offshore rocks and islets. In the still waters beneath the boat, you'll see coral formations and numerous kinds of fish. Our favorites were the small iridescent blue ones that flashed by, seemingly oblivious to the human intruders overhead. The island has a small beach, but not very much shade, so bring your own beach umbrella. The hillside restaurant that was under construction when we were there is, by now, probably open and functioning.
For a more active water sports experience, there's always a banana ride (50 pesos per person per session) and you may also see people on jet skis or water skis. Sport fishing, snorkeling, horseback riding and biking are also possible. Inland, legend has it that there are nearby rock drawings and a small archaeological site. Sorry, but we didn't get that far: the allure of sun, sand and Corona was too strong to resist.
And the downside of Guayabitos? Well, I must admit that it doesn't exactly hum and buzz with nightlife, but then that's not why we keep coming back. Perhaps the kids will outgrow their affection for Guayabitos, but for now, it offers the kind of relaxed evening activity we can all enjoy. As distant thunder heralds a change of weather from the mid afternoon sun, a brief shower forces us to dodge the bigger puddles as we walk through town to find supper. Some casual browsing in stores and the distant sound and light show of the thunderstorm seem to be entertainment enough.
Some guidebooks describe Guayabitos, somewhat dismissively, as the "Poor Man's Vallarta", but this doesn't seem fair. The two places are very different and appeal to very different kinds of people. For raucous nightlife, Vallarta is definitely the place. For a modestly-priced family holiday, Guayabitos wins any day. And the really high-flyer in this story? Well, it's obviously not us, or we wouldn't prefer family-oriented Guayabitos to upscale Puerto Vallarta. Perhaps it's the kite that we so nearly left on the plane!
HOW TO GET THERE
Puerto Vallarta International Airport is served by several carriers, including Alaska Airlines, from the U.S. and Canada. From Puerto Vallarta, a regular taxi to Rincón de Guayabitos costs about 45 – 50 dollars each way for up to five passengers (airport taxis will cost more). An inexpensive alternative is to use the regular bus service from the PV bus-station (located relatively close to the airport). Buses depart every 30 minutes or so for La Peñita, from where a local taxi will ferry you into Guayabitos. Approximate cost per person for a party of four: 8 dollars.
WHERE TO STAY
Rincón de Guayabitos has numerous hotels and housekeeping units. Prices are a guide only. Most hotels have several categories of rooms. For up-to-date room rates and offers, contact the hotels directly.
The Villas Buena Vida (Double room: 75 dollars) is deservedly popular and reservations are essential, especially during any holiday period. Mailing Address: Retorno de Los Laureles 2, Apdo Postal 62, Rincón de Guayabitos, Nayarit, C.P. Tel: 011-52-(327) 274-02311 Fax: 274-0556 276-3727. U.S. mailing address: Box 203, Petersburg, Alaska 99833. E-mail: [email protected] Website: www.villasbuenavida.com
Located towards the middle of the bay are Hotel Posada La Misión (Double room: 35 dollars. Mail: Retorno Tabachines 6, Rincón de Guayabitos, Nayarit, C.P. 63726 Tel: 011-51-327-274-0357. Fax; 40017) and Hotel Costa Alegre (Double room: 47 dollars. Mail: Retorno Tabachines s/n, Rincón de Guayabitos, Nayarit, C.P. 63726 Tel: 011-51-327-274-0241 Fax: 274-0243)
Another option, at the south end of the bay, is the Hotel Rincón de las Palmas (Double room: 40 dollars. Mail: Retorno Palmas s/n, Rincón de Guayabitos, Nayarit, C.P.63726; Tel: 011-52-327- 274-0191 Fax: 274-0174).
WHERE TO EAT
We enjoyed Jaquelin's (close to the Villas Buena Vida). Service is rapid and the food good, albeit offered in some strange combinations. Especially good are the sizzling hot fajitas. Another worthwhile restaurant choice, though we didn't eat here this time, is the Piña Colada Bar & Grill. Several beachside restaurants, including La Tropicana, offer a variety of excellent seafood. Their location guarantees a view and a cooling breeze. Beto's on the main street in the center of the town lacks the view and the breeze but is very popular, with friendly service and well-priced freshly prepared informal meals and snacks.
Copyright 2001 by Tony Burton. All rights reserved.
Published or Updated on: March 1, 2001