Photo Gallery: Toribio Romo: the patron saint of migrants
José de Jesús is a dark-skinned young man who wears cowboy boots and a Texan hat. He arrives to Santa Ana de Guadalupe in a pickup truck flashing US license plates. He drove all the way down from Colorado to greet the saint:
"A friend and I left Jalos with the intention to work on the other side. We reached the border through the North of Sonora. When we were at the crossing, the pollero (human trafficker who carry out illegal crossings of the border from Mexico to the United States) who led us ran away and abandoned us in the middle of the desert," recounts José.
"We got lost and drifted from here to there for several days. We ran out of food and water and were desperate and near collapse. All of a sudden a truck stopped to our side and the man who drove it gave us water and invited us to jump in. When we stepped down from the truck he gave us a few dollars and instructed us to ask for work in a nearby field, that they would hire us there."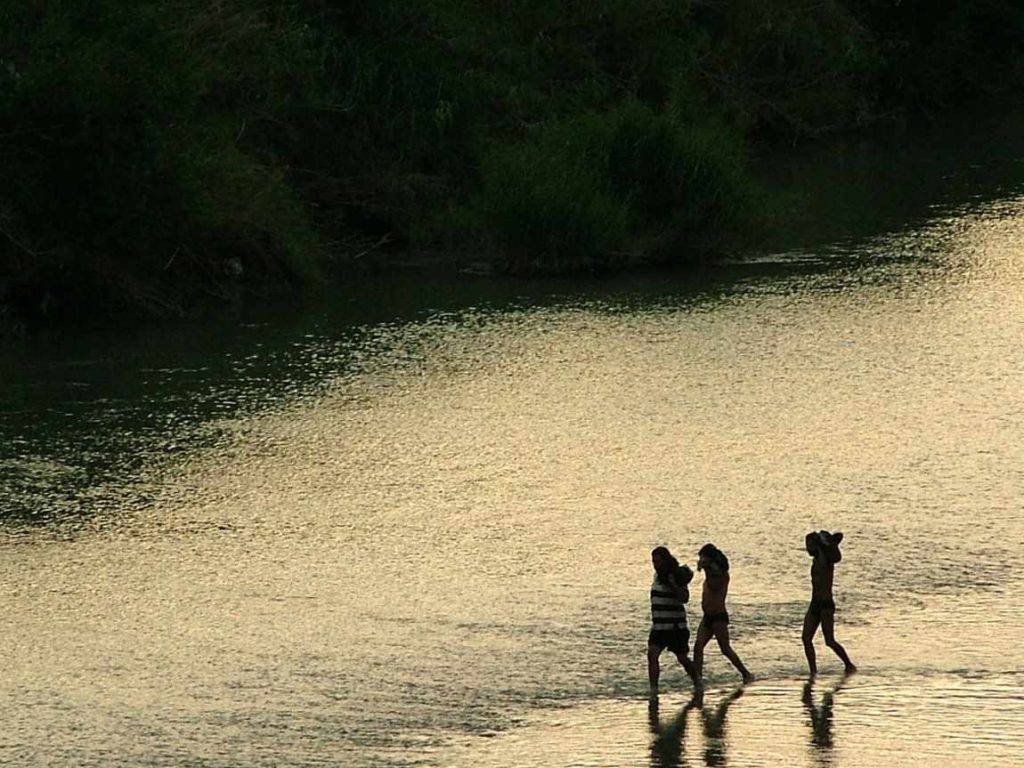 Gratefully, they then asked the man for his address, to repay the loan with their first wages.
"He said, 'You are from Jalisco, are you not? When you earn enough money, go to Santa Ana and ask for Toribio Romo. That is my name.' With the money he gave us we paid our lodgings and, for sure, we got jobs at the place he mentioned. Some time later we came to Santa Ana. When we entered the chapel and saw the image over the altar, we immediately recognized the man that had helped us. We inquired about him and they told us he had been dead for 70 years. Tears came to us and we gave our testimony." Since then José visits at least once a year the temple dedicated to the one he worships as his protector.
These rescue stories, some of them in extreme danger situations when illegally crossing the border(1), are retold over and over in Mexican cities and towns, especially in those states – Jalisco, Zacatecas, Michoacán, Guanajuato – from where people in greater numbers head North as undocumented migrant workers  or mojados ("wet," in reference to the fording of Río Grande).
Of all the saints from the time of the Cristeros war canonized by the Catholic Church, Saint Toribio is no doubt the most popular, unofficially baptized as "the patron saint of migrants."
A martyr from the Cristiada
French historian Jean Meyer(2) conducted research on the Cristiada in Mexico in the 1960s and 1970s. He worked with the most complete set of documents available regarding that period of Mexican history. He also had the opportunity to interview many people who actively participated in the conflict and survived to talk about it. As a result of that work, Jean Meyer published between 1973 and 1975 three volumes of a book considered to this day the best on the subject: La Cristiada.(3) Convinced of the exclusively religious character of this war waged by the Mexican people to defend their Catholic faith, Meyer adopted Mexican nationality and stayed to live in Mexico, where he keeps developing his career as historian, researcher, author and brilliant columnist. In 2000 Jean Meyer was admitted as numerary member of the Mexican Academy of History.
The Cristero war or Cristiada (1926-1929) was an armed movement of the Mexican people against the religious repression unleashed in the country during the administration of General Plutarco Elías Calles. The name Cristiada, coming from the call ¡Viva Cristo Rey!, repeated by Cristero guerrillas, was imposed by the voice of the people itself, resented by the persecution and attacks against its Catholic faith;and then decided to go to arms to defend it.(4)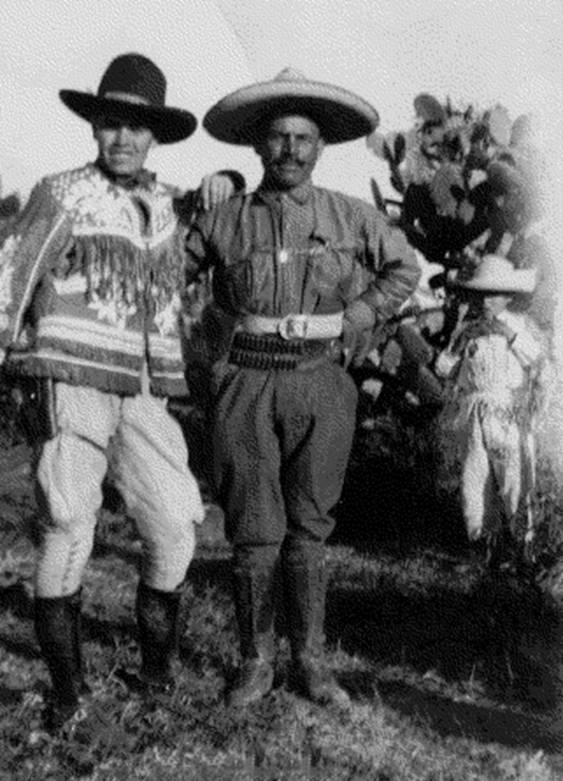 The fight took place in almost every corner of the country. There were uprisings to the North of the republic, in Sonora, Zacatecas and Coahuila, and also in the South, Chiapas, Guerrero, Puebla, Oaxaca; and in other regions as well, but with less intensity. It was in the states of Jalisco, Michoacán, Guanajuato, Zacatecas and Querétaro where the conflict exploded with the greatest violence.
The Cristero movement was not only about fighting the army that came to towns and villages to apprehend and murder priests; in the cities and many other parts of the country there were also large public protests, pilgrimages and processions to support the Cristeros, with thousands attending such gatherings. The government maintained that it was all "a reaction of Indians stupefied by the clergy and immersed in fanatism."
Toribio Romo González was born in the small village of Santa Ana de Guadalupe, parish of Jalostotitlán, Jalisco, on 16th April 1900. He was ordained on 23rd December 1922. In September 1927 father Toribio was sent as vicar and acting parish priest to Tequila, Jalisco; a difficult and complex mission, as in that municipality civil and military authorities chased priests with special viciousness. Because of the grave danger, father Toribio was not able to live in the curacy of Tequila, so he stayed at the ravine of Agua Caliente in a house belonging to Mr. León Aguirre. Near there, in an abandoned tequila factory adapted as a refuge and ministry center, he officiated clandestine masses and tended to the spiritual needs of his flock. In December 1927, Toribio's younger brother was ordained priest and also sent to Tequila as collaborating vicar; a few days later their sister, María, joined them to care for them and help them.
Being in Agua Caliente, his brother gone on an errand, he wanted to update the parish books. He worked Friday all day and night. At 5 a.m., Saturday the 25th February 1928, he wished to celebrate mass, but he was too tired and decided to rest a while to better officiate. Barely asleep, a group of agrarians and soldiers jumped into his room; and when one of them pointed at him and yelled: "That one is the priest, kill him!" father Toribio woke up, scared, and stood up only to receive a burst of gunfire. Wounded and unsteady, he walked a little bit. Another burst, now on his back. His sister María took him in her arms and said to his ear: "Courage, father Toribio… Merciful Jesus, embrace him! ¡Viva Cristo Rey!" Toribio looked an instant at her with his light eyes and died.(6)
A visit to father Toribio
Years ago I was lucky enough to be in Sayula on Palm Sunday and in Tuxpan for Good Friday, in the heart of Jalisco Cristero land. I couldn't help but notice, in and outside the churches we visited, images of a saint then unknown to me: a martyr priest from the Cristero wars, murdered because of his faith and his ministry close to the very famous and very Jaliscoan town of Tequila.
Back from these excursions, itching with curiosity, I pledged myself to gather information on Toribio Romo. Curiosity soon turned itself into profound interest. On the first available weekend, an expedition was organized, along with a small group of friends, to visit Santa Ana de Guadalupe, a little village close to the town of Jalostotitlán, and cradle of our saint.
One sunny April Sunday we took off, early in the morning, to follow the highway that runs from Guadalajara to Los Altos de Jalisco and Guanajuato, heading for Jalostotitlán. When we arrived at the toll booth at Jalos we got the first evidence of the popularity enjoyed by Saint Toribio: beside the usual signs – indicating directions for San Juan de los Lagos, León and other cities of importance – was one, at least double in size, marking the way to Santa Ana de Guadalupe. Not bad for a small village of 390 inhabitants, lost in the middle of nowhere. A short and narrow paved road, brand new and in perfect shape, took us to a smart limestone semicircular arch guarding the entrance to the pueblito, with inscriptions referring to the saint in shiny golden characters. "Santo Toribio's Route", announced a metal sheet at the base of the monument.
The traffic on the tight road seemed to be way out of proportion for so small a settlement. We then learned that in a given weekend about 5,000 souls visit the village, with peaks of up to 10,000 pilgrims on special occasions. We didn't want to imagine how things would be on 15th February, Saint Toribio's anniversary. Buses, trucks and cars came and went in a continuous flow that forced us to a very slow advance and pay acute attention to the driving. This religious tourism has generated an important economic impact in Santa Ana. This boost is pretty evident on the street, in buildings and infrastructure of very recent development, and in the feverish activity that circles the visitor at all times.
We were able to find, at last, a spot to park our car, and then submerged ourselves in the tide of people to climb up to the chapel of La Mesita. Toribio himself participated in the construction of this sanctuary, and later, once ordained, he celebrated the first mass here. In this place, dominating all the panorama of the village, rests the remains of the saint.
This is the epicenter of all the movement in Santa Ana. Two long lines of people slowly walked from the atrium to the temple's interior. We queued with everybody else. Finally, after a long while and in cramped tumult, we were able to reach the altar. Below, in a glass urn, a coffin: the remains and relics of Saint Toribio. We became overwhelmed by the faith surrounding us. People came to the urn and caressed the glass, praying and thanking and asking for favors received and to be received. Grannies and Grandpas, dads and moms carried their little ones so they too could pass their small fingers over the glass. Young and old united in their devotion to the martyr.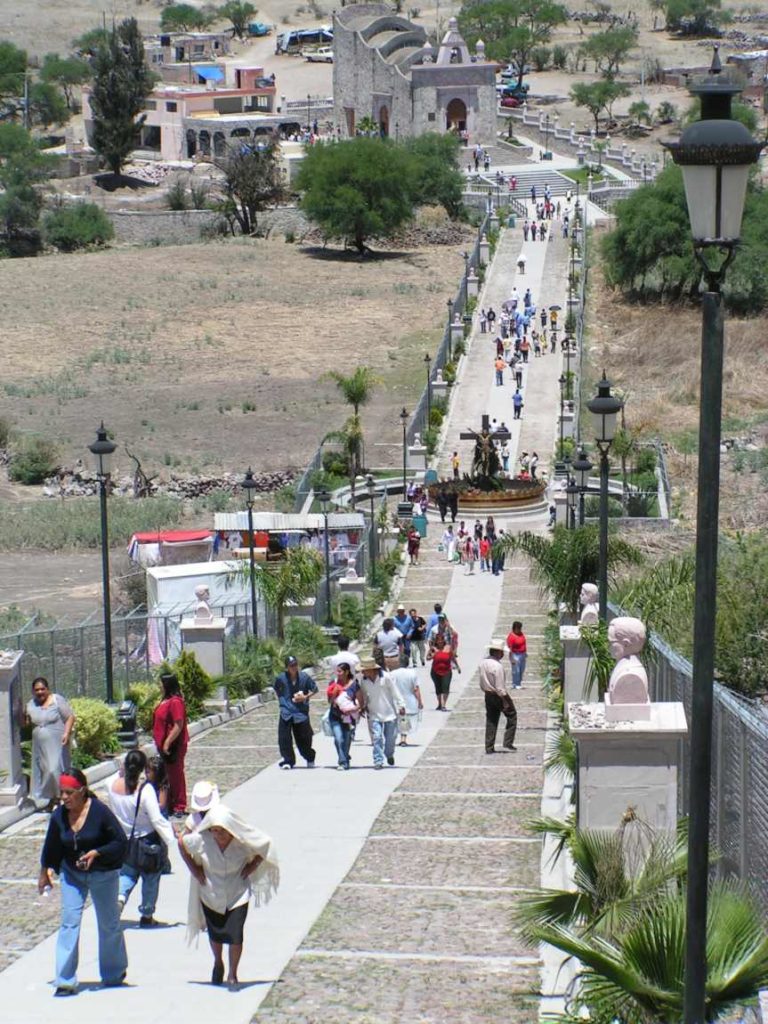 Back in the sunshine, we went around the building to enter the Annex, an ample space where there is a display, hanging from the walls, of retablos and exvotos: written and drawn testimonies of persons thanking received favors via the good offices of the saint. We paused to examine the walls covered by these documents. At the adjacent store I bought a booklet on Saint Toribio written by his brother, Román, also a priest and lucky survivor of the religious persecution.(6)
At one side of the Annex we took a long avenue going down to the plain and leading to another chapel, down below in the small valley. This one was built in 1978 over the site where Toribio Romo was born. On both sides of the avenue stand effigies of Cristiada martyrs canonized by the Catholic church. We strolled for a while over the Calzada de los Mártires, noticing the large number of people going up and down around us.
With this final walk we returned to our car. Driving back to Guadalajara we exchanged opinions about our experiences of the day in Santa Ana. An important piece of Mexican history traveled with us. A sign of the great faith of our people had also settled in our mood. As for me, I asked Saint Toribio to intercede on our behalf, migrants passing through this perilous world—tough and unjustly globalized—in which we happen to live.
I almost caught a glimpse of the limpid gaze in his light eyes, attentive to the road ahead, vigilant, waiting to assist us in case of need.
__________
Notes and References
Testimonies rendered at the Annex to the chapel of La Mesita in Santa Ana de Guadalupe, Jalisco.
Meyer, Jean: La Cristiada. Siglo XXI. México, 1973-1975 (threevolumes).
Navarrete Flores S. J., Heriberto: Por Dios y por la patria, tercera edición. Jus. México, 1973.
Heriberto Navarrete Flores, S. J. After the war he was ordained priest. I had the privilege of meeting himat Instituto de Ciencias, Jesuit school in Guadalajara where my children studied.
Romo, Román: Santo Toribio Romo.Local edition. Santa Ana de Guadalupe, Jalisco.
Luis A. Dumois Núñez.
September, 2020
Want to learn more about the Cristeros?
Published or Updated on: September 25, 2020