Toluca is a city bursting with activity due to its status as capital of the State of Mexico and as a modern industrial center. You will really notice the vehicle traffic here that doesn't seem to subside all night long. Within the past twenty years (perhaps 15) the population has exploded, and I suspect that trend will continue due to the fact that there is an abundance of relatively flat land surrounding (albeit 5 miles from the city center) much of it still being farmed.
The feel is not of a metropolis here since the buildings are low and plazas are abundant. It does not take you long to get your bearings and explore the city center. Food (especially the baked goods) is excellent and there is a variety of things to do and places to visit.
There is first class bus service directly from the Mexico City airport if you do not want to run the DF gauntlet on your trip here.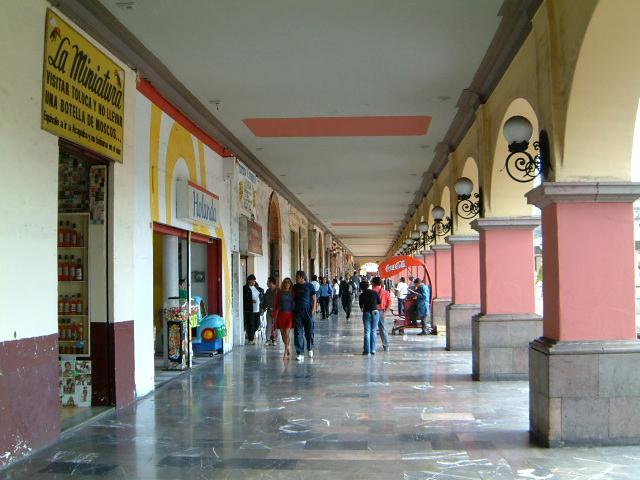 Looking southeast across the Plaza de los Martires from near the Palacio Gobierno, the colorful Templo de la Santa Veracruz overshadows the nearby Cathedral as the showpiece of the city center.
From the steps of the Cathedral to the north is the Palacio Gobierno across the Plaza de los Martires. Looking southwest at the cathedral this little plaza is separated from the Plaza de los Martires by the building on the right. Generally looking north from near Hidalgo street the portaled pedestrian mall has eating places but not a lot of shopping. Hosteria Las Ramblas and Caffe Espresso are up to the left.
(Pictures taken April 21, 2004)
Published or Updated on: January 1, 2006