Hierve el Agua: Bubbling springs and petrified waterfalls in Oaxaca, Mexico
Hierve el Agua is stunning, one of Oaxaca's most impressive attractions — and perhaps one of the most spectacular in the entire country. Yet, surprisingly, it is one of the least visited. With its bubbling springs and petrified waterfalls, Hierve el Agua should be considered a "must see" for naturalists, photographers, hikers and anyone else with an interest in the outdoors, who is planning a visit to south or central Mexico.
Hierve el Agua translates as "the water boils." But the name is actually a misnomer. At two locations about 75 feet apart, water does indeed "boil" up from the ground. However, it is forced to the surface by the earth's interior pressure, reaching the surface at approximately the temperature of the atmospheric.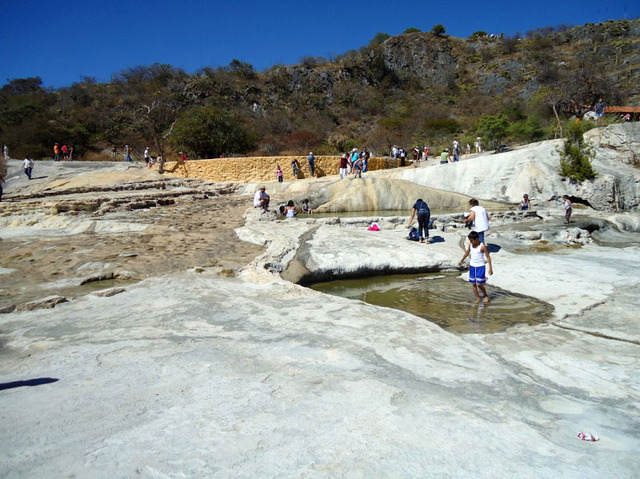 It rises to the surface, then flows into two man-made pools of fresh, mineral-rich water. They gradually slope to a depth of some seven feet, thus the pools are suitable for swimming. Taste the water before it reaches the lower pool, as it flows along a narrow canal. It is crystal clear and pure except for natural minerals.
The bubbling springs are rich in calcium carbonate and magnesium. Between the springs and the pools are mineral deposits. Thousands of years ago the surface was lower — it has risen gradually to its present level due to the deposits. This mineral build-up creates the appearance of petrified waterfalls.
Hiking paths
Paths and trails invite the visitor to go exploring. Numerous routes meander around Hierve el Agua, and all can be walked in less than an hour — even with time to stop, admire and take photos of the sights. The most-travelled lead around and up to the top of the largest mineral cascade, where there is a wonderful view of the second petrified waterfall. During the rainy season, some paths may be a bit overgrown, but there is no undue danger, or risk of getting lost. You can also hike down a more rugged trail to the base of the falls in the valley below.
The landscape is peaceful and beautiful, with fields of blue agave stretching beneath azure skies, and billowing clouds that hover above the surrounding mountains.
Swimming, dining and lodging
Above the petrified mineral cascades, a large, modern swimming pool invites explorers to cool off before enjoying a meal in one of the dozen or so restaurants alongside a thatch-roofed palapa. In addition, there are a number of simple eateries by the parking area, and you can purchase swims suits, towels and souvenirs. Basic washroom facilities adjoin rudimentary change rooms. Just outside the entry gate is Alice's Restaurant, serving traditional Oaxaca foods cooked on a grill over an open fire. Want to spend the night? Four rustic cabins at Tourist Yu'u can be reserved at Alice's or by calling 0459 511-6356 or 0449 511-06356 (cell phones). The village, San Isidro Roaguia, also has a restaurant and a few small stores.
Late in 2009, a new highway opened. Designed to cut driving time from Oaxaca to the Pacific coast, it runs from just beyond Mitla, to San Lorenzo Albarradas, about four kilometers from Hierve el Agua.
But the more scenic route is Highway 190, which passes by a quaint roadside mezcal factories, as well as El Tigre, a combined dining room and mezcal saloon about one half kilometer before the San Lorenzo turnoff, the traditional route to Hierve el Agua.
Since about 2004, there has been conflict between the residents of San Lorenzo and San Isidro. As a result, at times a toll is exacted in San Lorenzo from tourists who continue on to Hierve el Agua. It can be avoided by taking a less-traveled, more circuitous unpaved mountain road through the village of Xaagá.
As of early 2011, access to Hierve el Agua has been restricted to the Xaagá route, although during rainy season as well as during times of higher than usual tourism, the drive can be extremely slow, and indeed somewhat precarious.
But a visit to the ancient pictographs — dating back several thousand years — at the rock overhang at Xaagá makes the effort worthwhile. While driving through the village, ask a resident if he knows anyone who can guide you to the pictographs. The fee should not be more than about 100 pesos. Last year, UNESCO designated the archeological sites at nearby Mitla and Yagul, as well as the nearby "cave" drawings, as World Heritage Sites.
At Mitla there is a taxi service to Hierve el Agua, but be prepared to sit on simple wooden bench seats in the enclosed back of a small pick-up truck. Otherwise, drivers and tour guides in the city of Oaxaca are available to take visitors to Hierve el Agua as part of a day touring what is popularly known as Oaxaca's Mitla route.
Published or Updated on: February 6, 2012