Photo Gallery: San Felipe: Baja California life on Mexico's Sea of Cortez
I had dreamed about moving to Mexico for decades. As retirement approached, I began to look seriously at places to check out. Having lived in San Diego for decades, going to Mexico along the Baja California coastline was never a problem for me. I had an aging Mother who would be joining me, so nearby quality health care was important. I was invited to check out El Dorado Ranch in San Felipe, located a short two-hour drive south of the international border town of Calexico.
Baja, Mexico is often mistaken for Baja, California. The Baja peninsula is a little over 1,000 miles long with two coastlines. As the name implies, Baja is as much a Mexican state as it is an adopted state of California. If you drive south from San Diego through Tijuana to Ensenada, along what is one of Mexico's seacoast jewels, you will see development after development, and many of the cars parked outside of them have California license plates.
San Felipe
The small village of San Felipe is located on the north end of the Sea of Cortez within what is known as the Sonoran Desert, a mere 120 miles south of Calexico and Mexicali on the International border between Yuma and San Diego. The first road there was completed around 1949. Abelardo Rodriguez, interim president of Mexico from 1932 to1934, owned a large section of land of San Felipe, along with his partner and lawyer Guillermo Rosas.
It became one of many fishing villages on the Sea of Cortez to attract fisherman from north of the border, and enticing them with an unlimited supply of shark, yellowtail, roosterfish, totuava, Pacific striped marlin, scorpion fish, stingrays, barracuda, and dozens of other species. The Sea of Cortez has been called the Aquarium of the World. The tidal difference here is about 20 feet and the shoreline may move a quarter mile between high and low tide.
Some 30 miles from San Felipe is Isla Consag, an island rising some 286-feet out of the sea. Here you can see birds, sea lions and other sea creatures.
San Felipe has been the host for College Spring fling and fishing derbies. Today, one of the newest attractions is off-roading. Two of Baja's largest off-road races are the San Felipe 250, which starts and finishes here, and the Baja 1000, which passes nearby on unpaved race roads.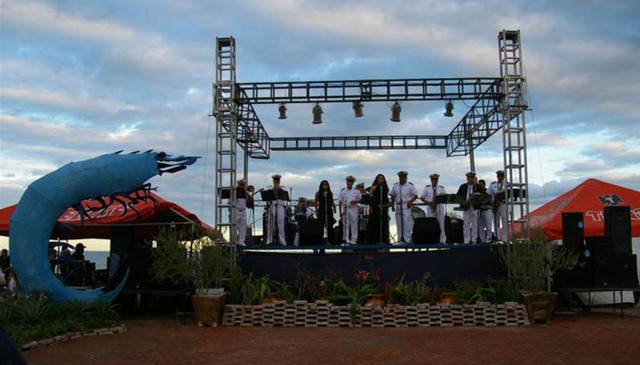 San Felipe Shrimp Festival
In celebration of its world-famous shrimp, San Felipe holds an annual three-day Shrimp Festival, one the biggest events of the year. There are carnival rides, entertainment and extraordinary seafood. Along with tequila tastings, a recipe contest and wines from Baja's vineyards, are entertainers from all over the world. The 18th Shrimp Festival featured musial performers from Peru, mariachis from Mexicali and a wonderful performance by the Mexican Navy Band from Mexico City, who played to a thunderous applause.
Living in San Felipe
El Dorado Ranch is a forty-thousand acre development by an American just nine miles north of downtown San Felipe. The nearest U.S. shopping is in El Centro, California.
I liked the proximity to the border, the wide open spaces, the development and its future plans. So, I bought a lot and, several years later, designed my house and watched it being constructed.
Today, El Dorado Ranch offers a secure and comfortable lifestyle with first responder health care facilities, recreational activities such as swimming pools, tennis, golf, pickle ball, off-roading and much more.
Life in San Felipe is good!
Published or Updated on: April 11, 2012