Despite two delayed flights and a later than expected check-in to Hotel La Nacional By Kavia, the colorful and charming place where I spent the night, I'm buzzed for my first day in Mérida after a breakfast of chilaquiles verdes o rojos and endless cups of coffee topped with warm cream at Casa Maya Restaurant.
The first city to ever hold the title "American Capital of Culture," Mérida earned the honor again in 2017 making it the only city to do so twice. The designation, created to promote the culture of the Americas and the selected city itself, reflects Mérida 's multi-faceted charms.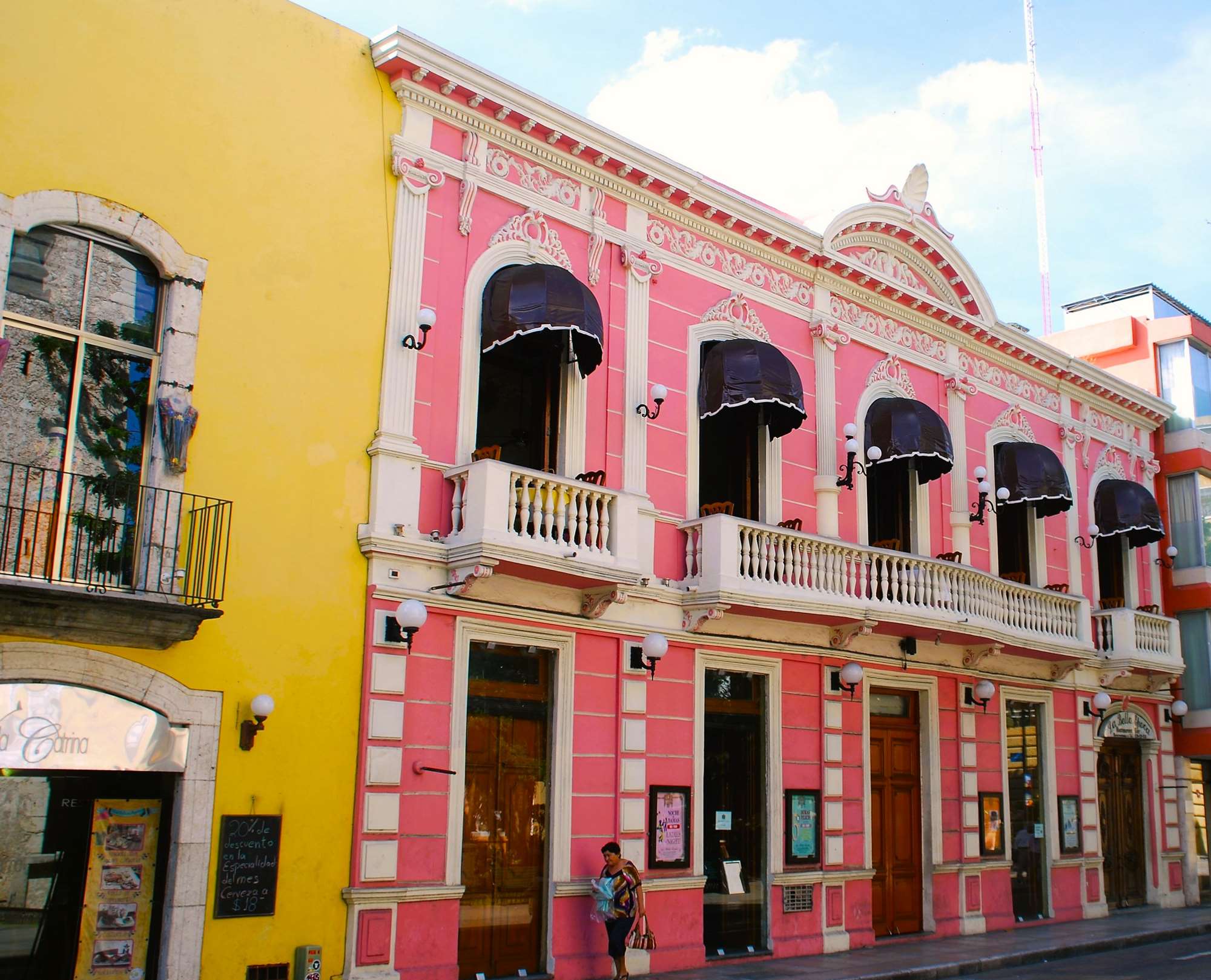 MexConnect is reader-supported. Purchases made via links on our site may, at no cost to you, earn us an affiliate commission.
Learn more.
Sure, the capital city of the Yucatan Peninsula boasts components of a modern city with sparkling glass-fronted buildings and cutting-edge architecture, but it's beautiful soul is found in areas like the Centro Histórico. Here, colonial facades in softly muted hues of blue, green, ocher, yellow, and even the occasional pink of colonnaded and decorative buildings take visitors like me back into the past of this city founded in early sixteenth century atop a more ancient Mayan city named T'ho.
But Mérida isn't a stasis snapshot.
Though it was still early, Plaza Grande, often said to be the loveliest of Mérida's many pretty squares, bustled with vendors setting up food carts and women in traditional Mayan white linen dresses intricately embroidered with colorful designs displaying their handicrafts and filling buckets with long stalks of vibrant blooms. I arrived in time for the flag raising ceremony that takes place daily and, if I wanted, could return at dusk to see it lowered as well.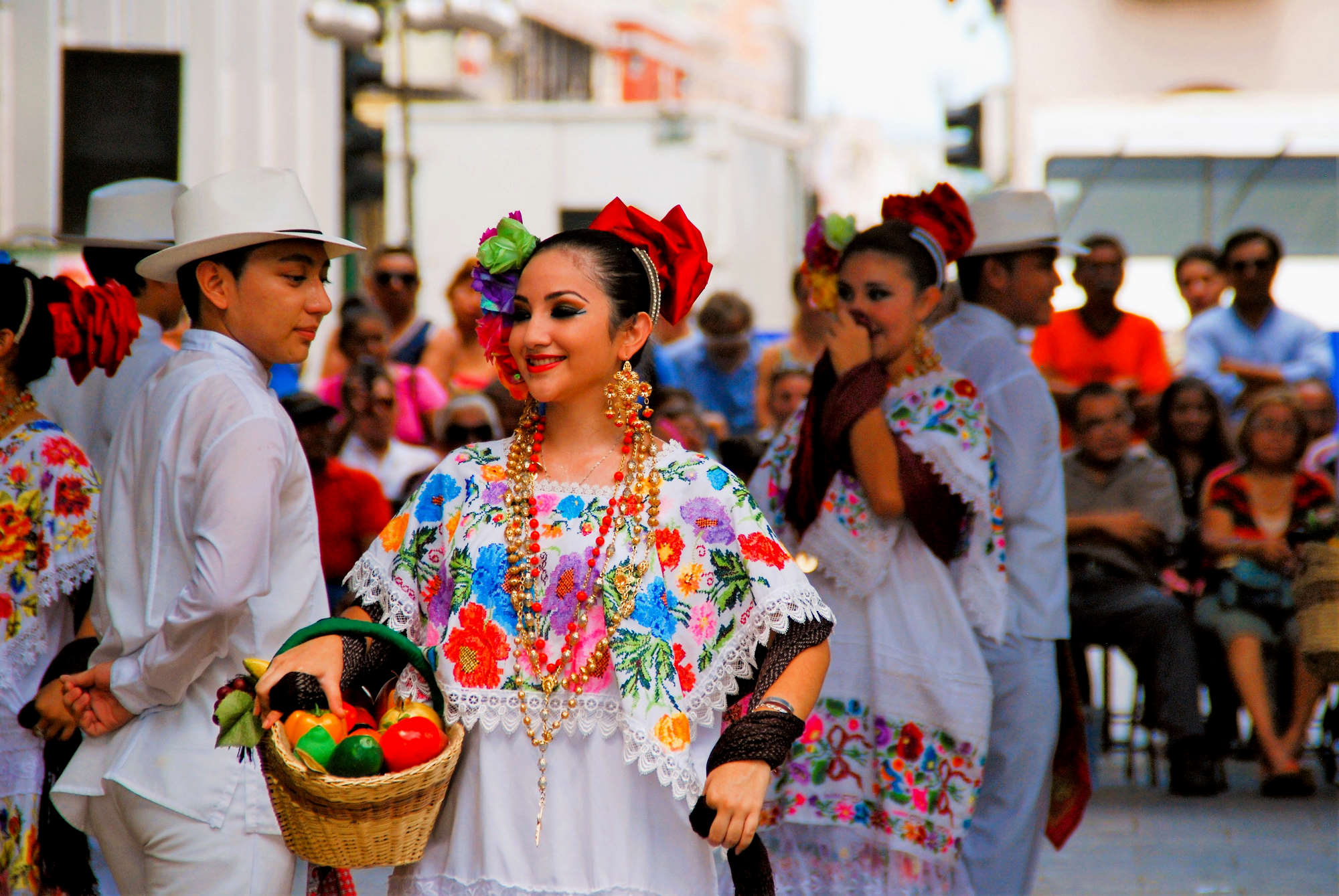 There are many traditions here in Mérida open to both locals and visitors—ways of moving past just observing, and getting into the feel of community life. My first Sunday morning in Mérida I was surprised to look down Paseo de Montejo and see a phalanx of bicycles heading straight at me. It was, the person next to me said, the weekly Biciruta Montejo, one of four bicirutas in Mérida where streets sections are closed to car traffic to accommodate bicyclists. It's a healthy and companionable endeavor, attracting a lot of families. There's also the nocturnal Biciroute, a Saturday night biking excursion on Paseo de Montejo.
Bikes are available for rent for those who, like me, don't have their own. But I opt instead to walk. Paseo de Montejo has long been on my to-do list and I want time to stop, take photos and marvel at the amazing architecture. Mérida is a beautiful city but surely its most magnificent street in Paseo de Montejo, named after Francisco de Montejo, the Spanish conquistador who founded Mérida in 1542.
Mansions funded by henequen (sisal)
The beautiful homes along the boulevard don't date back that far. Many were built in the heyday of Mérida 's "Green Gold," a time when the need for the fiber (sisal) extracted from henequen plants, which, seemingly impervious to dry, harsh desert conditions, grow in abundance in the fields around Mérida. The production of henequen also known as sisal and made from an Agave plant (tequila comes from blue agave), boomed between the years 1876 to 1919. So high was the demand that at one point Mérida was ranked among the wealthiest cities in the world. All was great for the 650 or so plantation owners who grew henequen and built lavish homes on this street but, as elsewhere, workers toiled hard and were paid little.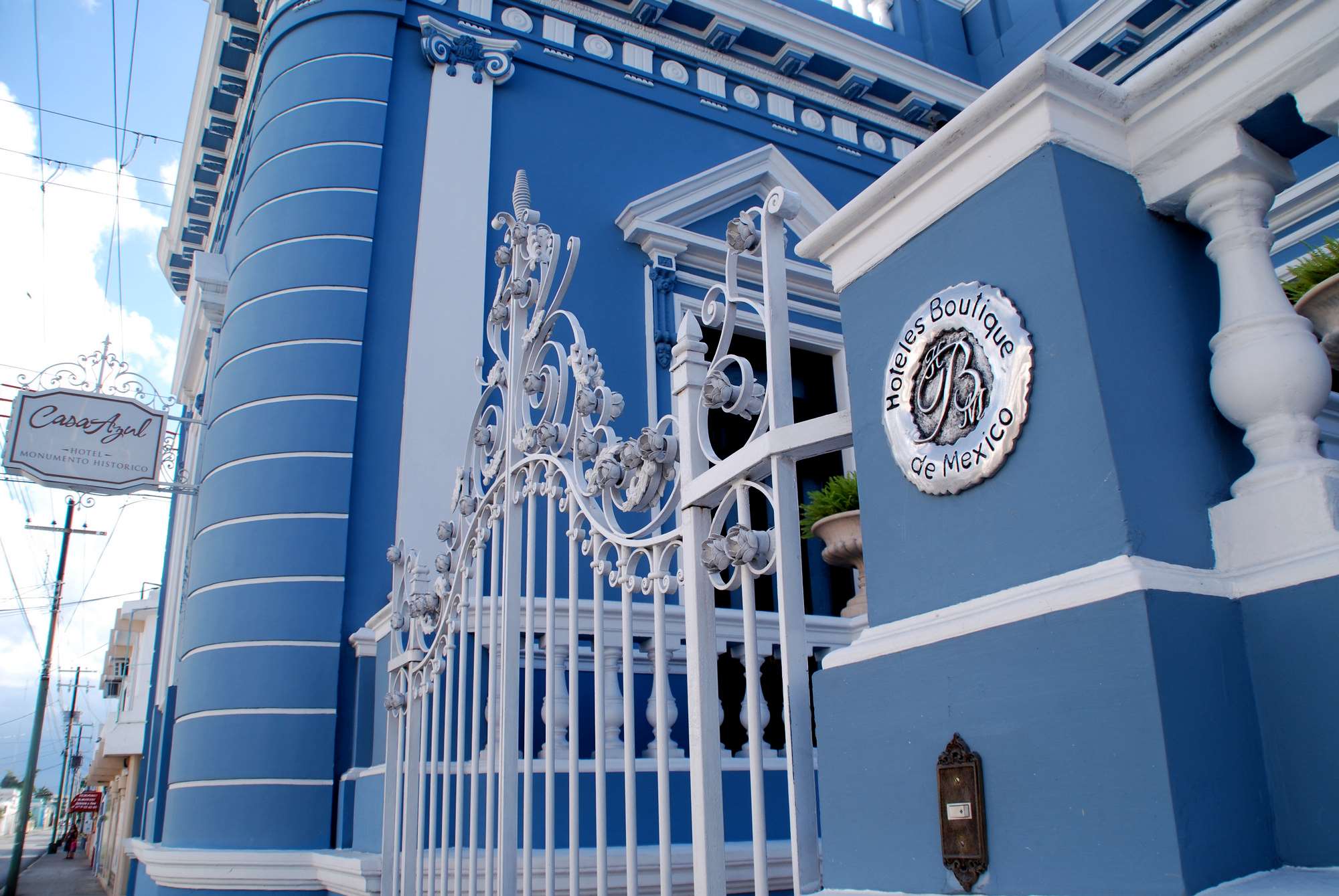 The design of Paseo de Montejo, a wide tree-lined avenue, is based on the layout of Paris' famous Champs-Élysées. Horse draw carriages offer rides along what is the one of the longest city streets—about 3.4 miles. Though some of the mansions are still private homes, others are now restaurants, boutiques, museums, and art galleries.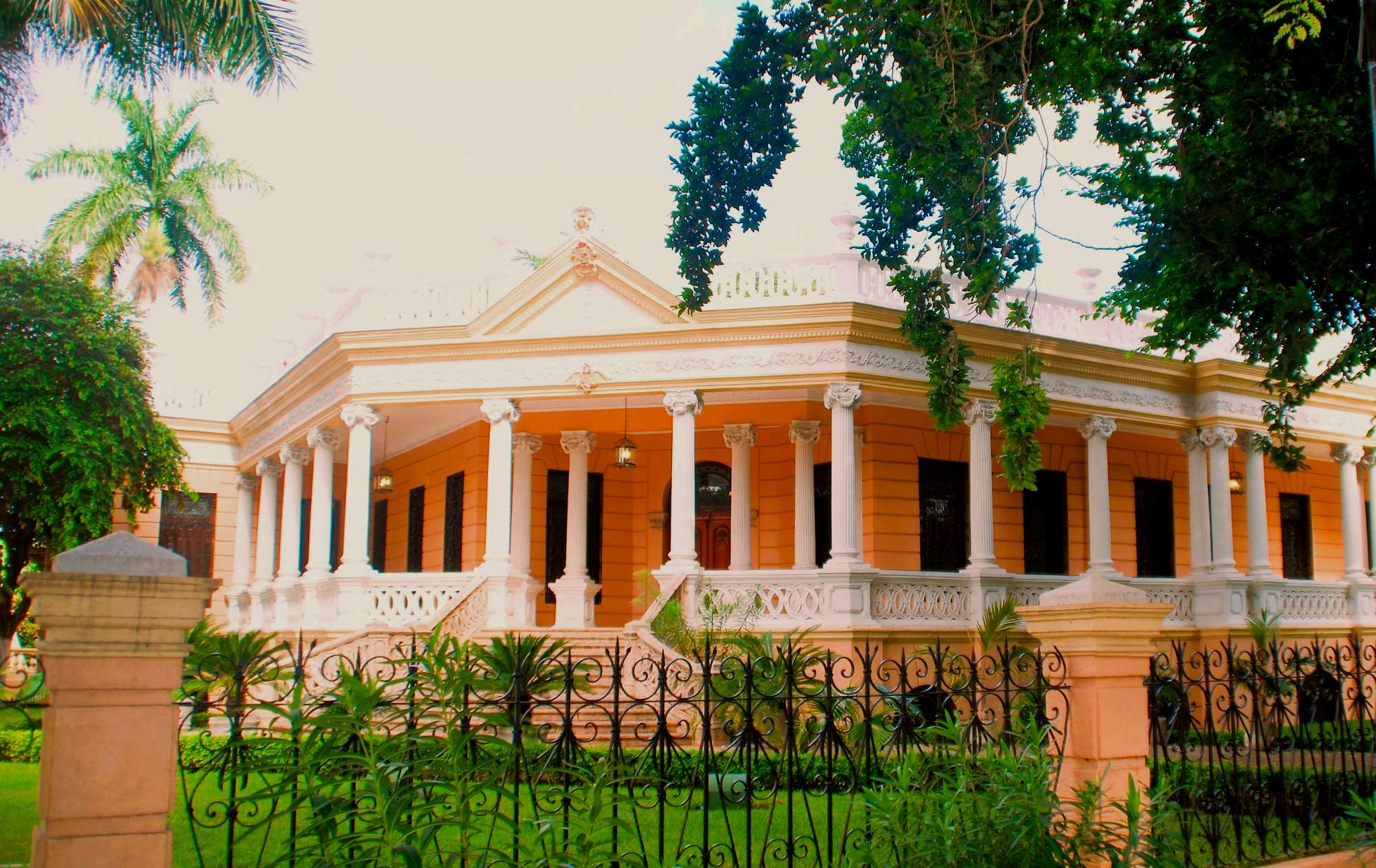 For someone like me from a Great Lake state with its red brick Victorian, Queen Anne and Federal style older homes, the houses here seem like exotic confections, fantasies that borrow from architectural styles such as Beaux Arts, Colonial, Neoclassicism, and even components of Streamline Moderne, and Art Deco, the latter two still not known in the U.S. at the time.
Adding to the effect are the many added and distinctive flourishes—curves and linear lines, first and second floor balconies and terraces, turrets, a variety of window shapes such as palladium and, of all things, port holes, wide sweeping staircases shaped like open fans, and copper gabled roofs. Yards are often enclosed by ornately fashioned wrought iron,their interiors accented with fountains and filled with palms, red flowering Chak Kuyché trees, blue Jacarandas, and crotons with their thick leaves streaked in yellows and reds; desert roses and flowering bougainvillea climb up thick walls.
Built around 1902 and now a museum, Casa Museo Montes Molina has been occupied by one family for four generations and much of its original furnishings and decorative arts remain. Walking into the home is a step back to the days of the rich aristocrats who sent to Europe for their furniture and lived in a lush, luxe style.
One mansion, built for General Francisco Cantón Rosado, the governor of Yucatán, and his family, is a creamy cake like confection—French Empire in style—painted a creamy light yellow with lots of white ornamental edging. Known as Palacio Cantón, it is now the Regional Museum of Anthropology and History, which highlights the Mayan heritage of the region as well as more modern times.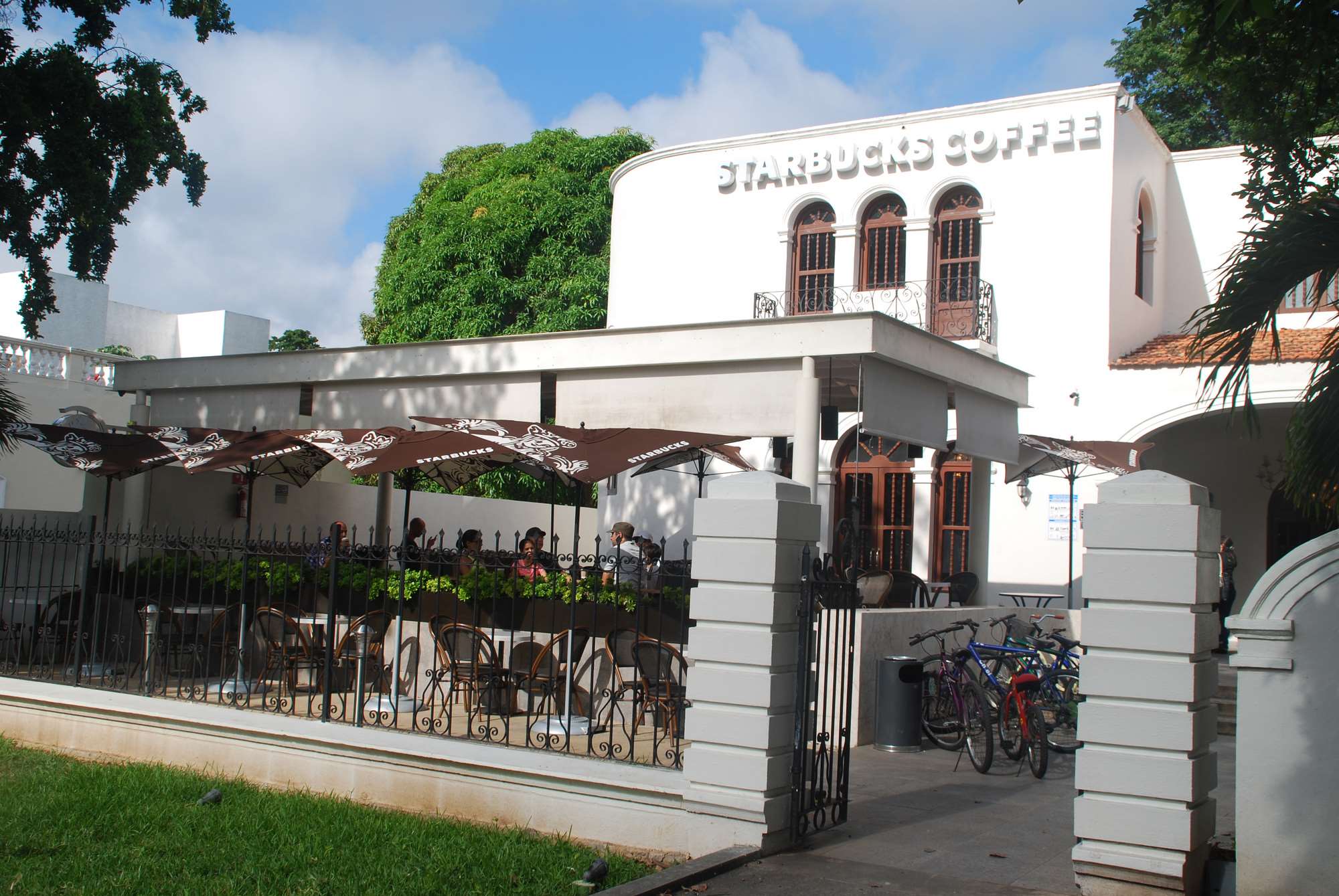 Stop along Paseo de Montejo for cocktails, food and live entertainment at Casa Chica. Peek into galleries like Nahualli where works by residential artists are on display. Even the Starbucks got into the whole Paseo de Montejo vibe with the transformation of a distressed manse into a coffee shop.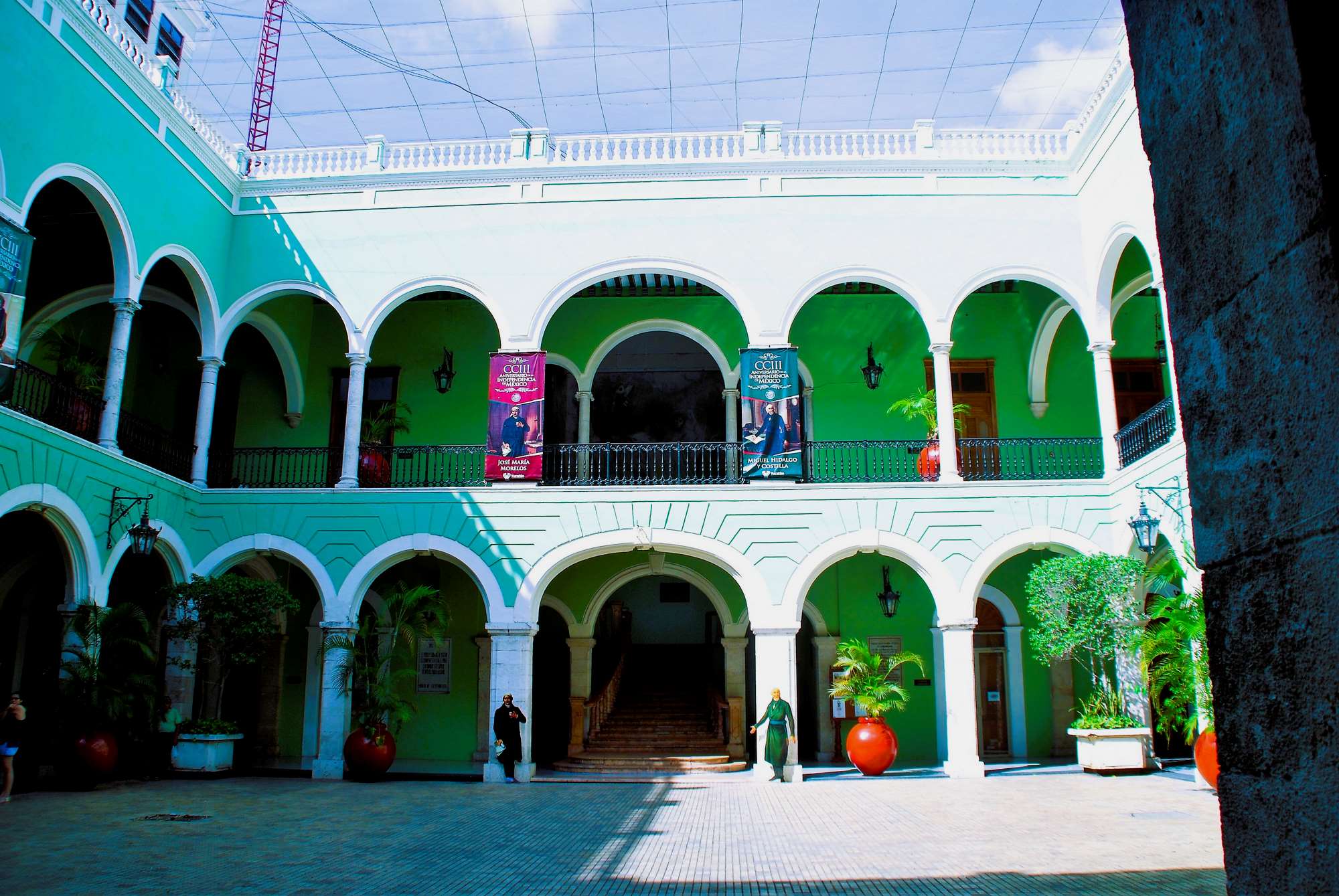 You can visit El Palacio de Gobierno, the Governor's Mansion, at any time to view its posh interior all highly polished woods and stone floors. Built in 1892, it has a colonnaded interior courtyard, a series of murals depicting the history of the region created by artist Fernando Castro Pacheco, and heavy baroque style furnishings. As stunning as it is during the day, at night it's even more lovely. Also spectacular in twilight and dark as well as close by is the Cathedral de Mérida which features a weekly Friday night light show. Building the Cathedral began in 1562 with the Spaniards directing that stones from Mayan ruins be used in its construction. The oldest cathedral built on the mainland of the Americas, it is one of only two completed by the end of that century.
Easy to locate because it's pink, Mérida's Tourism Office on Paseo de Montejo and Colón Avenue, offers free tours of the historic area led by knowledgeable docents. On Saturday nights, for more than a quarter of a century, they've presented the colorful costumed musical Noche Mérida —a not to be missed extravaganza of a show. For details, email them or visit their website.
Related articles on MexConnect
Published or Updated on: January 25, 2022