Interactive Map of Yucatán, Mexico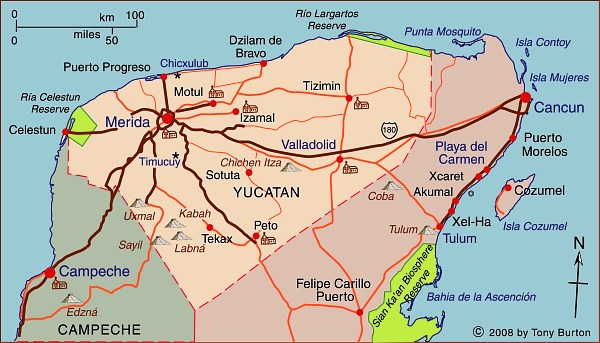 The state of Yucatán is part of the Yucatán Peninsula region, along with Campeche and Quintana Roo. This region is the ancestral home of the Maya.
Yucatán state has an area of 39,612 square kilometers and a population of 1,945,840 (2010 estimate). The state's capital city  is Mérida, the "white city" (2009 population: 955,000). Other important locations in the state include Progreso, Chichen Itza, Uxmal and Valladolid.
Historically, the state of Yucatán was important for sisal production. Between 1870 and 1920 the area experienced an economic boom based on the production of twine from sisal (oro verde or green gold). In order to transport the sisal from the fields to processing centers and from there to the port of Sisal for export, plantation owners built an extensive (4500-km-long) network of narrow gauge railroads.
The state has several important biosphere reserves, including:
Ría Celestún (Yucatán and Campeche): coastal region including important wetlands and drowned river valley (ría) with diverse fauna and flora, including flamingos.
Región de Calakmul (Yucatán): diverse tropical rainforests; the largest forest reserve in Mexico, with important Maya sites; ecotourism project.
Ría Lagartos (Yucatán): coastal estuary with diverse birdlife including more than 18000 pink flamingos as well as some 30,000 migratory birds.
Arrecife Alacranes (Yucatán): the largest coral reef in the Gulf of Mexico, and the only one in Yucatán state.
The state of Yucatán is well known for its numerous important Mayan sites, including Uxmal and Chichen Itza. These sites have led to cultural tourism becoming very important to the state's economy. Several cities, including Mérida and Izamal, have outstanding examples of colonial architecture. Several former sisal haciendas have been turned into luxury hotels.
Published or Updated on May 17, 2009
by Tony Burton.