Clickable interactive map of Yucatan Peninsula, Mexico: Cancun, Merida, Chetumal, Cozumel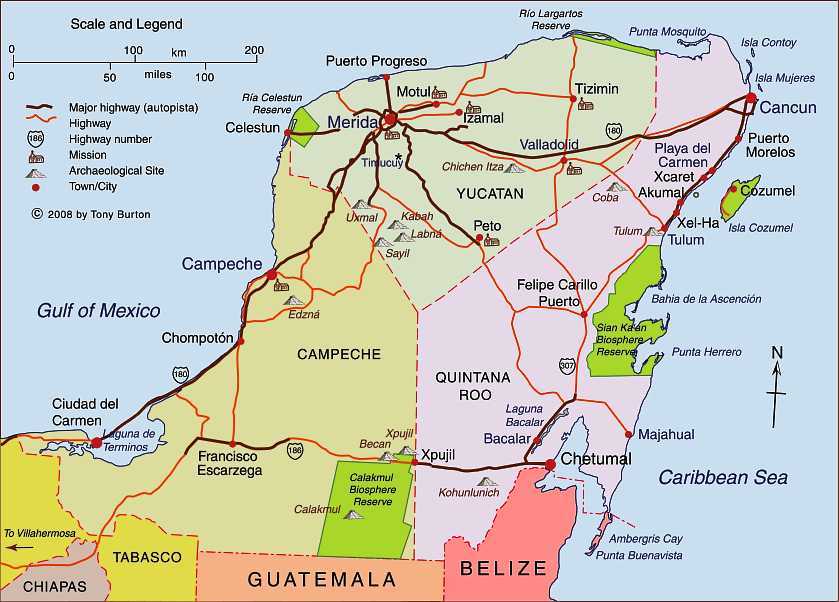 More clickable interactive maps .
Mexico's Yucatán Peninsula is a low, flat limestone platform, split into the states of Yucatán, Campeche and Quintana Roo. The west and north coasts are marked by lagoons, mangrove swamps and sand bars. The emergence and infilling of coastal lagoons in the southeastern and southwestern extremities of the peninsula have resulted in areas of marshland interspersed with remnants of the original lagoons.
This region is the ancestral home of the Maya. There are about 800,000 Maya-speakers in Mexico, almost all of them living in this region. There are literally thousands of archaeological sites scattered across the peninsula, including many that are open to the public. Among the more famous are Uxmal, Chichen Itza, Calakmul (all three are UNESCO World Heritage sites), Tulum and Coba.
Offshore to the east lie coral reefs. Most of the peninsula has shallow, highly permeable soils and virtually no surface water. However, underground water is relatively abundant. The peninsula is honeycombed with extensive underground cave systems, which are connected periodically to the surface via hundreds of natural sinkholes (cenotes). The ancient Maya believed that these cenotes led to the underworld.
Published or Updated on:
January 1, 2004
by Tony Burton