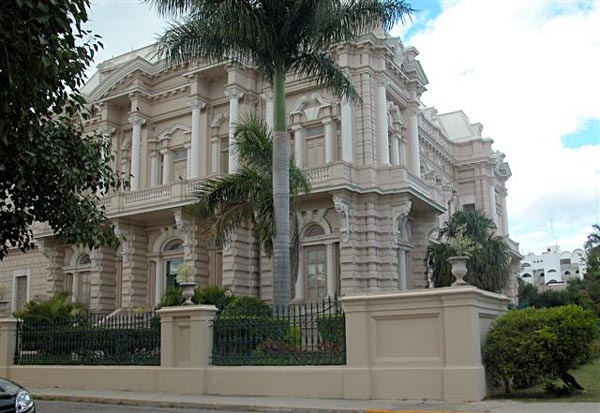 It is pushing midnight on a Thursday, but you'd never know it by the looks of Maternity Park in the central historic district of Merida, Mexico. Cafes on the square are jammed, shops bustling, the streets electric with energetic life.
In this open-air setting, young sweethearts sip cocktails and entire families gather for late al fresco dinners. An older couple cuts a rug to a lively dance tune. Along the sidewalks, patrons buzz into and out of stores and bistros.
What makes the scene all the more remarkable is that this isn't the vortex of Merida's nightlife. Throughout the city, in other lush corner parks fringed by eateries and boutique hotels, the very young, very old and everyone in between are enthusiastically engaged in savoring life into the wee hours of tomorrow.
In this safest and maybe most walkable of Mexican cities, you could easily saunter to three or four such plazas in the space of 15 minutes, making my hotel's fitness center treadmill the most superfluous piece of equipment in town.
Merida, the capital of the state of Yucatan, is commanding growing attention for a number of reasons. An emerging hub of art, design and jewelry making, it's also a bastion of culinary flair, centered on its unique Yucatecan flavor fusion born of Spanish recipes and Mayan ingredients. Its central theaters are stunning jewels of architectural poetry, as well as settings for wondrous dance and concert performances.
Merida is also a convenient jumping off point for jaunts to ancient Mayan treasures like Chichen Itza, Kabah and Uxmal.
But it's Merida's after-dark energy that has me instantly enraptured.
Known as the White City of Yucatan, the name is a misnomer. Early in Merida's history, the conquering Spaniards built a white wall around the city to keep the indigenous folks out, leading to a moniker that clings to this day. Modern Merida should actually be termed the multi-hued city, for its buildings are a kaleidoscope of pastels, from pale green and light blue to salmons, roses and yellows.
The natural starting point for a tour of Merida is its historic center or Zocolo, better known as Plaza Grande. It's here you'll find structures that date as far back as the mid-16th century, foremost among them the Cathedral of San Ildefonso, the first cathedral built on the mainland of the American continent.
Not far away is the Paseo de Montejo, an elegant boulevard patterned after the Champs Elysees. It dates from the late 19th century, when the region's henequen production afforded many Meridans the riches to finance mansions.
Those mansions still pepper this grand thoroughfare, some serving as museums and others as home to the descendants of the barons who built them.
Along the quiet, brick-laid sidewalks shaded by almond and flamboyan trees, we find Rosas & Xocolate Boutique Hotel and Spa, where our group settles into comfy chairs around a custom-made dining room table honed of termite-repelling cedar. We are soon presented with chilled, mineral-water limonadas and joined by the hotel's charming owner Carol Kolozs.
"My mother's name was Rosa, and chocolate comes from the Maya," he explains. "Everything we do here, we try to be loyal to the name."
Rosas & Xocolate fills two adjacent buildings, one late 19th century, the other mid-20th century vintage. Abandoned for three decades before Kolosz spotted them, they've been given new life as a cutting-edge pink hostelry.
Architectural Digest awarded this member of the exclusive Design Hotels Best Architectural Restoration in 2011. The same year, its restaurant was named by Travel & Leisure one of the three best hotel eateries in Mexico.
Of Hungarian-Czech descent, Kolosz grew up in Brooklyn's Brighton Beach enclave. After his sister married a native of Merida, Kolosz began making regular pilgrimages to the city. He would later earn his fortune helming his own Orlando-based athletic footwear company. Eventually, he sold the business, retired to Merida, realized he still needed challenges and opted to create a hotel.
Though he's known Merida for decades, Kolosz says the biggest changes here have come in just the last five years. "It's evolving and growing, which is good," he says. "The eye of the country is focused on Yucatan today.
"And Merida is a hidden pocket, a little oasis in the world. I've now lived in Merida for seven years, and there is zero crime. Why? There is a lot of respect across the classes here. It's like a big family."
We ask about tales of foreigners flooding the city, and Kolosz corrects the record.
Of metro Merida's one million residents, 3,500 to 5,000 are transplanted Yanks, Canadians and Europeans, most settled in the historic center, he says.
The Country Club of Yucatan is a world-class facility, Kolosz tells us, with a Jack Nicklaus Signature Golf Course. The Symphony of the Yucatan is first or second best in Mexico. Merida's jewelry industry employs six to seven thousand and exports much of its sparkling wares to the U.S. and Canada.
"Merida is at a special moment; it's becoming a city," he says. "People have the perception of the Yucatan as a place with pyramids and jungles. We have to communicate the sophistication and the culture of the Yucatan."
Back at the Hotel El Castellano in central Merida, I remind myself that few savor a dense, walkable foreign city that blooms after sunset more than I.
So of course, I'm back on the same narrow, European-style city streets after dark. An early jaunt along Calles 57 and 60 finds them teeming with folks seeking to feast on escabeche and papadzules in the cafes, listen to traditional Mexican music in the square or snap up armfuls of great shopping bargains.
It's only about 7 p.m., however, and I vow to return hours later. Maternity Park, Plaza Grande and Santa Lucia Park will be in full swing by then, and I don't intend to miss a minute of the White City's witching hour electricity.
Published or Updated on: June 20, 2014