Photo gallery: Merida: fiery mistress, seductive city
They told us she could be a fiery mistress, this city of Merida, and we came to her uneasily. At first, she wooed us gently and seduced us with overcast skies, occasional warm drizzle and pleasing evening temperatures. We walked her beautiful boulevards; admired magnificent hundred year old mansions built for long-dead land barons and toured her countryside. The natives of this sprawling city scurried about in sweaters and merchants brought out inventories of parkas while we paraded about in sandals and shorts.
Perhaps we underappreciated her many virtues: but oh did she turn on us. Sudden winds blew from the southeast; perhaps a sirocco from Africa fueled with moisture from the Gulf of Mexico. Steadily her fiery reputation was manifest under a glaring sun. By the end of our first week the daytime temperature was 97 degrees and the humidity higher. The locals were happy again.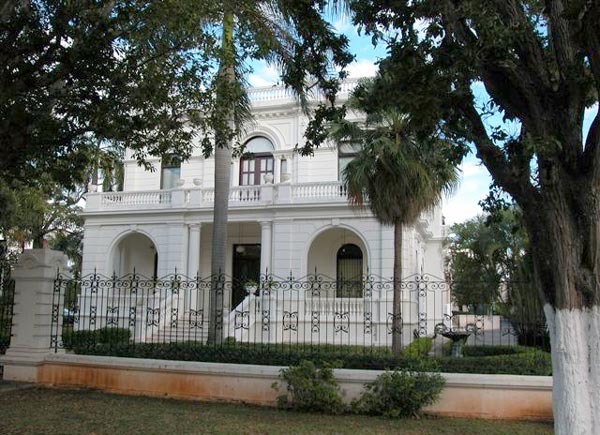 To venture out of doors during these hot periods is sheer recklessness. A walk of ten blocks, even with the tree-lined shade of Paseo de Montejo, causes an unending torrent of sweat to precipitate into eyes and under pectorals. The women are aghast at their own public perspiration. We take intermittent shelter in air-conditioned stores and feel light-headed with the change of climate. We reel back to our air-conditioned apartments with the vigour of an aging octogenarian. On these days, our lives are different. We become nocturnal; our siestas start earlier and end later. Shades are drawn all day. Excursions during the hot days are for emergencies only. In due course we adapt and take advantage of overcast skies to explore this capital of the Yucatan.
Merida is a sprawling, flat landscape that is home to more than one million people. If you really want to see the city and its surroundings, hop on almost any city bus near the Zocalo and just go for the ride. Pick a destination like Plazas Las Americas or Grand Plaza and the bus will meander through new sub-divisions with attractive homes before you arrive at ultra modern shopping centres. You will find excellent shopping in Merida with a blend of Mexican retailers like Liverpool, Chedraui, VIPS, and Sanborns along with the familiar names from the USA like Wal-Mart, Costco and J. C. Penny. There are also plenty of artisan shops selling Mayan masks and clothing, obsidian and jade ornaments, hammocks and the famous Panama hats. Be sure to bargain but not too hard. If you want to venture further afield, catch buses or collectivos near the Zocalo for almost any outlying community. A trip of forty kilometres to the beaches of Progreso costs $1.30 by air-conditioned motor coach or fifty cents by collectivo. Just flag them down as they go by.
In the city proper, visit the Zocalo with its historical church and palaces. Certainly, the Paseo de Montejo, without the traffic, is one of the more beautiful streets in all of Mexico. Go to the Museum of Anthropology to see the Maya exhibits that are housed in one of the grandest of the former mansions. Beyond these, there is not a lot for a tourist to see and do in the city. It does offer many musical shows at the Teatro de Merida and there is a performing arts theatre presenting plays in Spanish. The city also has an enthusiastic jazz and Cuban rhythms culture.
Merida is a most un-Mexican city. It feels more European; more reserved in a middle class sort or way. The streets are spotless and municipal services function flawlessly. Clean water always comes out of the tap. Superb arterial roads abound and the buses are frequent and cheap. There is obvious wealth; at least on the main boulevards and in the large shopping centres. The city teems with Audi, Porche, Mercedes and Volvo name-plates. There is efficiency in Merida that underscores a different mindset from the rest of Mexico. Our apartment building, the Suites del Sol, is managed with the utmost care and diligence. Everything works! The quality of the apartments is excellent. If we have a problem, it is attended to immediately and not manana. The staff is solicitous of our needs in an almost Florence Nightingale manner. This doesn't seem like Mexico. Hotels in this city are also plentiful and of very high quality. The Fiesta American, the Hyatt and the Conquistador, to name a few, are outstanding.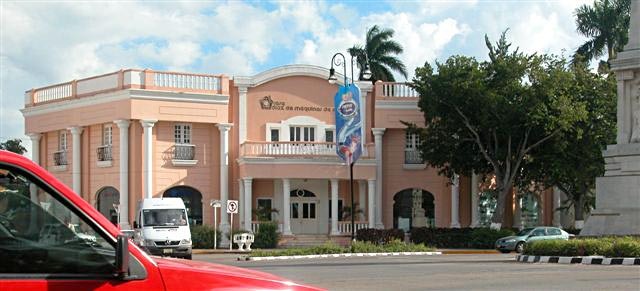 The city is reputed to be the safest in all of Mexico and there are state and local police virtually everywhere. Don't even think about parking illegally. There will be a cop all over you in seconds. There are motorcycle cops, foot patrol cops, cops in cruisers, cops in half-ton trucks and cops at every building of substance. If you cannot feel safe in Merida, you can't feel safe anywhere.
Mosquitoes are the biggest danger in this city. You don't see or hear them like Canadian mosquitoes but they leave an itchy welt on your hide about half an inch in diameter that lasts for a week. A few too many attacks and you start to look diseased. Friends love to travel with me when mosquitoes are around. Mosquitoes love me. My friends call me bait.
The amount of English spoken in Merida is surprising. It is not a tourist centre like San Miguel de Allende, Oaxaca or the resorts, yet the schools are producing a stream of bilingual residents. Young people love to show off their language skills if approached by a tourists seeking advice or direction. They also want to practice their English skills and show no reluctance in approaching tourists and starting a conversation. Certainly, Merida is a Spanish city and most store personnel don't speak English. However, it is not a hard city to have yourself understood or you will have a lot of fun trying.
As in any large city, restaurant choices are almost limitless. The Yucatan menu is actually very good and local dishes are quite inexpensive. You will love the local taverns that cater to the working class. They are open only for lunch and dinner and are usually closed by 7 p.m. Order a beer and you also get an unending supply of appetizers called botanas. These consist of small plates of cut vegetables, ceviche, meat and fish salads along with bowls of corn chips and salsa. For the price of a beer, you get a full meal.
Merida is basically a good jumping off point if you have a profound interest in Maya culture and history or want to tour the hinterland. You could probably see all the sights and lights of the city in a day or two. Tourism lies beyond the city limits at Chichen Itza and the coast. Be sure to visit a nearby henequen hacienda and swim in a cenote. Henequen was the economic lifeblood of Merida until the 1920s and created much of the opulence still seen today. There is a never ending list of day trips to interesting villages and historic sites. It would be nice to have a car but the public transit system will get you to most spots at little expense or trouble. Return to Merida in the evening when the temperature is perfect for outdoor dining. Otherwise, Merida is just too darned hot.
Published or Updated on: April 1, 2007