Artists from the Ajijic-Chapala-Riberas area of Jalisco joined together June 6, 2003 to meet one another, renew collaborations and celebrate the upcoming rainy season at the new Kimball Gallery in Chapala.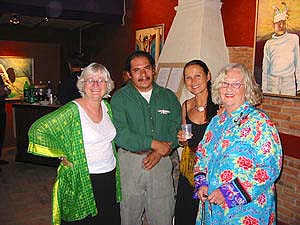 Organizer Jacqueline Stewart called the event the " Fiesta de las Chicharras" to honor the locusts that herald the rainy season in this part of Jalisco. Guests joined in the theme by wearing chicharra jewelry made especially for the evening. "We hope that this event will attract and encourage artists to use the Kimball Gallery as a meeting pool for ideas, exhibitions and for other collaborative events. The space that Janice has created is sensitive and well-designed to exhibit artists working in all kinds of media. Janice and I wanted to introduce artists and art lovers to a space in Chapala they can call their own," said Stewart.
The event attracted many of the area's finest artists as well as some of its most promising newcomers. Artists who attended the party were painters Cathy Chauvignac, Ute Hagen, Jesus Lopez Vega and Efrén Gonzalez, Sherwood Sheim, and Nancy Ocrant, all of Ajijic; Chana Tolére of Ajijic and Sayulita; and international painter Luis Castillano who fullfils Hollywood commissions from his Chapala studio.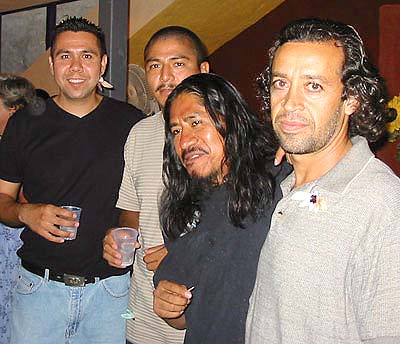 Sculptors who attended the event were Isidro Zilonxochitl, Estela Hidalgo, and Jim Marthai. Photographers Herlinda Diaz of Chapala and Ricardo Gonzalez of Ajijic attended along with etcher and mixed media artist Cathy Closs; mixed media artist and writer Judy Dykstra-Brown; acrylic and collage artist Adis Soriano from Ajijic and wood refinisher, cabinetmaker, and painter Leandro Diaz of San Antonio Tlayacapan.
Relative newcomers to the Riberas art scene from established careers in the United States who attended the event included cut paper artist, Christopher English, jeweler Diane Pearl, art reproductionist Dr. Jay Palmer.
Also attending was writer Don Adams and art lovers Mary Prud'homme, Susan Wagner, and Paul and Debbie Katz.
Guests were served a menu of fine hors d'oeuvre created by French chef Scarlet Newman that included champagne shrimp, filet rolls and mango cheesecakes.
Kimball's "Passage to Discovery", a series of oils on large canvases, was on display throughout the gallery. The exhibition of ten very accomplished works unveiled a striking visual narrative of young people making the transformation from adolescence to adulthood. Her decision to over-size her figures allowed viewers to step into the canvas to revisit the uncertainty of adolescence. Her teenagers revealed their desires and the doubts they harbored about their impending autonomy. The inspiration for the series came out of Kimball's work with Detroit inner city art students who used 'found materials' to realize an art assignment, "Paper Hats as Sculpture." Each teen wears a 'found material' hat in each of the canvases.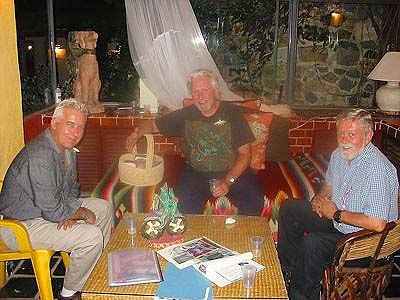 Kimball's style is representative, with an overlay of the surreal. Her strong background in architecture reveals itself by the structures she pairs with many of her subjects: towers, buildings, arches and columns.
The renaissance-style positioning of her figures with the other objects and people she includes on the canvas is memorable. She creates movement and a compelling story with a minimum of components. Her palette is lighter and fresher than those used in the renaissance era, giving the works a contemporary place in time.
Janice Kimball taught art at the university level at Columbia College, the University of Illinois-Chicago, Henry Ford College, and Marygrove College in Detroit. Also a writer, she taught writing classes at the Detroit College of Business. She earned a BA in Fine Art and an MFA from the University of Illinois. She also holds a BS in Art Education and is certified to teach Secondary Education in both Illinois and Detroit, MI. Following the elimination of government funding for advanced art education, Janice taught in the Detroit inner city programs. Eventually, zero budgets made teaching impossible. Disillusioned and seeking solace she moved to Mexico in 1999.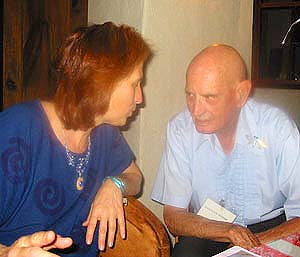 Kimball is represented through the Internet by Jacqueline Stewart of Ajijic, the event organizer, and a watercolor painter and glass artist in her own right. She specialized in fused glass for 25 years in Alaska and Hawaii before coming to Ajijic. She currently is working in watercolor. Stewart can be reached at [email protected].
The Kimball Gallery is located at Las Redes #211, Chapala, Jalisco.
" Lake Chapala and Ajijic: The Insiders Guide to the Northshore for International Travelers"
By Teresa A. Kendrick
Mexico's Lake Chapala and Ajijic: The Insiders Guide is available from Amazon Books: Paperback
MexConnect is reader-supported. Purchases made via links on our site may, at no cost to you, earn us an affiliate commission.
Learn more.
Published or Updated on: January 1, 2006