A Mexico detective novel from John Scherber's Murder in Mexico series
The Girl from Veracruz
By John Scherber
Kindle Edition $6.69
San Miguel Allende Books
www.sanmiguelallendebooks.com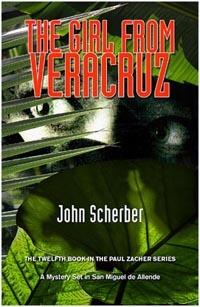 The Girl from Veracruz is the twelfth and latest novel in John Scherber's Murder in Mexico mystery series. Like most of the others, it is set largely in San Miguel de Allende (although there is a trip to Veracruz). It features the same team of detectives that we have come to care for in the preceding novels: Paul Zacher, age 40, a reasonably popular local artist; the lovely Maya Sanchez, his life partner (for the most part) and now head of the Paul Zacher Agency; and Cody Williams, a retired homicide detective from Peoria, Illinois. We also meet again Licenciado Diego Delgado, their contact with the San Miguel Judicial Police.
The story begins at the morgue where, at the invitation of Delgado, they are viewing the body of a young woman, perhaps fourteen years old, who rests now in the "permanent indifference" of death. Her hands, though "calloused and rough," display a striking manicure, "a design… done with four colors executed in an Art Deco style." She had been wearing a "minimal bra and panties… both had a Victoria's Secret label." She has no identification and therefore no name.
Delgado has, on his own initiative, quietly called his friends in to help because he has been "brusquely elbowed off the case by his superiors." Even the official police photos are no longer in the archive, no longer in the camera or the computer, "lost during the down time, it seems." Zacher reflects sardonically: "In Spanish, the use of the verb lost is reflexive; the photos had lost themselves." Clearly someone in government had "enough clout to shut down the judicial police on a murder case."
Paul, Cody, and Maya are cautious about accepting additional pro bono work because, in the past, they have all been at times too concerned about the welfare of others while jeopardizing their own. "Maya, who paid the bills at the end of the month, especially objected to working for nothing." Nevertheless it is Maya who announces, "But even so, we will be taking this one…."
Maya, who thinks the girl may be younger than fourteen, informs them about the age of sexual consent: "By federal law, the minimum age is twelve in most of México…." To Paul, "That age seemed almost medieval, more suited to a time fraught with high infant mortality rates and short life spans…." Prostitution, Paul notes, is legal in México, but only for those eighteen and older.
Setting up surveillance, Paul and Cody soon discover that a lovely old mansion in front of the crime scene is actually Kate's Health Club, a high class bordello serving San Miguel's rich and powerful. Paul interviews the French hostess, Renée Bontemps, "a stunning woman in her mid-twenties." Paul in this and other novels in the Murder in Mexico mystery series is vulnerable to female beauty (also his primary focus in his paintings, some of which are nude portraits of Maya). As he meets Renée, "her breath caressed my face like a dream I knew I'd be having and more than once."
Maya is curious about what her lover discovered on that initial visit to Kate's Health Club but realizes Paul is too distracted to think. She chides him, "Apparently not all the necessary blood was flowing to your brain."
On a subsequent visit, Paul speculates that only two or three of the eight girls are eighteen or older.
Scherber masterfully creates tensions between the three main characters, Paul, Maya, and Cody, who together run the agency. Paul and Maya are partners and lovers, but there is strong affection between Cody and Maya as well. These are not the fluff characters that you too often find in crime "entertainments," for example in the novels of Janet Evanovich. These are real people, struggling to understand sex and love and commitment and to understand how they might best live their lives.
At times they even set aside the accepted morality when there is a higher purpose that overrides it. Paul ponders this: "…if your dream is to maintain your Boy Scout morality into adulthood, you ought to stay clear of the detective business."
The three friends complement each other in their agency work: "Together we represented three distinct approaches to our trade: Maya was the native speaker and cultural expert; Cody was the mature pillar of wisdom and font of investigative experience, the guru of proper procedure, while I was the source of quirky insights and unpredictable takes on crime scenes, committed to seeing things differently."
In the interest of serving the agency and furthering investigations, the delectable Maya is not at all reluctant to "spray on" a new pair of jeans and to put on a knit top "scooped for the display of her ample investigative skills."
Renée Bontemps, no stranger herself to displays, reads Paul as well, and she should, considering the business she is in: "You're too generous in trying to help, but don't be sentimental about me, Paul, because that's your weakness. I think you like women too much, so you give them the benefit of the doubt when you shouldn't."
Scherber frequently offers insights into Mexican culture, such as this one: "It was, after all, México, where… along with salt, pepper, and salsa, sex is always on the table."
Sometimes the observations are more mundane. This subject is very familiar to most of us who live in México: driving through San Miguel Paul sees a parking space; he has a momentary impulse to park in it "just because I can, even if it's nowhere close to the place where I'm heading."
The twelve books so far in the Murder in Mexico mystery series can be read in any order. The primary characters remain the same, and we come to like them a lot so it is with high pleasure that we meet them again and again facing new challenges, both professionally and in their relationships. It matters not at all whether we are reading the books in sequence, or as I did, at random.
Here are the titles of all of the books in the Murder in Mexico mystery series in order of publication, and all are available on Kindle:
Twenty Centavos
The Fifth Codex
Brushwork
Daddy's Girl
Strike Zone
Vanishing Act
Jack and Jill
Identity Crisis
The Theft of the Virgin
The Book Doctor
The Predator
The Girl from Veracruz
Published or Updated on: January 11, 2015