Down narrow, winding, desert Highway 19, an hour past the last golf course in Cabo San Lucas, lies quiet Todos Santos, a Mexican hamlet with just over 3,400 residents, on the Pacific side of southern Baja California.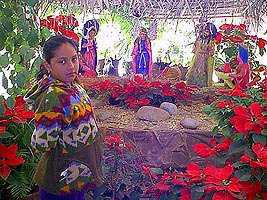 Here, it's not what you see but what you don't see. Life goes on behind pastel walls. As part-time resident and author, Joe Cummings, put it, "Todos Santos's real life lies underneath." To a passing traveler, this small town looks like any other Mexican town. It has its church, its main plaza, a few restaurants, and mostly dirt streets. But underneath it all lies the heart of Mexico's newest art colony and a controversial battle over change.
"Todos Santos is a place people disappear into," added Cummings. "There's something about the way the two-lane highway through town can take in casual visitors at one end and dispense with them at the other end without revealing too much."
"Beneath the town's sleepy surface, behind the century-old brick and adobe facades, lives a small, year-round colony of artists, writers, surfers, and organic farmers who have found Todos Santos the ideal place to follow their independent pursuits," says Cummings in his Moon Guide, Cabo HandBook from Avalon Travel Publishing. He noted that very few visitors ever cross to el otro lado (the other side) of the palm-filled arroyo along the north side of town, thus protecting the privacy of artists, who came here for the light, and of writers, like Cummings, who find the lack of distractions, refreshing.
Todos Santos is unlike other art colonies such as Taos, New Mexico, and Carmel, California. Those places boast chic galleries and chi-chi cafes, but very few artists, for few can afford to live there.
But artists and writers can afford to live and work in Todos Santos, at least for the time being.
Unfotunately, the town has been discovered. Some claim it's one of the most charming villages in Baja California. And with charm come tourists and with tourists comes change.
History
Todos Santos' rather unremarkable history began when Jesuit missionaries established a farm community in 1724 to supply the mission at La Paz with fruits, vegetables, wine, and sugarcane. By 1733, the community was so successful that Padre Sigismundo Taraval founded Misión Santa Rosa de las Palmas. And by the mid-18th Century, Todos Santos was bigger than La Paz. Renamed Nuestra Señora del Pilar de Todos Santos in 1749, the town remained an important mission settlement until 1840.
Following the secularization of the missions, Todos Santos thrived as Baja's sugarcane capital, supporting eight sugar mills by the late 19 th Century. Only one existed by the time the town's freshwater spring dried up in1950. Todos Santos faded into near obscurity after that last mill closed in 1965. Miraculously, the spring came back to life in 1981 and the area began producing fruits and vegetables in quantity. Tourists began arriving when the Mexican Government paved Highway 19 in the mid 1980s–and the rest, as they say, is history.
And with the tourists came problems faced by other Mexican towns discovered on the tourist path. Just two weeks after the local police chief announced that there was little crime in Todos Santos, the town had its first Bonnie & Clyde Mexican Style bank raid. Armed robbers, who made their getaway in a truck, stripped the local bank of cash.
To Change or Not to Change: That is the Question?
One of the most hotly discussed subjects in town is the subject of change, sort of like when Wal-Mart plans to build a new store in a town, only on a smaller scale. There are advocates for no change, who moved here for the quiet life. And there are those who welcome change because with it comes economic opportunity.
Mike Cope, owner of Galeria de Todos Santos, is an advocate of change. "I'm excited about the influx of young Mexican artists in town," he said. "I'm excited that so many people care about the town, and I hope this caring extends into empowering the Mexican population. By that, I mean creating opportunities that are more educational, that will actively involve the local kids in subjects like the environmental health of the town."
Architect Brenda Cassiltas, who came to Todos Santos because she just loved the "feel" of the town, is an example of the young talent to which Mike refers.
Charles Stewart, the town's first expatriate artist, hit town in 1986. In time, other artists, like Raul Cavazos, a California builder who now uses local clay to craft his graceful pots, settled in Todos Santos.
"Today, Todos Santos is home to eight well-regarded American artists and a temporary home to 10 others," said Cope, also a painter. On many days, several American artists gather on the patio of his gallery to paint, sculpt and make pots. For them, Todos Santos is a love affair–a place to work with good light, amiable colleagues in the arts, a fascinating local culture, time to spend with their families and enough amenities to keep life comfortable.
On the other side of town, behind the counter of the SuperMercado El Sol, sits Maria del Rosario Ojeda. She fears that Todos Santos will go the way of other Mexican tourist towns if big developments are allowed to come in. "We feel it's important to protect our family and community values," she said. "Here, everyone can walk the streets without fear. The values we are protecting are the very thing that attracts people."
One of the insignificant signs of change can be seen at the House of Culture, the regional museum of southern Baja California. Instead of signs saying Mujeres and Hombres, a half-naked Barbie doll hangs over the entrance to the ladies room and a broken Ken doll hangs over the entrance to the men's room, perhaps put there with a Mexican sense of humor or as silent symbols of change.
The museum, itself, with its exhibits of local building techniques and photographs from the Mexican Revolution, offers visitors a chance to see what life was like before the tourists–before Los Cabos and its golf courses.
Hotel California
When Todos Santos lay sleeping in the Baja sunshine in the 1970s, hippies would pay $2 for a hammock and the use of a communal bath and shower at the Hotel California. As hype and legend would have it, it became the Hotel California of the Eagles rock and roll fame. However, as Cummings will tell you, this Eagle's legend is the creation of one man, Manuel Valdez, the former manager of the hotel, who now operates two shops selling Hotel California memorabilia.
Today, visitors sleep comfortably at the Todos Santos Inn, a four-room boutique hotel housed in a former cantina and military headquarters, run by Robert Whiting, an expat from Boston. For $125 a night, guests stay in luxurious suites with four-poster beds and carved Mexican armoires.
And when they're hungry, they head over to Restaurante Las Fuentes, sit under a big palapa and munch on the best burritos de machaca in town, washed down with cold Pacifico beer. Its owner, affectionately known as Paquita, firmly believes in the changes that will come to Todos Santos. "The conflict that growth brings can be difficult," she said. "I've seen many changes in the last 10 years. Growth is good for everyone, it brings more jobs, but we must avoid the problems of other tourist towns." She believes everyone needs to get involved so that Todos Santos doesn't make the same mistakes other tourist towns have made.
The bell on the cart of a passing street vendor tinkles as he passes by. Shadows fall softly on a pink building with its locked white door. Todos Santos is a quiet once again–but not for long.
Published or Updated on: June 1, 2002