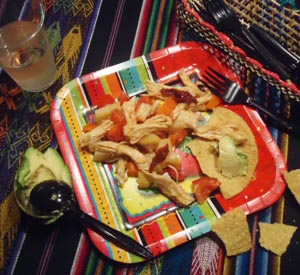 Flavored with smoky chipotles, this recipe for salpicon de pollo is adapted from one by Vicki Cowal, who had adapted it herself, from Margaret Poore's 1,000 Mexican Recipes. Here in Cholula, the regional specialty called chipocludos — sweet and tart pickled chipotles — is sold in the market and frequently prepared at home. I have given a recipe for them, but the chipotles in adobo, with the brown sugar and vinegar used here, are a wonderful replacement for the chipocludos in this version of Mexican chicken salad in chipotle vinaigrette.
Ingredients
1 whole, bone-in chicken breast, cooked until just tender, cooled and shredded
2 canned chipotles in adobo, seeded and cut into thin strips
½ teaspoon adobo sauce from the can, or more to taste
3 teaspoons apple cider vinegar
2 teaspoons dark brown sugar
1 tablespoon olive oil
1 carrot, peeled diced and boiled
1 potato, peeled, diced and boiled
1 tomato, finely chopped
lettuce leaves to line plates
thinly sliced red onion and extra chile strips for garnish
Place the chicken in a bowl. In a smaller bowl, whisk together the adobo sauce, vinegar, brown sugar and olive oil. Pour this mixture over the chicken and toss to coat. Add the carrot, potato and tomato and toss gently.
Line a serving platter or individual plates with lettuce leaves and pile thesalpicón on top. Garnish with red onion slices and additional chile strips if desired. Serves 4.
Link to Source Articles
May in Mexico: A month of holiday food
The Lighter Side of Mexican Cooking
Published or Updated on: January 6, 2009