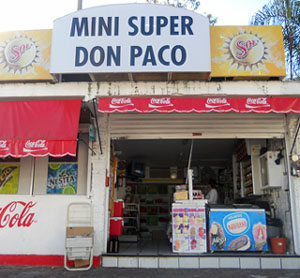 Money matters — in Mexico just as elsewhere. It is important to have some. Conservative East Tennessee logic says it is advantageous to spend a little less than the total available. Squeeze a peso or two in case of a calamity. Stuff happens.
Through the years, the most frequent question from outsiders has been how much does it cost to live in Mexico? Money has slipped to Number 2, replaced by "Aren't you afraid?"
Troubled is a more accurate word. Increased violence has altered some routes.
With the exchange rate at or near 12 to one U.S. dollar, increased costs have not yet erected a barricade. There may be one. MexConnect columnists sometimes achieve fame but never fortune.
Indeed, money matters. Charities stretch but seldom reach gringos. Medicare doesn't work here. As the old song says, friends are hard to find if you run low on pesos.
Mexico won't let foreigners in unless it is convinced they are self-sustaining. A relatively frugal lifestyle is our secret of admission, survival and happiness.
Ownership of a modest three-story townhouse in a Mexican neighborhood required a reasonable initial investment but means no monthly payments. The million-dollar view of Lake Chapala and Mount Garcia is free. Our stripped-down Volkswagen bug, soon to celebrate its 12th birthday, isn't exactly stylish but it is faithful and inexpensive transportation. Sunshine and flowers are a bonus for good behavior, waking up sober each morning.
We know how the other half lives. We've been there and done that — a dozen years in downtown Washington, D.C., a home down the Potomac River, next door to Mount Vernon, on a tract that was once one of George Washington's seven farms. Yes, that George Washington. There was a bronze plaque beside the front doorway.
Want a cost-of-living yardstick? Use Washington or New York or San Francisco or London or Tokyo. Mexico costs less. How much depends on interests, habits, choices, activities, guest lists and how hard you hit topes. Luck might be a factor. Some endure break-ins and lose wallets more often than others.
We know our basic expenses. Jocotepec property taxes remain low but are going up. Car insurance is down to liability and legal support. We deliberately overpay for the occasional housecleaning because the maid is a friend.
Our favorite bolillo is six pesos per short loaf. Bimbo hamburger buns are 22. Low-fat milk is 21 pesos for two liters. Chicken breasts and mysterious cuts of beef are 70 per kilo, two pounds plus. Romaine lettuce is seven pesos. Tomatoes go up and down like a yo-yo.
Propane gas, last month, was 310 pesos per tall portable tank, which may or may not have been filled to capacity. How much you use depends heavily on how often you cook or shower. Our on-demand water heater saves some.
Electric costs, supposedly subsidized by the government, float with usage. Lower consumption is rewarded with lower rates. We don't think we use much but the electric company always has a different opinion. Almost forgot to tell you rates are going up.
Telephone, less than 200 pesos per month, includes 100 local calls. We use e-mail, Skype and an old-fashioned callback service, 15 cents per minute, for international communications. We pay 40 U.S. dollars per month for our wireless Internet connection. Satellite TV is more.
Street water and sewage disposal costs are creeping up. Purified drinking water is 12 pesos per 19 liters if you haul your own. Pepsis are five pesos per 12-ounce can. The price of oranges fluctuates with the season but fresh-squeezed juice is superior to whatever is sold in boxes.
The price of olive oil has skyrocketed. Rice and beans are up 50 percent or more. Eggs at 21 pesos per dozen and paper coffee filters, 40 for 40 pesos, are ridiculously overpriced. Maybe we should switch stores.
Somewhere we have a list of projected gifts and donations. We do not follow it religiously. Christmas gifts were near double intentions. Christmas lunch with Amazing Grace Contrades and her gringo friends was 150 pesos per plate plus tip. She insists on holiday generosity.
You might be interested in one unique Christmas gift. Our very best friend has begun construction on joined houses for his two sons. We purchased a large dump truck load of large rocks for their foundations, 750 pesos.
The expressions on the two younger faces was priceless when they discovered symbolic softball-sized stones in their gift bags. Fortunately, the father explained the surprise before either dropped or threw anything.
Restaurants are one of our peso weaknesses. We love 'em. We go out for midday meals four or five times per week. That often includes a road trip, from Joco to Ajijic or Chapala or, heaven help us, Guadalajara.
Guad sometimes means luxury purchases and a bit of sightseeing. There are free lunch sights at lakeside. Watching seniors try to park can be very entertaining.
Dining out is not cheap. If you keep looking, there are bargains. You'd never believe how good is the grilled salmon at Jose's Place, around the corner from the Chapala plaza, 75 pesos plus drink and something for Isabella.
Mexico travel is important to us. That's one reason we are here. We go places and see things. Regular gasoline for the VW is 8.84 pesos per liter and going up four centavos each month. We generally choose mid-range hotels. Pacific-side rooms at Barra de Navidad cost 850 pesos. In Mexico City, it might be 700 or 1700. We are not frequent visitors. We don't drive there. No way, Jose.
We try hard to avoid driving at night. We project daytime costs to be less, meaning our chances of missing a cow in the road are better if we can see it.
Published or Updated on: February 10, 2011