"Port of the Angel" is a little known fishing village and beach getaway on the south coast of Mexico. Six hours from Oaxaca City and midway between Huatulco and Puerto Escondido, this beautiful little bay is almost completely encircled by steep hills linked like a jewel-studded necklace; such is the magic of Puerto Angel. The bay itself is protected from the rough ocean currents common in this part of the Mexican coast, making it safe for swimming. Fruit laden papaya trees and fuchsia bougainvillea are lush and abundant on the hillsides; palm trees sway in the breeze along the beach.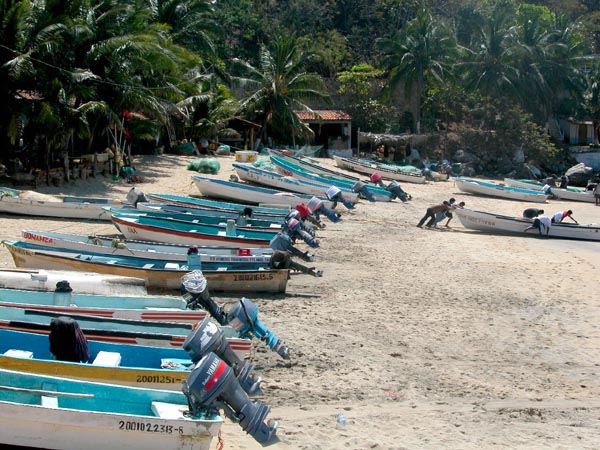 Puerto Angel is popular with Mexican families who come here for vacation; few gringo tourists are to be found. It has a reasonable array of restaurants, but a limited nightlife. No loud discos booming in the background. If you like out-of-the-way beach towns like Tenacatita, Jalisco or Guayabitos, Nayarit, and prefer a simpler life without hot showers and air conditioning, then this is your kind of place.
While its bay and beaches are charming, the back streets of the town are a bit rough around the edges. As we walked the dusty street to our hotel, we encountered wandering pigs and pungent fish odors coming from the corner pescaderia, where the fishermen were cleaning today's catch. Our 9-year-old son observed "the streets don't match the hotel". True, but Puerto Angel provides a great cross-section of life in a Mexican fishing village.
On a typical day, we would make our daily pilgrimage to the beach, passing a surprisingly large naval base until we reached the "andador", a stone walkway skirting the sheer rock cliffs on the way to the beach. It's a dramatic walk, as the waves crash violently along the boulders below, spraying us with salt water during high tide. The harbor is crowded with fishing boats, with fishermen working onshore to mend their bright yellow and red fishing nets. Large gray herons dive bomb the shallow waters searching for fish, while elegant white egrets and seagulls perch precariously on the rocks above the pounding surf.
There are three main beaches – Playa Principal, Playa Pantheon, and the more remote Playa Zipolite. Playa Principal is the beach nearest to town center, but it is less protected and has fewer amenities. There is good fishing off the main pier, a popular meeting place at dusk and dawn.
Playa Pantheon was our favorite beach. While the name translates to cemetery beach, it is in fact the safest swimming beach. It's named for the colorful cemetery that is tucked onto the hillside directly behind the beach. While fairly compact, it is lined with restaurants, lounge chairs and umbrellas for your comfort. A cold cerveza is just a moment away. They even have lifeguards here, uncommon in Mexico. The Mexican dogs exhibit the right attitude, as they sprawl lifelessly in the sand, oblivious to all activity.
Large groups of Mexican families parade by, assembling themselves for the day at a nearby restaurant, representing at least three generations from grandma to grandbaby. Why don't we do this in the States? Entire extended families vacationing together and genuinely enjoying each other's company – what a rarity!
If playing in the surf isn't enough amusement, scuba and snorkeling are available nearby, and small boats can be rented to tour the harbor and visit nearby secluded beaches. For excitement, you can take a bouncy, wild ride on a "banana boat". Just a 20-minute ride to the north, you can visit the Turtle Sanctuary at Mazunte. There is also an eco-tour at La Ventanilla where you can see wild birds and cayman, but it's best to go either early or late in the day to see the most wildlife.
One day we took a shared "collectivo" taxi service over to Zipolite, a beach four miles away. The Oaxaca dialect is difficult to understand as they speak a rapid-fire staccato Spanish. When they stopped to pick up another passenger, I struggled to comprehend that they needed me to sit astride the gearshift so the other passenger could join me in the front seat. Not the most comfortable ride I've ever had. But at five pesos, a good value.
Playa Zipolite is the right spot if you're into surfing, nude bathing and nipple rings. Clearly, an inexpensive backpackers hangout and partying kind of place, with a few over-the-hill hippies to boot. After watching the deadly surf for five minutes, I was ready pack it in; several people die each year swimming at Zipolite. Take me back to Playa Pantheon…
After spending the day on the beach, we would return to our hotel, La Buena Vista, take a cool shower to rinse off the sticky seawater and spend the rest of the afternoon lazing on our private balcony, swinging in the hammock, enjoying the tranquil view of the bay. Feeling restored from our siesta, we would stroll to town for dinner, where we would pick from an assortment of restaurants.
Tuna ( atuna in Spanish) is a fish specialty on this part of the coast; our favorite dishes were stuffed avocado with tuna salad, batter fried tuna empanizada, and tuna Veracruzana with a salsa of tomatoes, olives, and onions. We relished the tasty fried oysters and enjoyed freshly caught shrimp in every possible form.
Satiated from our dinner, we would return to our small piece of paradise, climbing the stairs to our private bungalow. On the balcony, we basked in the balmy night air, feeling mellow and contented as we watched the full moon rising over the nearby hills, lulled by the pounding of the surf. Puerto Angelo is a unique and laid-back beach get-away…
THE DETAILS…
WHEN TO GO
Fall is probably the optimal time as it is not too hot and still green. Winter temperatures are pleasant, although the surrounding hills are browner. We went in April, which was hot and dry, but still enjoyable. While the town was full during Semana Santa (Easter week), it was not uncomfortably packed. Summers can be rather hot and muggy with afternoon or evening rains, and verdant green foliage.
PLACES TO STAY:
La Buena Vista – Phone 958-43104, ask for the owner Adrian. 330 to 410 pesos per night. This was our favorite place to stay, although you need energy to climb the three flights of stairs up to the lobby. The shady flagstone walkways were crowded with lush Bali-like foliage. Be prepared to carry your own bags. Great views of the bay and relaxing public spaces with many hammocks and lounge chairs. Some separate cottages with private porches. Cold showers (when you're hot it doesn't matter) with fans and mosquito netting over the beds. Five minute walk to the beach. Not luxurious, but a great setting and ambience.
Cañon Devata – No phone.
About 310 pesos a night. This hotel is set into a narrow valley just up the road from Playa Pantheon. It's a beautiful walk through the jungle to get there, but the vegetation blocks the ocean breeze, important in this hot climate. Rustic, decent rooms.
La Soraya – Phone 958
30009. About 350 pesos a night. A boxy, modern hotel, the only one with air conditioning. Not the most charming location, near Playa Principal in the town center, overlooking the pier.
La Cabaña – Phone 958-43105.
About 300 pesos a night. Basic rooms right near the beach at Playa Pantheon.
Angel del Mar – Phone 958-43008.
About 400 pesos. On a hilltop overlooking Playa Pantheon. Tremendous view, but a tough incline to walk without a car.
At all hotels, come prepared with mosquito repellent, spray and possibly coils. The mosquitoes are pretty active at night, so use your mosquito netting.
PLACES TO EAT:
Puerto Angel doesn't have a wide selection of restaurants, but there are enough to satisfy you for a week or so.
Villa Florencia – located on the main drag in town. Very popular with good Italian food at reasonable prices.

El Almendro – tucked on the side street right behind Villa Florencia. Great barbecued meats and salad bar at bargain prices in a pretty garden setting.

La Buena Vista – set on a pretty open patio overlooking the bay. Limited menu, but good food, especially the Chile Rellenos.

Rincon del Mar – perched above the rock cliffs along the andador between Playa Principal and Playa Pantheon. Outstanding view, good place for drinks.
BEACH RESTAURANTS AT PLAYA PANTHEON:
Suzy's – good beachside food and service. Very popular with Mexican families.

Eclipse – also good food, try the stuffed avocado with tuna or shrimp. Yum…
HOW TO GET THERE:
To fly –
You can fly into either Puerto Escondido or Huatulco. To save money, you can go to the center of town to catch the local bus, or you can pay up an outrageous fixed price of 640 pesos for a 40-minute taxi ride! Our highest priced taxi ride in our years of Mexican travel. Next time, I would arrange in advance with the hotel to schedule an airport pickup by a Puerto Angel taxi at half the price. You can also fly in from Oaxaca City, if you don't mind taking small aircraft.

Bus to/from Oaxaca –
It's a five to six hour bus ride over tortuous curves from Oaxaca to Pochutla, the nearest major town to Puerto Angel, about 20 minutes away. Much of the road remains in bad shape from the hurricane and mudslides two years ago. Take motion sickness medicine! We took the 1st class bus with Estrella de Valle and were promised bathrooms and air conditioning. As we boarded, it became clear that the seats blocking off the bathroom had been there for years and there was no aircon. We also learned that their definition of "non-stop" meant that they didn't stop for food or bathroom service at all during the six hours of travel time. Bring food on board and cross your legs! Nonetheless, it was a spectacular ride crossing the mountains to Oaxaca.

Shared rides to/from Oaxaca –
On the main street in Pochutla, up a little from the Estrella de Valle bus station, you can take a shared suburban daily at 5:30 AM and 4 PM for about 120 pesos. This will get you there about an hour quicker than the express bus.
Published or Updated on: January 1, 2006