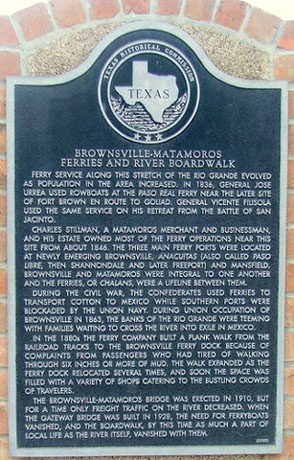 Old is good, especially when it's a freshly discovered newspaper from April 1929. It's exciting to read things that happened even before the stock market crash was to occur that coming October, leading America into one of the bleakest periods in our history. That sad period also saw the close of the oldest institution on the lower Mexican border: the Brownsville-Matamoros ferry.
The ferry (chalon) was an efficient means of transportation between the U.S. and Mexico for 110 years but, in 1929, it took its last trip across the Rio Grande.
No records exist of the very first ferry between Matamoros and Matamors Commons (now the City of Brownsville); it is believed to have occurred sometime in 1818, or about the same time as the founding of Congregation del Refugio. In 1826, when the Congregation del Refugio reorganized and took the name of Matamoros, the ferry was operating as the Anaquitas ferry to the Matamoros Commons.
It was at the site of this ferry that, in 1846, more than 100 Mexican soldiers were drowned while retreating from General Zachary Taylor's soldiers. In 1850, Brownsville became the outfitting post for hundreds of goldseekers (and possibly gold diggers as well) headed for the gold mines in California.
During the Civil War, thousands of bales of Southern cotton were brought through this port for shipment to Europe, millions of dollars worth of supplies for the Army of the South crossed at this point. After the Civil War when supplies for most of northern Mexico flowed through this port by way of Point Isabel over the Rio Grande Railway, the freight ferry continued to handle a "vast tonnage."
An ever-growing population eventually replaced this historic ferry with a steel bridge. Today, the Brownsville-Matamoros Bridge is listed by Homeland Security as one of the prime land border ports of entry into the United States.
Without knowing the history of these two great nations, we deprive only ourselves. Be sure to check out stories like this one when you plan your summer vacation. Old is good.
Published or Updated on: June 30, 2010