Photo gallery: Dressing Baby Jesus: Dia de la Candelaria in Oaxaca
All around town, people are carrying babies. It takes me a moment to realize, (mostly because they are swaddled in blankets) that they are not real babies but dolls. Then it takes me another moment and a scolding from my new mother-in-law to realize that they are not dolls either. They are Niños Jesus — Baby Jesus.
February 2nd is Dia de la Candelaria, or Candlemas in English, and everyone who has a Baby Jesus to dress up is either choosing an outfit for him to wear at the last minute or is on his or her way to church to have him blessed.
In the times of Mary and Joseph and their holy babe, (and still practiced by many Mexican women today), it was custom for the mother to have a period of rest and quarantine after birth. The law at the time dictated that a new mother was considered to be unclean during the 40 days after childbirth and therefore required to stay at home.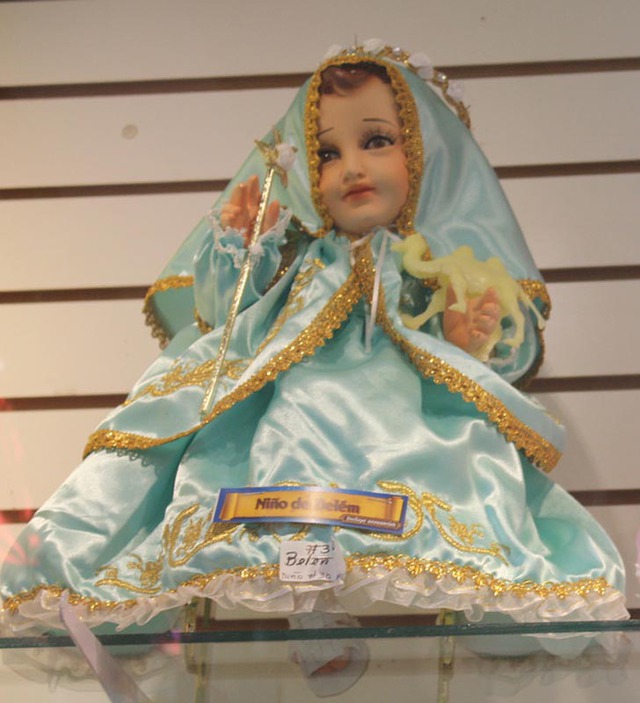 February 2nd (40 days after December 24th) would have been the day that Mary took newborn Jesus to the temple to be blessed. To remember this important religious event, Baby Jesus figurines are taken from household nativity scenes (that have been left up since Christmas) and dressed to be presented at the nearest cathedral. While this tradition is slowly dying out in many cities in Mexico, in Oaxaca it is still alive enough to warrant storefront windows full of baby sized dresses and accessories.
The images of Baby Jesus range in size but most are to the scale or a bit smaller than an actual 40 day old infant. Some have been passed down in families for years, making the dolls older than I am. Over the years, they become chipped and the painted faces fade but in many markets and craft stores, the images can be retouched and new ones can be purchased.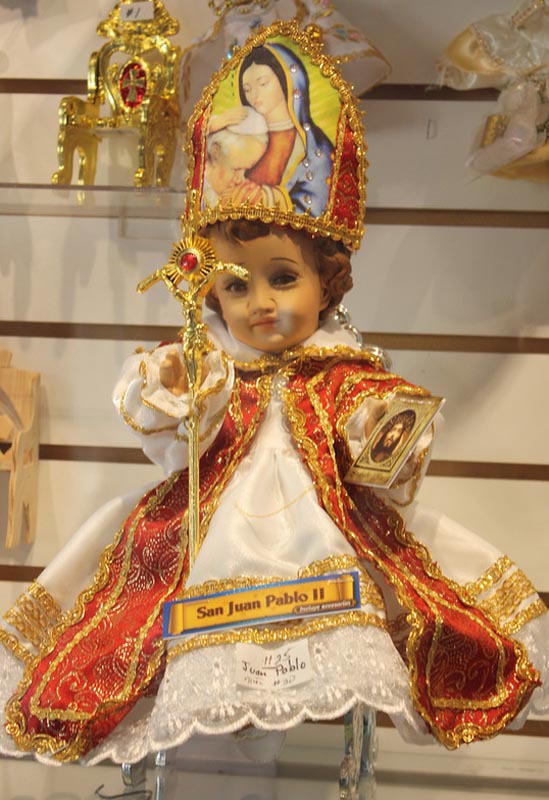 The images are dressed in fine clothing; at times costing more money than some families can spend on their flesh and blood children's clothes. This does not include the baby chairs, sandals, and other accessories that are available to dress the baby in style. Traditionally, the Baby Jesus images were dressed in white christening gowns or saint-inspired robes but, in recent years, he can be seen in anything from soccer uniforms to doctor's scrubs.
There are many customs and unwritten rules on Candlemas Day, although I found it a bit difficult to receive the same information from people. Some follow the custom that, in the first year that they receive the Baby Jesus image, he be dressed all in white. On the second year, he can wear colored clothing and then, on the third year, he can begin to be dressed like royalty, including his throne and crown and any other elaborate accessories. It is not until the third year that he can perform miracles and thus can be dressed as a king. The most common vestments that I saw in shops had names like: The Pope, The Fisherman, Sacred Heart, and The Child of Grapes.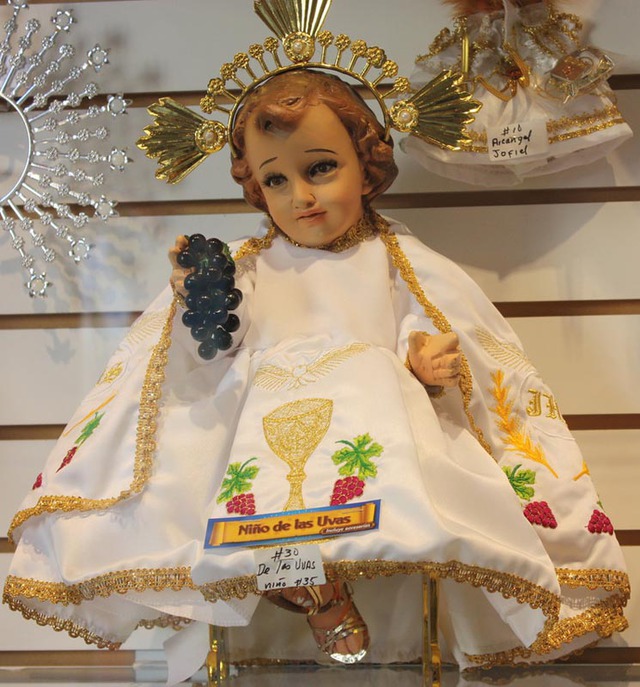 Women who work as professional dressers of the Niño Jesus give courses on how to measure your Baby Jesus to properly clothe him, help clients choose the outfit that best suits their particular image and even have to coax some fussy holy babes into letting themselves be dressed up. In a craft and party favors shop, an instructor showed a group of 5 or 6 women tricks on how to clothe their baby. While she dressed a smaller version of the Holy Son, she cooed and comforted the baby, as one would when dressing a live infant.
Some people choose godparents for their little Jesus who are expected to rock the baby to sleep on Christmas, bring him presents on Three Kings Day and be present at the church blessing on Dia de la Candaleria.
Apart from dressing up Baby Jesus, Oaxaqueño people also celebrate with fiestas that were arranged on Three Kings Day back in January. A tiny Niño Jesus figurine about the size of a pinkie finger is hidden in most Roscas de Reyes (Three Kings cake) that are eaten on January 6th. Whoever ends up with the figurine is the appointed person to host the party and serve tamales and atole or hot chocolate on February 2nd.
Tamales, made from maize (what the Aztecs believed was used to first create man) were once used in offerings made to the pre-Hispanic Gods. On the Dia de la Candelaria, tamales are eaten in honor of both Baby Jesus and also the ancient deities, emphasizing the influence of the still present pre-Hispanic traditions and how they mix with Catholic beliefs in Mexico.
Published or Updated on: January 30, 2014