The beverages known in Mexico as aguas frescas are an inspired compliment to the rich melding of chiles, herbs and spices found in Mexican food. They act to counter-balance strong flavors and are always light, never cloying. Aguas frescas function somewhat like sorbets, in that they refresh the palate.
Huge glass containers of these cooling drinks are found at street stands all over Mexico, their thirst-quenching contents ladled out throughout the day. A typical comida corrida – literally "meal on the run", served in most Mexican restaurants, however humble or elegant, to accomodate the traditional, large mid-day meal needs of the work force – includes a large pitcher of agua, usually using whatever fresh fruits are in season. These drinks, also known as aguas de fruta, include three essential ingredients: fruit (and sometimes flowers or seeds), water and sweetener.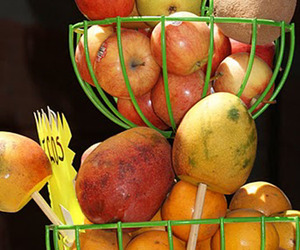 Sugar is the traditional sweetener, but if you normally use sugar substitute just follow the measurements given on the package. If you buy individual packets, the substitution equivalent is usually three packets for 1/4 cup of sugar. If you are accustomed to using honey as a sweetner, mix it with a small amount of hot water before adding it to the agua, to ensure its even distribution. None of them require much sweetener per serving, since the fruit itself is sweet; the amount in each recipe can be varied according to taste. Fresh squeezed lime juice can be added to taste to any of the following aguas.
Lately, I have seen some "gringo-ized" recipes for these fruit drinks which call for placing all of the water in the blender with the fruit. Don't do it; this will give you a pitcher of foam. Other recipes go even further and list crushed ice as a blender ingredient. The effect is something that looks like it came out of a convenience store slushy machine, but in no way resembles an agua fresca. Only enough water to liquify the fruit should be placed in the blender container. These drinks can be easily prepared the traditional way, without a blender, by mashing the fruit with a fork before mixing it with the water and sweetener.
The following recipes first appeared in my book Take This Chile and Stuff It: Authentic Mexican Chiles Rellenos, Golden West Publishers, 1998. They are perfect refreshments to counteract the summer heat.
Published or Updated on: July 1, 1999