Interactive map of Pacific Coast beaches in the states of Jalisco, Nayarit, Colima and Michoacán, Mexico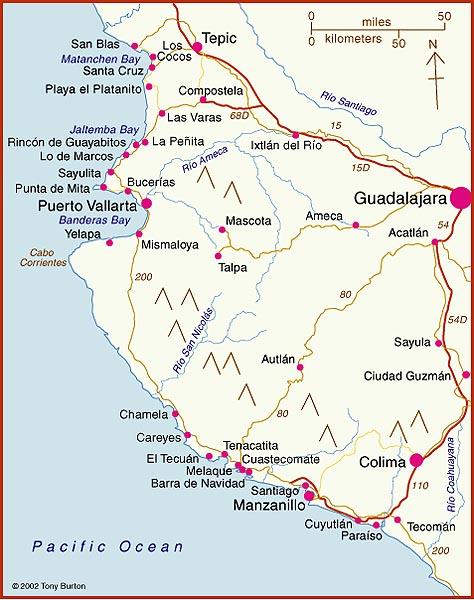 The interactive map shows the coasts of the states of Nayarit, Jalisco, Colima and Michoacán. These states all have some great beaches, and tourism is an important activity in many of the towns shown on the map. Some of the beaches are so exposed that the Pacific Ocean waves arriving to smash into the sand offer outstanding surfing opportunities. Other beaches are more sheltered, with calmer waters perfect for swimming.
Besides being important for tourism, Manzanillo is one of Mexico's largest ports. One of the major reasons why the port of Manzanillo has attracted so much investment in recent decades is that it is easy to access via the major divided highway to/from Guadalajara and the interior of Mexico (and indeed, the US border).
Further north, San Blas was once an important port, but declined as silting blocked the shallow access routes.
Barra de Navidad also had great historical importance, as one of the shipbuilding ports where the Spanish built the ships which traversed the Pacific Ocean to the islands of the Philippines.
The coast around the headland of Punta de Mita used to be the site of rustic fishing villages, from where fisherman also took occasional groups of tourists out to sea whale-watching. The Punta de Mita peninsula, 50 km (30 mi) north of Puerto Vallarta, was developed in the 1990s. The existing residents, mostly fishermen, were moved from their breezy and somewhat ramshackle palapa huts, interspersed with palm trees, into ugly, concrete block houses a short distance inland, in the purpose-built small town of Emiliano Zapata, which adjoins a redeveloped coastal commercial/ restaurant strip called Anclote.
Dramatic changes are underway along parts of this coastline. The area north of Sayulita (which has become a favored wintering location for Americans and Canadians) as far as the beach resort of Rincón de Guayabitos (favored by Mexican families) is slowly being transformed into Mexico's latest purpose-built tourist resort, in the same way that other Mexican mega-resorts such as Cancún, Huatulco and Ixtapa were created.
Only time will tell what eventually happens to the areas that currently remain as genuine wilderness coast. One thing is sure – the more we develop this coastline, the more ecological damage will be done in the name of progress. Ecologically valuable mangroves have been stripped out almost all along the coast, giving way to luxury hotels and marinas.
Many of these beaches are important nesting sites for the various endangered species of marine turtles.
Published or Updated on January 1, 2002
by Tony Burton.