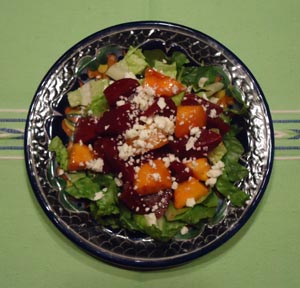 A lightly dressed summer salad, Mexican beet and mango salad is good with grilled chicken or fish. Make sure to use mangos that are not overripe, so that they keep their shape when cubed.
Ingredients
4 large beets, steamed or roasted, peeled and cut into ½ inch cubes
2 firm, ripe mangos, peeled and cut into ½ inch cubes
¼ cup olive oil
2 tablespoons good balsamic vinegar
Salt and pepper to taste
Mixed greens for serving, including beet greens if possible
½ cup queso fresco or mild feta
Place the beets and mangos in a non-reactive bowl. Combine the olive oil and vinegar, adding salt and pepper to taste.
Pour the dressing over the beets and mangos and toss gently.
Line salad plates with the greens, spoon the salad over the greens, and sprinkle the cheese over all. Makes 6 servings.
Link to source article
The beautiful beet: A Mexican salad and drink favorite
Published or Updated on: June 24, 2013