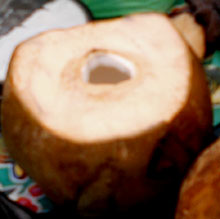 This was the perfect accompaniment to the grilled tuna. Use fresh lemongrass, rather than the dried version sold to make tea.
Ingredients
2 tablespoons vegetable oil such as canola or peanut, or use coconut oil if available
1 cup rice, washed until water runs clear and left in a strainer to dry
1 6 inch piece fresh lemongrass stalk, bottom part only
1 cup water
1cup unsweetened coconut milk
½ teaspoon salt, or to taste
Heat oil in a heavy saucepan, add rice and stir until rice is coated with oil and slightly golden.
Add all remaining ingredients, stir once, bring to a boil. Cover saucepan tightly, lower heat and simmer until all liquid is absorbed. Serves 4.
Link to source articles
Mexico's coconuts: A tasty way to beat the heat
Cooking in Puerto Escondido: Fish and fruit from Mexico's tropics
Published or Updated on: October 21, 2010