Good morning, Melaque: one day in a small Mexico beach town
When we return to Canada in the spring, we are cheerful, rested and tanned. We tell our friends that, yes, we had another glorious extended vacation in Mexico.
After the exchange of a few pleasantries, some people are likely to blurt out: "Six months in Mexico! Whatever do you do every day? What do you do to kill time?"
It is an afternoon in January, 2009; 4:30 p.m. "Crikey," says Vera. (Her English roots are unearthed on those infrequent occasions when excitement, bafflement or consternation takes over.) "It's four-thirty," she exclaims. "Wherever has the day gone?" Time, we find, is too precious to kill. In fact if we could we'd make more of it.
Prolonged periods of time in Mexico are filled with days long and short. For some, the days are too long. Try as they might, the pedestrian minds of those who churlishly regret the hours that pass are not able to conjure up a spell to shrink the day conveniently into more compact and disposable matter. They can only gripe about those tiresome 24 hours of each day that cannot be eluded. Even for those with enough elasticity in their resourcefulness to stretch out precious time, there can never be enough hours in the day. One does not have to be in Mexico to find these truths, but when we are on vacation they become more self evident.
At home, the usual distractions prevail, enabling inspiration to lazily lounge as usual. There are plenty of amusements that are pleasant, comfortable and predictable: relatives, television, movies, neighbours, tax returns, phone calls, mystery novels, children and grandchildren. The hours as they irretrievably recede are barely noticeable in this hubbub. And the dismal days roll over into months, drift into years, dissolve into decades and finally descend into the inevitable, unmentionable conclusion. (Its name is too dark to dare mention here.)
On an extended vacation, all that conformity falls apart like an over-cooked cabbage. One has to rely on his psychic reserves. And sadly, if they are feeble, or if there are no available restorative elixirs, well, the days drearily will drag on and on.
Morning in Melaque
For the past number of years during our months of Mexico we have been travelling to Melaque-San Patricio-Obregon, a former fishing village on the Pacific coast about five hours by bus south of Puerto Vallarta. Known collectively as Melaque, the Mexico beach community is stable now at about 8,000 persons, and flourishes during December-March upon the arrival of several hundred tourists who pop up in the streets like alabaster mushrooms in a rain-stirred meadow.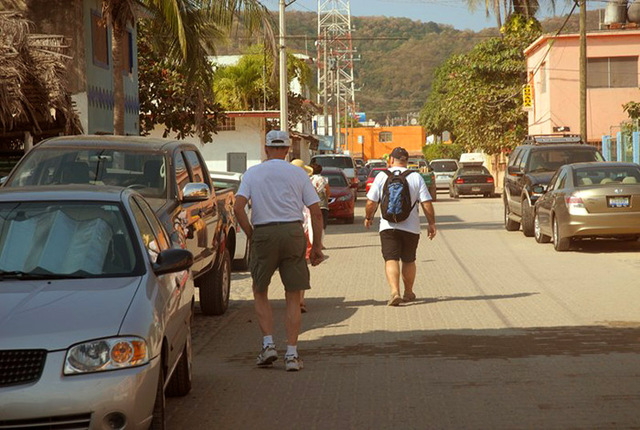 Unlike the early birds, the dawning of each day finds me still abed, nested in my covers and dreamily counting waves; this is a psychological response to the soothing sigh of a slight swell nibbling at the beach a few yards from my seaside bed. If I were to glance out the window I would see the occasional forlorn exerciser stolidly jogging off to nowhere and back, or a dog walker slogging ankle-bone-deep through the beige quicksand-like sand: early risers, God bless 'em. I roll over for another half hour or so. It's not that I'm an indolent slacker. I just would rather greet the morn at a much more congenial hour, say 7 a.m. or, better yet, 7:30; just in time for my ear to catch the hacking cough of my neighbour, a cigarette smoker who improbably has attained his 60th year, assuredly with the aid of a small shovel full of prescription drugs gobbled up with a coffee and with his reinvigorating first fag.
After a heaping bowl of sliced papaya, pineapple, melon and banana mixed in with sugarless yogourt, a cuppa tea, a large glass of just-squeezed orange juice, rich with pulp, purchased daily at my door for ten pesos from a young lady entrepreneur on a bike, and a slice of toast slathered with a honey-cinnamon spread, I'm ready for:
1. ten minutes of a news update on CNN; 2. a couple hours of writing; 3. a couple hours of reading; 4. a third cup of coffee ground from beans purchased from a cooperative of tough mountain women, two hours away by car. Or none of the above.
A shopping expedition
"We've got to do our shopping early today," Vera says, reminding me that our favourite grocery store – a dark, crowded, elbow crunching den – has fresh produce delivered every Wednesday. Today being a Wednesday, we're off on our bikes to purchase two days' supply of lettuce, tomatoes, broccoli, cauliflower, radishes, peppers, cilantro and whatever other greenish goodies the wholesaler has provided. We also need more of the aforementioned papayas, bananas, melons and pineapples, and perhaps some other fruity surprise that has arrived because it delightfully, and briefly, is in season. All of this is acquired for one third of the cost of the same foodstuffs back home.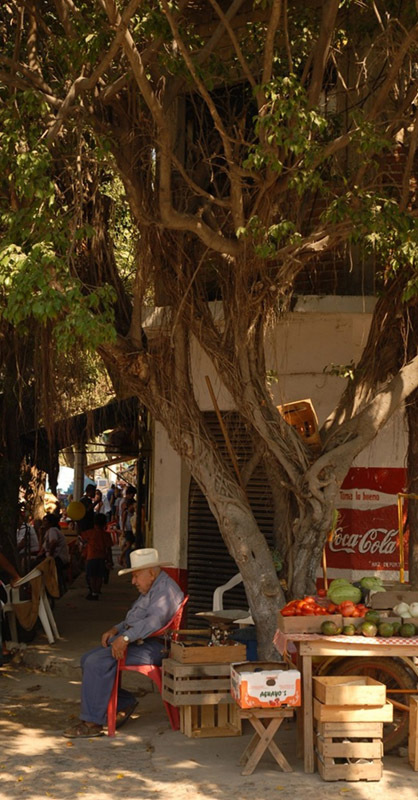 But getting the shopping done is not without its frustrations. Many Mexican shopkeepers, particularly those who sell items with tiny descriptive print and with tinier price tags, harbour an aversion to light. Their shops rarely have windows or even a hole in the wall to admit light, and the electrical lighting always is in the mute mode. Because the stores are set cheek by jowl along the dust-bedevilled streets, there is no opportunity to install windows, and the thin light is available only from the entryway. The shopper is expected to troll squinty-eyed through the cavernous interior, peering up at shelves stocked to the ceiling. Frequently the item we choose requires a teetering, tip-toe leap to be able on the third try to grasp the object of our frayed desires, which we then identify in the near light by holding it just under our noses. We vow next time to bring a flashlight. Under these conditions just a simple shopping trip can take up to half a day, especially when our tour takes us, for example, to the greengrocer, the hardware store, the fishmonger and finally the baker or the tortillería.
Take a bike?
However, this time we're back at our apartment by eleven and, because the bike ride downtown – a 10-minute trip – was more of a business than pleasure excursion, we decide to explore some of the countryside employing pedal power. They do have their limitations, but bikes are so much more pleasant than automobiles for short trips. (Frida is a different story. She's our 1990 Westfalia van who always is willing to take orders, unlike her sometimes-irascible Mexican namesake, Frida Kahlo, who when she still was alive and painting was more likely to tell you to take a hike than take an order.) From a car there's little to see in village motoring, especially for the driver who is attentive to, among a multitude of lurking dangers, whitewashed gringos who just got off the plane and, oblivious to their imminent destruction at the hands of a Mexican teenage driver (often only about 14 years old), stroll carelessly down the middle of a booby-trapped cobblestone street gazing about as if the nondescript low-slung brick buildings lining the street were architectural wonders. It must take at least a day or two for these dazed, sun struck survivors to get the idea that sidewalks, even though they are pocked with even more artfully-placed, ankle crunching hazards, could be the least dangerous place to be ambling.
Walking, albeit with caution, is an option, often unavoidable, and almost always pleasurable. By its nature a meandering enterprise, it also has strict limitations, especially when one of two knees grudgingly resists progress after about a mile. Adopting a leisurely pace is advisable, and strolling the side streets reveals pleasant Mexican cultural insights. A glance through a dim doorway of a typical worker's home discloses an interior barren of non-essentials, and reveals the simplicity of the lives of a simple people. The front room – often I suspect the only room other than the toilet and perhaps a kitchen – is certain to contain a number of beds which double as couches and chairs, a closet and possibly a dresser and, almost always, a TV, usually tuned to a soap opera of which there are many in the Americas. Outside, a lopsided pickup truck is likely to be parked, sometimes permanently, with one or more tires dispiritedly deflated. Occasionally there is a newer version of a truck or car which could very well exceed the value of the house and which could be considerably more comfortable than the furniture in one of these little dwellings, although I have yet to see anyone living in one. Considering the size of the families in this Catholic nation, these crowded conditions are inevitable, whether in a relatively poor community such as this or in any one of thousands of neighbourhoods throughout this nation of 100 million or so. And with wages still at a poverty level for a majority of day labourers, it is hard to see how their lot can be improved short of having to run the gauntlet of prejudice and politics to seek diminishing jobs in the U.S.A.
Yet the people are cheerful, if reserved. They need but a smile to respond in kind, and it is customary to greet even strangers with a friendly buenos días, buenas tardes, buenas noches or various versions of good day, good afternoon and good evening, quirky interpretations of which the befuddled tourist offers in abundance. Hola! usually will suffice, although the response to "hi" may be more formal. It is not unusual for an abbreviated reply to, say, buenas tardes: either buenas or tardes may be the shorthand response.
Whether walking or riding in Mexico, the ambler still must keep out a sharp eye for objects placed in the roadway especially to trip up non-locals. I do not suggest that these obstacles were placed there consciously with the prospect of now and then enjoying the sight of an unsuspecting or unobservant or uninitiated passer-by collapsing in a jolly heap of flailing arms, smashed salsa bottles, broken eggs, spilled veggies and an overwhelming sense of sheepishness. It is just that the Mexican instinctively avoids them by some innate acquaintance with menace or, more likely, because of his daily exposure to mushrooming cobbles, uneven pavement, indiscriminate potholes, yawning cracks and jagged rebar emerging from a tope, those infamous Mexican speed bumps. (Not to mention a minefield of canine feces.)
Cycling is by far the best way to absorb the charms of Mexican towns. Because we move along at a good pace, we always are able to get back to our refrigerators without the butter melting or flies taking note of the special-ordered Sonora beef steak. We also are able to get to more places of interest in a day, in particular to the various palapa restaurants' happy hours. Having travelled along every street in Melaque, named or otherwise, we know the location of each hotel, bar, liquor store, grocery, hardware, car mechanic, side road chicken barbecue stand, doctors' offices, dentists and of course the numerous restaurants, the best of which are a couple of unadorned eateries run by families who provide fine meals for under $3.00.
We also know well the restaurants to avoid, in particular the over-priced, under serviced wannabee high class eateries founded by gringos who charge North American prices for food that wants greater ambition than dispensing North American fare to the hungry, the humdrum and the uninitiated. Because, it seems, the customer has no great expectations nor wants any, these restaurants get away with it: they cater to the three-week wonders who traipse off the planes and find to their delight that they can eat almost exactly as they did back home. Except here the weather is balmy and they can chow down their dinner in shorts and sandals, read a menu in English and speak to the waiter in English. (What! Learn basic Spanish?) It's a Mexican experience without the Mexicans. When you coast by these places at night, you can observe under every table cloth a set of eight knobbly candle-white knees dangling from voluminous bags of shorts, above which ample stomachs are coddled by familiar, comforting tuck.
Much can be observed about Americans and Canadians while riding a bike around Mexico. Or by walking. Even by car.
Sidetracked
As it happened we never did go on that long bike ride. After depositing our groceries, we met a couple of friends and sauntered back downtown for lunch at Ayala's and then decided to travel to Tenacatita, a Mexico beach, for skin diving, and after a pleasant dip we had a chilled beer, then it was time to head home and think about dinner. And there was that novel I had just started….
But not all of the minutes of the day should have activity apportioned to them. One of the most precious intervals is the siesta, which to pragmatic sorts can be seen as a value-added form of profiting from Mexico time, mainly because of its restorative nature. For creative individuals, the siesta proffers a gift basket of ideas with which to consume an hour or so, the least spirited of which, to put it delicately, is the nap. This is an interval in the day in which we reflect, refresh and renew, physically and spiritually. The siesta certifies the serenity that attends solitude. It must never be considered a waste of time, it is a gift of the moment that never should be scorned. If at all possible this best of the moods of Mexico should be brought with us back home where, we find, it too can work its wizardry — but just not as well as in Mexico.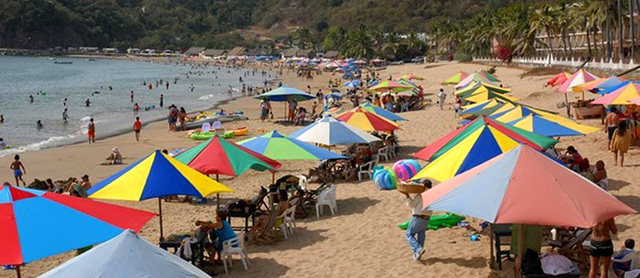 There is much to learn about Mexico by travelling, using whatever tool you prefer.
The only constant is time, in human terms fragile and finite. Even though arguably it goes on forever, for us there's never enough of it. Even space, seemingly immutable, is able to be truncated by circumstance. Just consider the constraints placed upon me by space. Here, right now.
I was in this article going to relate the diverse kinds of activities that make our days so full. I was going to describe one week in Mexico, seven 24-hour slices of a Mexican sojourn.
But space, not necessarily always stronger, bigger or taller than time, has intervened. In my peregrinations on this page I barely got through a single day. Obtrusive space has truncated compliant time (my personal time and space), and I've pretty much run out of both. Once again space has spliced time, of which I thought I had plenty, and left me hanging on to just a short length of what I started out with.
I'd better take what's left of it and run.
Published or Updated on: April 14, 2009