Photo gallery: Mexican microeconomics: The Tuesday market in San Miguel de Allende
Like a shimmering mirage that lasts only until your next blink, the Tuesday Market, or tianguis, appears once a week at dawn, assembled upon a vast windswept concrete slab near the parking lot of the San Miguel municipal sports complex. Just as quickly, it evaporates after sunset. Each week, from battered pickups and vans, a hoard of merchant Bedouins conjures up an entire world of itinerant economics from thin air.
Once assembled, the market is screened on the sides with brilliant tarps of red and blue and yellow, putting a bold face on what I used to think when I first arrived was desperation commerce.
But that was never fair. To the locals, retailing is simply divided a few degrees further and more minutely than in the north, reflecting both the scarcity of capital and the intensity of labor at the bottom of the economic pyramid. While a great deal of the merchandise is new, reuse is also an active value.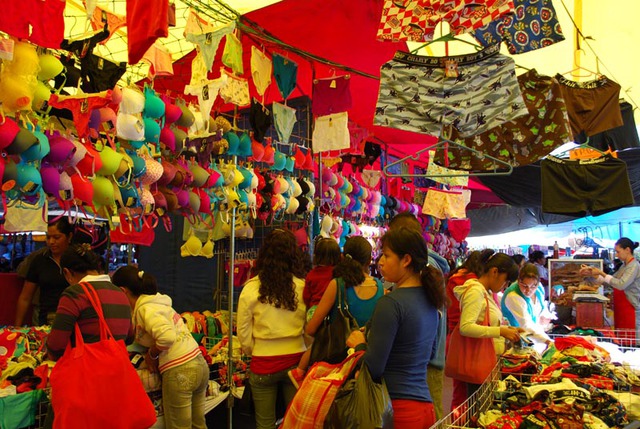 After I'd lived in San Miguel de Allende for a few years I realized the Tuesday Market was more like the economic heartbeat of the city. My wife dragged me through again and again until I started buying my shirts there for eighty pesos, or superb Oaxaca cheese — usually unavailable anywhere except in Oaxaca — for under two dollars a pound. The shrimp is fresher and half the price of those at the supermarket. The octopus looks like it might reach out and grab your hand as you pass. You can buy fresh chicken breasts boned and pounded to stuff with spinach and cheese and roll up for a quick sauté. There are also skinned frogs, but I always pass on those.
Poles inside support other bright coverings that shelter most of the interior from the sun. Within, long rows of tables display all the tattered goods that won't support the overhead of a normal store. Racks of used shoes are extremely inexpensive — and cost only slightly more if you need them to match. Piles of worn clothing, bins of carefully pounded out used nails, buckets of screws of mixed sizes. Sets of rusty horseshoes, probably no more than three of a given size. Discontinued money, both in bills and coins, is common. More of the money in México has been devalued than not. The great fortunes of the past can be bought in piles for a few current pesos. Several tables are stacked with CDs and DVDs, all of them bootlegged. I don't think I've ever seen a genuinely issued one for sale here. A tall pegboard displays a dozen new backpacks, as fresh as last year's hottest trend. And food stalls, offering heaps of stuff that you'd think would reduce any gringo to gastric distress within five minutes, yet tables full of them are happily eating here. Ah, Mexico! Parental discretion advised. A man passes with buckets of garlic hanging from his shoulders, yelling ocho por diez, eight bulbs for ten pesos.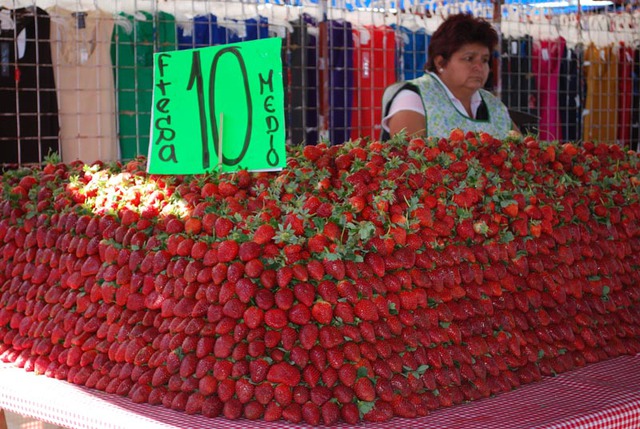 There are literally tools by the ton. Got a plumbing project that needs a quarter acre of wrenches? Imagine loading up 150 square feet of sledge hammers, axes, pry bars, anvils and circular saw blades and hauling them away to be unloaded again the following day in a neighboring town, because the Tuesday Market is only that in San Miguel. It's the Wednesday Market tomorrow in Celaya or Salamanca.
This is an ancient tradition, reaching back to any time or town in medieval Europe or colonial America when it was relatively safe to travel. Only war or the Plague could shut it down for long. The market fairs on Sundays, the feast day fairs, the harvest markets in the fall — these were all forerunners of the Tuesday Market.
No bricks and mortar stores were required, and little capital. Some faded fabric for sunshade and rainfall, with a few poles to hold it against the sky. The overhead of these nomadic retailers was mainly time, labor, and enough hay to keep the mules and horses going from town to town in barren places.
As I walked through the crowded stalls of the tianguis, it suddenly occurred to me that this absence of capital is a great preserver of old folkways and lifestyles. Of course there is much capital and very great wealth in Mexico — it's just not widely distributed. Care is taken to keep those piles intact.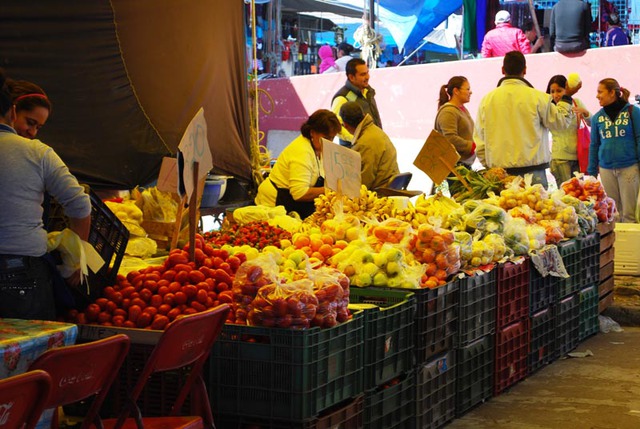 I paused before a wall of strawberries like a perfectly scaled medieval fortress. Inside, a woman is held in on three sides by an eighteen-inch bank of berries, all about the same size and all faced in the same direction. Some assembly is required, I thought. She was doing a fabulous business. I couldn't help buying half a kilo myself for ten pesos — less than a dollar.
The next stall displays three walls of sports jerseys. My eye is caught by the team name most repeated on them, Bimbo. Neither a lifestyle choice nor an epithet, this is the fútbol team sponsored by Mexico's largest bakery company. It's our equivalent of Wonder Bread. Teenage American tourists snap these shirts up by the hundreds. The proprietor offers to pull one down in my size. Escritores is my team, the Writers, I said to him, shaking my head as I moved on.
At the far end I found my favorite clothing stall, one where I had once paid eight dollars for a brand new Tommy Bahama silk shirt with all the tags intact. A hundred and twenty bucks in the States, I recall thinking at that moment. I've since worn it half a dozen times at public readings and book signings. Seven or eight other shirts from this vendor are also part of my regular wardrobe.
I've often said that it's hard to know exactly what you're looking at in México. The Tuesday Market is a perfect example. It's taken my gringo eyes a while to get used to it. It's a way of living as much as a place, a way of doing business that is intimate and friendly, and above all, personal. And personal is that quality about Mexico that pleases me most.
Published or Updated on: June 17, 2013