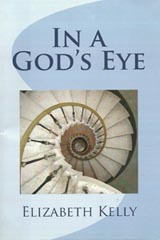 In a God's Eye
By Elizabeth Kelly
www.createspace.com, 2011
Available from Amazon Books: Paperback
MexConnect is reader-supported. Purchases made via links on our site may, at no cost to you, earn us an affiliate commission.
Learn more.
This book begins well but it does not end well. Our protagonist, now living in Cholula — "the oldest living city in the western world" — is a kindly old lady named Gina. She is a "good deal older" than her circle of "newly retired women with educations, raised in the United States of America but now living in Mexico." We empathize with Gina, perhaps even identify with her as she becomes more and more forgetful, only getting through each day with the use of a list. She helps her gardener, Martin, with his English, takes pleasure in her garden where "corn, squash and beans… take care of themselves." She is fascinated by the old Mayan legends, grateful for the sacrifices of their gods, and holds sacred the food she receives. A principle she lives by is this: "be thankful and say so regularly." She feels in her heart that this religious attitude is "much easier to grasp than the more intellectual, less sensory religions…." Amen.
In the next chapter a young Mexican girl, eight years old, loses her father in those rough waters at Puerto Escondido below Oaxaca, and in late afternoon, Gina, walking along the beach, comes upon the very distraught mother and her twin children, Bette and Vincente. Gina later shows up at their house with the husband's clothes and, almost like a fairy godmother, places $2,000 US dollars into the bereaved mother's hands and leaves.
Years later, thanks to Gina's continued munificence, Bette is studying and creating art in Mexico City, becoming a master of making variations of "god's eye," those geometrical designs traditionally wound around crossed wooden sticks. Bette returns to visit her beloved "Tía" Gina and prepare for a show in Oaxaca. For me as reader, everything so far is fine — a lovely old protagonist, a circle of intelligent and potentially interesting women, and a tragedy and the bond that develops out of it between Gina and the young girl… and soon, the development of a third character, La Morena, a neighbor they called "the dark one," whose "black river of hair was twisted and braided, a restless snake in her hands."
But, the book begins to deteriorate when the author loses her established momentum as she, and consequently her characters, are pulled off course by the stories La Morena begins to tell, about talking owls and talking rabbits, and jealous gods. The story line becomes lost.
About a third of the way into the book, the retired women with which the book began and about whom I wanted to know more have all disappeared except for Kate, who shows up for a couple of pages to have cookies and tea. Aside from a few brief and casual scenes with Kate that come later, that's it for that initial, and potentially interesting, cast of characters.
The deterioration accelerates into new age fantasies of ancient gods, shamans, high priestesses, overworked mythologies. Along the way, Bette gives her Tia Gina a talking dog named Felicio, who, when Gina dies, becomes her initial guide into the world of the dead, where we suffer through various tediums, such as learning how long a katun can be. Let me give you those details: "A Kin is one day. A Uinal is 20 days, a Tun is 400 days. Most of living is done in Tuns. Your Katun is twenty tuns, 8,000 days. Your Baktun is 20 katuns, 160,000 days, far more than a lifetime."
Although the back cover says that this might be the tale Lewis Carroll would have told had Alice grown up in Mexico, that is nonsense. Imagine Lewis Carroll using language like this: "Hear me then you bastard dead, a fucking fuck be on your head."
The book does return to a rather interesting almost-reality when Gina, now dead, returns for a visit during the Day of the Dead festivities and joins Bette, now pregnant, and a few of her old friends at the cemetery. Gina and Bette talk together as if Gina were still with the living.
But then — and how bizarre — this is interrupted by a weird scene, several pages long, with all new characters, several homosexuals, out hustling at Club 502, where sitting by the cash register is a tray of condoms. Lewis Carroll indeed! How this relates to what precedes and what follows is a mystery. But then we are back in the cemetery with the charming detail of the dead Gina sitting on her own tombstone. This chapter is it for our protagonist Gina and we never hear of her again. We then wade into the final chapters, "The Return of the Dwarves," "Chapter 7," and "The Sixth Sun."
Also available from the publisher.
Published or Updated on: December 27, 2012