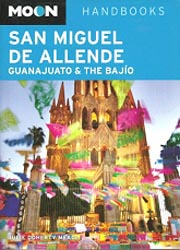 San Miguel de Allende, Guanajuato & The Bajío
By Julie Doherty y Meade
A Moon Handbook First Edition
Avalon Travel, 2011
Available from Amazon Books: Paperback
MexConnect is reader-supported. Purchases made via links on our site may, at no cost to you, earn us an affiliate commission.
Learn more.
I like the Moon Handbooks and I own several of them — well used, I might add. They are sturdy, easy to read, compact and therefore easily packable whether in luggage or purse or large pocket. This latest, a first edition, San Miguel de Allende, Guanajuato & The Bajío, covers one of Mexico's most popular tourist destinations (and some say San Miguel de Allende's burgeoning expatriate population may someday rival that of Lake Chapala's north shore).
A resident of San Miguel de Allende for several years, the author, Julie Doherty, writes both with affection and enthusiasm about the Bajío — a vast central plain that includes the states of Guanajuato and Querétaro. She concentrates on two lovely towns, San Miguel de Allende and Guanajuato, but she also offers us a glimpse of Querétaro City, Tequisquiapan, San Sebastian Bernal, Dolores Hildalgo, Mineral de Pozos, and the large manufacturing city of León.
This Moon Handbook begins with a short and colorful section, "Planning Your Trip," which tells you "Where to Go" (San Miguel de Allende and Guanajuato), "When to Go," and what you need to do "Before You Go." Then, taking you by the hand in a special section — "Explore San Miguel de Allende, Guanajuato, and the BajÏo" — the author leads you on a five-day tour, "The Best of the Bajío," in which "you'll have time to visit most of the Bajío's famous sights, do some quality shopping, and eat well in a range of restaurants. If art is your thing, she again takes you by the hand in "Art Lover's Tour," to visit masterpieces of Baroque architecture, old colonial art, contemporary art, and even visit the boyhood home of Mexico's famous muralist, Diego Rivera.
The next section introduces you in detail to San Miguel de Allende, "a town of a thousand picture postcards," with very usable maps, lists of "Highlights" (like the amazing pink Parroquia, and El Jardín, the "heart and soul of San Miguel de Allende"). This section includes "Arts and Entertainment," "Shopping," "Getting There," "Getting Around," and of course "Accommodations" and "Food" for every budget. Similar information is provided for the section that follows, "Guanajuato," where you will discover not only a city "plucked from the pages of a fairy tale," but a city to explore on foot… where "it is a pleasure to get lost in the twisted maze of picturesque streets, where people walk uninhibited by traffic."
The Bajío section covers towns like Querétero City and the historically important town Dolores de Hildalgo, where during the war for independence from Spain "Father Hildalgo raised his famous cry, '¡Viva México!" Out in the vast Bahío countryside you can take the "Wine and Cheese Route."
The last fourth of this new Moon Handbook book is divided into several useful sections: "Background," which covers "The Land," "Flora and Fauna," "History," "Government," "Economy," "People and Culture," and "The Arts," followed by a section on "Essentials," stuff you need to know about "Getting There," "Getting Around," "Visas and Officialdom," "Food," "Conduct and Customs," "Tips for Travelers," "Health and Safety," and "Information and Services." Here you learn that the largest meal of the day is the comida, usually eaten around 2 p.m. and that many small businesses close from 2 to 4 p.m. to eat the comida, either at home or in a favorite restaurant. Here you also learn about aguas frescas, drinks ubiquitous throughout Mexico, made with fresh fruit, water, and sugar, and which come in lots of flavors: mango, lime, tamarind, piña colada, and so on. And of course there is the ever popular jamaica, a refreshing tea made from a type of red hibiscus. You will learn that federal law prohibits smoking at both restaurants and bars throughout Mexico. And most tourists will be delighted that "good manners are still practiced" and that it is common to greet other diners, including total strangers, when you enter a restaurant.
San Miguel de Allende, Guanajato & The Bajío ends with a Glossary, a short but useful Spanish Phrasebook, Suggested Reading, Internet Resources (which of course includes Mexconnect, www.mexconnect.com) and finally the Index. The tables on the inside back cover will help you convert kilometers to miles, liters to gallons, and hectares to acres.
Whether you plan a trip to San Miguel or one of the other towns of the Bajío — or whether you live there now and want to know more about your adopted country — San Miguel de Allende, Guanajuato & The Bajío just might be a book you will want to keep handy on your special shelf.
Published or Updated on: November 25, 2012