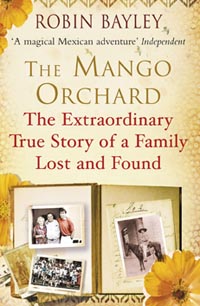 The Mango Orchard: The Extraordinary True Story of Family Lost and Found
By Robin Bayley
Random House UK, 2012
Available from Amazon Books: Paperback
MexConnect is reader-supported. Purchases made via links on our site may, at no cost to you, earn us an affiliate commission.
Learn more.
I suspect that more than a few readers of MexConnect have fantasized about discovering a fascinating ancestor who lived in turbulent times and exotic places and then, by literally following in his steps, bringing that ancestor to life again. We would return with a far deeper understanding of who he was and what he did, but equally important, who we are and what we do.
This is exactly what author Robin Bayley did. The Mango Orchard begins, "As a boy, Robin Bayley had always loved the stories about his great-grandfather's Latin American adventures: brushes with bandits, wild jungle journeys, hidden bags of silver and a narrow escape from the Mexican Revolution. But there was something in these family tales that he felt was missing: an ending."
All of his life, Bayley had listened to the stories told to him by his beloved grandmother, stories that usually were about her father, Bayley's great-grandfather Arturo (Arthur Greenhalgh, born 1874 in Tottington, England) who managed a cotton mill in western Mexico in those challenging years immediately preceding the Mexican Revolution. Worried about life passing him by, in 1898 Arturo "kissed his sweetheart Mariah goodbye and set off on his Mexican adventures."
Bayley, over one-hundred years later, "was plagued by the same fear about life passing me by." Visiting his grandmother's home in Sheffield one weekend, she showed him Arturo's old suitcase which contained some letters he had sent home from Mexico along with twenty photographs and his actual guidebook, the 1893 Baedeker guide to the United States and Mexico, filled with notes. That was the moment for Bayley: "In that instant I knew I had to go to Mexico."
Back in London, Bayley gave up both his job and his flat and flew to New York City (his great-grandfather had sailed on a Cunard ship) where he began a successful search for the church in which his great grandfather and great grandmother were married (she had joined him in 1901 and stayed with him in Mexico for a few years) and for their records of arrival in 1898 and 2001. Then, Bayley was off to Antigua, Guatemala, "reputed to be the best place in Latin America to study Spanish. I planned to do a one-month intensive course before heading on to Mexico."
What he had not planned to do was to fall I love, with the beautiful Juanita: "From the first time I saw her, I was bewitched." It is through Juanita that Bayley also begins to be aware of the violence and fatalism that pervades much of Latin America. Telling him about her aunt, with whom she was living as a little girl, "Juanita paused and took a deep breath. 'She survived the guerillas and the soldiers, and was hit by a truck when crossing the road. She'd gone out to buy me an ice cream.'"
It was only after Bayley had been in Antigua for nearly a month that he was permitted to take Juanita out for the evening, "as long as I brought her home by ten thirty." He extended his visa for another month, "increasingly distracted, thinking about my next meeting with Juanita." He was tempted to stay and set up home in Antigua with Juanita, but his great-grandfather Arturo was calling him.
On a bus to Bogotá, Colombia, where he hoped to find out more information about his ancestor, he meets Pedro, who then for almost a month insists Bayley become part of his family. Finally alone in Colombia, trying to get to Venezuela for a cheap flight to Mexico, he stops to rest. He hears shots in the middle of the night and a crashing thud; finally able to sleep again he wakes up in the morning to discover he is in a brothel with a dead body on the roof.
In Venezuela, in "the most awful hotel room I had ever seen," the night before he — presumably — is to fly north to Mexico, Bayley stretches out and studies all of the clues he had about Arturo. He begins to ponder, "What was it that had drawn Arturo and now me to Mexico? I thought back to the comfortable life I had left behind in London." Like all of us who, pulled by powerful forces we do not understand, have left the comfort and safety of everything familiar to us, Bayley begins to reflect: "I had to lose what I had in order to find what I wanted, even if I still didn't really know what that was. 'Throw your shit away and start living,' as the graffiti had said on the pier in New York."
Finally he does arrive in Mexico, in Veracruz, where his great-grandfather had first arrived, and from there he begins to "follow the route he took to Mexico City and Guadalajara and on to Chapala, which might be the place where he lived." In Veracruz, eating a 49 peso breakfast at the Hotel Imperial, where his great-grandfather had stayed a hundred years earlier, he finds himself forced into conversation with Joan, from Colorado, who had "just shacked up with the local oyster man," and she introduces Bayley to the idea of "intergenerational memory," which is "something that's passed from one generation to another without either generation being aware of it…."
Bayley again reflects, "I liked the idea that I might have inherited a memory, emotion or unresolved dilemma from Arturo." That, of course, is really what the book is about, the sense of something not resolved in the family stories; and that is what drives Bayley on, even when it looks like the clues have led to nothing and it is foolish to go on. But Bayley does go on, relentless pursuing and pondering ideas, new clues, tiny hints, bits of information, until he discovers what the subtitle announces: "The Extraordinary True Story of Family Lost and Found," a family of some 300 relatives, many bearing his surname, living in a town in western Mexico, treasuring some similar memories and even some identical photographs of their beloved common ancestor Arturo, the great-grandfather of the author.
Some days I really need a book that warms the heart and today, for me, The Mango Orchard was one of those. It is for the most part a sweet story of a family that had some important beginnings in the dark days preceding the Mexican Revolution, a large family that a hundred years later discovers itself more deeply, and then opens to the remarkable love the flows out of this discovery.
And don't forget Juanita, that girl back in Guatemala!
Published or Updated on: January 6, 2013