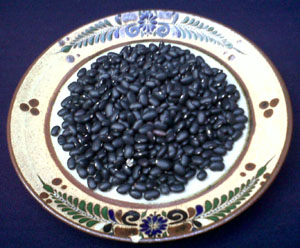 The small, distinctively-flavored black beans of Veracruz which so charmed the tastebuds of the early Spanish settlers are still famous throughout Mexico for their high-quality, tenderness and taste. The method of preparation is typical of the eastern coastal area of the country. Soaking beans in water overnight, and then changing the water before cooking, is said to cut down on the difficult-to-digest gases which have given rise to inumerable bean jokes.
Ingredients
1 1/2 lbs. small black beans, washed, soaked in water overnight, and drained
2 tablespoons lard or vegetable oil
6-8 large cloves garlic, peeled and chopped
1 medium white onion, peeled and chopped
2-3 sprigs epazote
salt to taste

Place the beans in a large pot with water to cover (approximately 12 cups) and all remaining ingredients except salt.
Cover and cook for 1 1/2 hours, or until the beans are tender. A pressure cooker may also be used, in which case the beans should take approximately 35-45 minutes from the time the pressure regulator is applied.
Add salt to taste after the beans have been cooked; adding salt at the beginning may toughen them.
Serve in bowls to accompany a meat dish, as is the custom in Mexico, or use in one of the following variations as a vegetarian dish.
Serves 8-12
Variation I: Moros con Cristianos : Moors and Christians: Mix equal parts black beans, cooked according to the recipe above, with white rice and serve in soup bowls, accompanied by fresh, hot tortillas and salsa.
Variation II: Frijoles Estilo Tuxtla : Tuxtla-Style Beans: Cook beans as directed above and refry by heating 1/4 cup vegetable oil in a large skillet and mashing the beans, 2 cups at a time, with a bean masher until smooth, adding cooking liquid as necessary to achieve a smooth consistency. Place all of the mashed beans in a large saucepan and cook over low heat until the mixture thickens. Serve garnished with chopped onions, chopped serrano chiles, and crumbled queso añejo or feta cheese.
Link to source article
Fabulous frijoles: Mexico's versatile legumes
Published or Updated on: October 1, 1999