Photo Gallery: A German cigar produced in Mexico: Puros Sihuapan
Still cool, in the early tropical morning, I pulled to the curve to savor a coffee at the Fractal to enjoy the early morning activities on the malecón along Laguna Catemaco. The Fractal had been an accidental discovery, but I doubted many tourists worldwide had a better view or more satisfying setting for a morning brew. Entering town after dark, I'd leaned out the car window to ask a young lady directions. She said in broken English framed with a gracious smile, "Wait moment," and ran across the street to query friends. Her help was more than I'd expected.
To repay the kindness, I frequented her corner shop. Although most goods were for ladies, the coffee and hospitality were full to the brim and my new friend and her partner welcomed my company. I made it a habit to savor a coffee with them in the evenings and on the mornings I stirred before the sun hit the narrow veranda.
After ordering, I patted my shirt pocket. Darn, empty. Catemaco sits in the Los Tuxtlas region of Mexico, one of the world's great cigar areas. Among my habits is enjoying a smoke, especially when so many classic hand-rolled cigars are available. How in the world had I exited my hotel without a few puros (cigars)? Panic almost set in when I remembered that among the earrings, necklaces and fancy clothes, the shop stocked local products like coffee. I wondered if they might have something from Te-Amo or Santa Clara.
I spotted a few cigars on a middle shelf with an unfamiliar green band. Puros Sihuapan. I'd never heard of them. Perhaps the finest cigars in the world were fashioned within miles and the Fractal stocked Puros Sihuapan. I picked up a Robusto and returned to my coffee. After a healthy sip I lit up and let a cloud of fragrant smoke envelope the table. Bam, sensations substantial and commanding filled my nostrils and mind as I savored a second and third mouthful. I had to find out about this cigar. Between broken Spanish and fractured English, I obtained a rough idea of Puros Sihuapan's location.
I drove two miles to the small town of Sihuapan. Less than five blocks from the main Te-Amo complex, I found Puros Sihuapan tucked in along a garden-like street. Talk about being in the shadow of someone. Little Puros Sihuapan wasn't among the top five Mexican cigar producers and was surrounded by Te-Amo buildings, equipment and fields. A lady near the gate guided me across the patio to meet the owner, Señor José Labastida Becerril.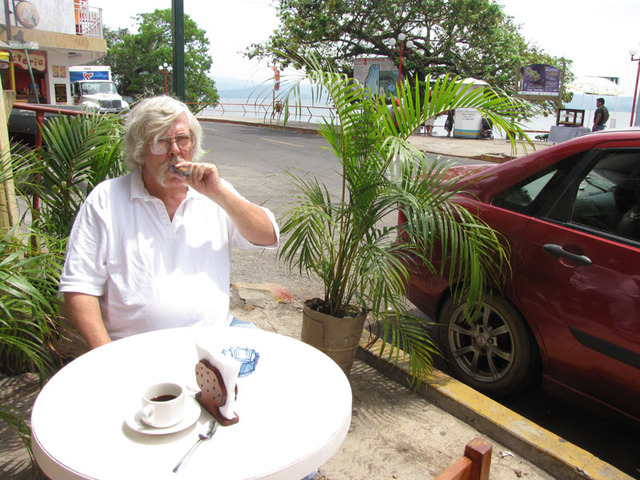 It was cool and comfortable inside the hacienda and the inviting odor of rich tobacco competed with the humus of surrounding tropical vegetation. The cigar rolling plant, Puros Sihupan, was crowded onto one side of the main house. Señor Becerril, a friendly young guy, welcomed me and quickly became José. We stood in a room where cigars were being packaged and he wasn't comfortable with English so, we talked in Spanish. "Where can I find your cigars? They're delicious."
José put down the cedar box he was holding and gave me a mysterious smile. "Berlin."
Germany?
Yes, we produce 15,000 a year for a buyer there. They're named Monyaz and a few local shops stock them under Puros Sihuapan.
You mean I can't buy these in the states? I asked setting two boxes of Robustos aside.
We have a few customers from America and other countries that order from our website.
We walked into the rolling room and José continued my education concerning his company. "Puros Sihuapan produces over 100,000 smaller more economic, flavored cigars per year. The fine hand-rolled cigars for Germany are a new line. We take all our leaves from one plant species and age them for three years. When we're in full production for our German order, it requires four hand-rollers."
José didn't give me all his blending and aging secrets but he obviously had a winner with this German cigar. I thought he would soon face an expanding demand and someone like me would find it more difficult to come in, walk around and watch the rollers craft a product worthy of the finest German or Mexican expectations. I studied his Churchill, Grand Corona, Corona, Petit Corona and Panatela, but the Robusto on the lake had been so rewarding I wasn't changing.
José farmed two hectares (five acres). I knew even with two crops a year he couldn't fill all his production. "Where do you get extra leaves?"
"You'd be surprised at our production, but we do purchase Sumatra and Negro San Andreas leaves from local farms to supplement our tobacco."
I picked up two boxes of cigars for gifts and a large bag of Robustos for my pleasure while exploring Los Tuxtlas. The locally crafted cedar boxes gleamed. I thanked José and made arrangements to return a few times before leaving Mexico.
I returned to the Fractal at twilight to enjoy another of my German discoveries over a few cups of coffee. The air was perfect, as the last rays of sunlight disappeared behind the mountains across the lake. Power and taste demanded attention as a cloud of smoke jumped from my cigar. It couldn't have been purposely designed, but my Robusto fit the stereotypical view of Germany. This cigar exuded a disciplined, hard-hitting taste. Accident or not, I sure enjoyed the smoke.
Published or Updated on: March 20, 2011