Photo Gallery: Catemaco, Mexico: home to an eclectic group of international expats
The producer of Medicine Man, starring Sean Connery, found Los Tuxtlas, as did Mel Gibson when he filmed Apocalypto. Being the home of the mysterious Olmec civilization, which predated the Mayans, makes it the perfect base for Mexico's witches and medicine men who still produce curative powders and drinks from native plants based on ancient lore. Beyond historical sites, you'll find 561 bird species, and several hundred miles of undeveloped beaches within twenty miles of Catemaco.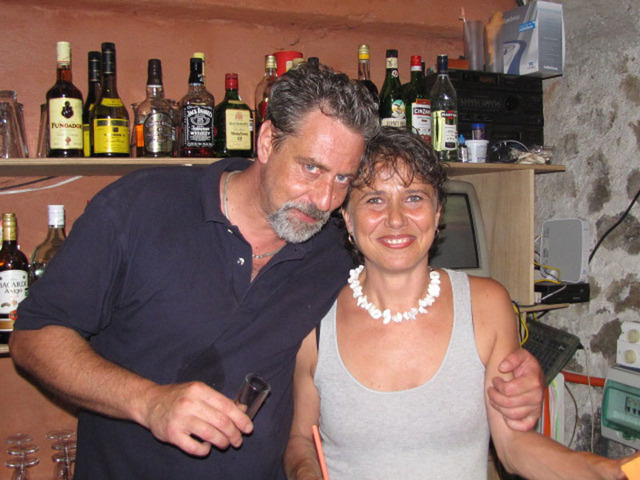 Two marvelous Italians who immigrated to Mexico — Michelle Levoni and Cristina Tarozzi — own and operate La Osteria. I conversed easily with Cristina, given my awful Italian, worse Spanish and her wonderful command of English. Cristina lived in several areas of Mexico for eleven years before finally settling in Catemaco. Although Mexico has the oldest continuously wine producing region in the Americas, nationally the drink is not widely appreciated. Cristina hoped to build an establishment to introduce the drink to novices and also where wine connoisseurs could enjoy their choice. "Educate people on wine and its different ambience compared to other drinks," in her words. When she spotted old stone walls behind and below Restaurant La Casona, she looked past the decades-old junk, debris and cobwebs. She envisioned a cave-type wine cellar and threw herself into giving Los Tuxtlas a first-class bar. Michelle and Cristina removed the old junk and finished the stone walls to create the atmosphere of an ancient grotto.
La Osteria doesn't sell oysters. What does it offer? Italian food with a Mexican twist. A bar in a cave featuring fine wines. The first draft beer tap I've ever seen south of the border. A Mexican band singing Beatles songs and the Blues in English.
Considering Catemaco is the center of the occult in North America, La Osteria is a high school punt from mysterious Laguna Catemaco, the cave-wine bar and its components are more than normal.
La Osteria is not difficult to locate once you get to Los Tuxtlas and settle in Catemaco. Los Tuxtlas, covered by the northern most tropical rain forest in the world, probably offers as many wonderful tourist sites in a small area as are to be found anywhere, but virtually no one knows about the region. People traveling to and from Yucatan speed past without realizing Los Tuxtlas offers more vacation offerings and attractions than their destination.
On my first visit, I walked down what would be considered a frightening alley in America. Only an orange-red glow reading "La Osteria" fought the inky night. Tourists quickly discover Mexican dark alleys aren't scary, so I can't claim bravery. I turned in the outer gate and, even in the dark, discerned a lush tropical landscape. Making my way past the interior garden and outside tables to an ivy-covered stone archway, I entered the cavern through a lattice gate. Cristina, Michelle and the waiters greeted me warmly. Within, I comfortably relaxed as if I were at home and quickly met many of the Mexicans and expatriates from a dozen countries that made up the regulars.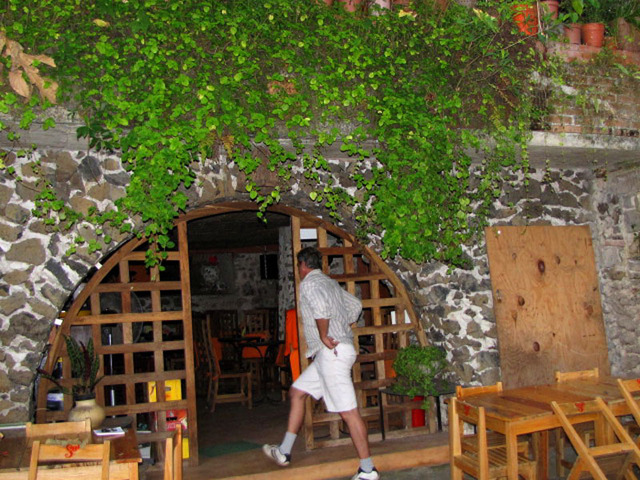 The younger waiter handed me a small dish with two thinly cut, pie shaped, pieces of something. One appetizer shone green and the other sort of a spotted reddish. I'm not an appetizer man, but tried both and found the green exploded into a glorious bouquet on my palate. Hey, give another of those green slices. What are they?
'The waiter quickly produced another saucer with two more green slices. Tortilla de espinacas.
Spinach omelet? I hated spinach. This couldn't be, I thought, as the two new slices disappeared. I asked Cristina about the appetizers.
"Ensalada rusa and tortilla de espinacas," Cristina said, pulling a draft for a customer. The tortilla de espinacas is a spinach, potato and onion omelet.
I thanked her and, as a former spinach-hater, returned my attention to my new amigos. No wonder the wine bar is popular, given the atmosphere and regular patrons. Beyond middle- and upper-class Mexicans is such an eclectic collection of fascinating expatriates one would expect the bar sat in a large international city, rather than a remote corner of Mexico.
Chris, the Swiss doctor, despite a quick smile, seemed shy until in conversation. Topes are speed bumps that tourists and Mexicans curse despite the fact that they slow traffic and negate the need for highway police. "Think about the wear and tear from topes on my car in the five kilometers I drive to work. I cross four of them each way, before delving into the mathematics of repairs and life of shocks," he said. Chris entertained and stimulated thoughts and laughs.
Shelly, wanting a life as a portrait artist, built her retirement home and studio on a hill above Laguna Catemaco. "Built by Shelly" is over-simplified. There's no road to her property. The materials for her home were ferried across the lake and hand-carried uphill to ensure the perfect view and light for her paintings. Walking over to visit is a quarter -mile treat on the jungle path running beside the lake. She still works part of each year on various movie projects.
Gene, the owner of Tepetapan Villa and RV Park knows the region better than other immigrants, and serves as a wonderful resource for visitors wanting to investigate Los Tuxtlas sites, pyramids, cascades and beaches known only to locals. Many European, Canadian and American RVers from his park are semi-regulars of La Osteria. They plan their Mexican expeditions to spend two or three months camped at the park and enjoy the region, town and bar.
Despite the fascinating collection of expatriate regulars Ben, the Belgian chiropractor, stood out as one of the most intriguing individuals I've encountered. Although a master sailor and linguist extraordinaire, he should have been running a NASCAR team in America. His hobby was off-road vehicles, and he knew not just engines, frames and transmissions, but the details of every spring, bolt and wire to maximize the off-road challenge. Ben had lived and worked in Mexico for seventeen years. La Osteria stocked expensive Irish whiskey just for him.
Sharing a table with Ben could be disconcerting. Fluency in seven languages is an impressive accomplishment for any person, but it was secondary with Ben. A quick smile often crossed Ben's face during conversations and you were suddenly talking to a guy from Belfast, Sydney, London, sections of America or Scotland. I couldn't imagine complete fluency in a second language, yet here was a guy not only fluent in my language, but in half a dozen English dialects. Worse yet, after discovering my Irish heritage, he insisted I learn the Gaelic words to properly say cheers.
I noticed the feminine clientele, no matter their cultural background, paid particular attention to the furniture. First time visitors tilted chairs and ignored boyfriends as they discussed the tables. I had to discover what the fascination was and asked Michelle. He shrugged his shoulders and said, "It's always that way with the ladies. Cristiana designed and picked out furniture." That really didn't clarify the interest for me, but I realized good taste in furniture must have an international component to it, at least among the women.
La Osteria didn't have a large menu, but Cristina kept the food as authentic Italian as possible. Obtaining the ingredients to maintain tradition is fairly easy in the United States, but not in Mexico. She travels to Mexico City once a month to obtain imported Italian cheese. Only asiago, pecoreno, mozzarella and provolone will do. Her procurement of Italian ham hit me as even more interesting. Eight years ago, a fellow Italian settled in Tres Marias, a little town between Mexico City and Cuernavaca. Cristina no longer has to depend on imported ham as the fellow cures ham in the Italian tradition and supplies her bar.
La Osteria seats about fifty inside and thirty outside. It is open six days a week, with live music every Friday and Saturday, but plan on seeing daybreak if you visit while the band is playing. Mexicans party all night and it's easy to join in. The club features an international wine list, but the house red wine is red — Falacio Del Conde Reserva (Spain) — and the house white is Sauvigonon blanc (Chile.)
I've stopped by for a drink, and to enjoy a couple of locally-produced and hand-rolled fine cigars, twenty to thirty times since my first visit. The lake air cools the setting and the hospitality has continued. Italian food and drink with a Mexican twist, as well as American music with a Mexican accent, combine to assure my patronage. But I perhaps remain most grateful I can forget the wine culture, be a regular guy and enjoy the bounty from the tap.
Published or Updated on: February 21, 2011