"TRAIN TIMES" IN MEXICO
By "Blaise"
Introduction by Wendy Devlin
One of the great pleasures of traveling is the infinite variety of people that I meet at every turn in the road. The internet which is much touted as the information highway, serves as an imaginative substitute for adventure travelling. I meet many new and interesting people along every path of inquiry that I pursue.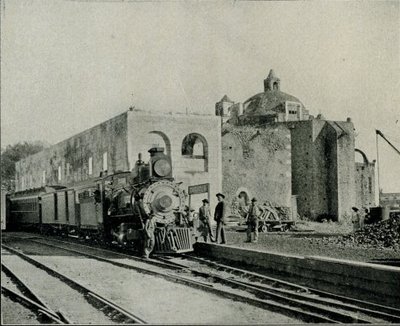 My own initial writing efforts found their conception in the support of internet friends, several of which I met right here on MexConnect. They kindly consented to edit those first tentative stories as they gently prodded me down the writing path. As I was initially assisted, I now attempt to assist others in telling their stories. Writing takes dedicated time however and not everyone can spare the necessary hours.
As a regular writer on an electronic magazine, I find these personal stories of others too tantalizing to leave alone. I asked my travelling internet friends to share their experiences via this site. In the following story "Train Times In Mexico", I would like to introduce Blaise, a traveler's traveler.
For over twenty-five years, Blaise has periodically left his home in southern California to travel around Mexico and Central America. He's a real "trains, boats and planes" kind of guy.
Practically any interesting place that I've ever heard of in Mexico, Blaise has been there! Generally, he utilizes a wide variation of public transport although several times he has done an epic road trip in his recreation vehicle. On occasion, he can entice his wife and teen-age son along for the adventure. Sometimes he even takes a preliminary trip to check out suitable accommodations so that he can bring them next time. If not, he never hesitates to travel solo. Strangers seem for him just to be friends that he has yet to meet.
On the forum, few people describe traveling by trains in Mexico although, some continue to ask questions about it. When Blaise sent me a copy of this story about his train experiences, I decided to share it with a wider audience. So with out further adieu, ladies and gentlemen, allow me to introduce my internet friend Blaise and his article "Train Times in Mexico!"
– I started traveling consistently on Mexican trains in 1989. This happened as a result of Mexico Research publishing on August 1, 1988, their first – and last – comprehensive schedule: " Ferrocarriles Nacionales De Mexico ", or " Train Times in Mexico." This 75 page schedule with its 70 routes served me well for a decade. I simply had to open the book to its spider-web like map detailing the network of passenger routes servicing all parts of the country. This included 10 entry points along the U.S. border and 10 international port destinations on the two coasts.

I would note the train number along the route that I wished to follow, and locate that schedule in the book. There I would find the departure and arrival times for every stop on each class of service. Armed with this schedule I was able to follow the tracks from coast to coast, up and down both sides of the continental divide from the U.S. border to Guatemala.

In March 1998, when I popped 45 pesos ($6 USD) for a Mexico City to San Miguel de Allende train, this schedule was a decade old, it was still accurate in predicting the stops. I followed my travels and plottted my future course on a map. Then, using the kilometer readings in the train schedule, it was easy to pinpoint my location as distances are frequently displayed along all of the routes.

The details of the schedule, such as train numbers, services offered, special 'star' trains, sleeping, dining and lounge cars are irrelevant now. The one service still offered, happily, is the sale of beer. Tecate has lost its monopoly on this concession. Bottled Carta Blanca for 7 pesos, and canned Modelo at 10 pesos are available but dig to the bottom of the ice chest yourself to get a cold one.

On this route sandwiches were sold but I declined to buy one. Instead, I waited to see what the conductors were going to do for sustenance. They were not wolfing down any of those tasty looking ham and cheese sandwiches that one of their own was hawking up and down the aisle. They didn't mob any of the food vendors peddling their fare on the platforms during the short stops either.

A few hours into the trip I saw one of the conductors help two matronly women aboard who were carrying some covered baskets. After several conductors were treated to hot meals from those baskets, I placed my order for the same full course meal – a choice of entrée with rice, beans, salsa and tortillas. The two women then went off to peddle their delicious meals to the rest of the train before jumping off at the next stop a few clicks up the line.

I call that great service and it was fantastic food, but obviously,the train management is not entitled to take any bows. In my opinion, there's little for which Ferrocarriles Nacionales de Mexico can take credit for, except, maybe, the smoothness of the tracks. Back when the train service was good, there were white tablecloths in the dining cars and overstuffed sofas in the lounge cars. No longer true.

My main reason for taking train transportation was the sleeping car. Did I mention the sleeping car? Too late! They have been a thing of the past for two years. "Nunca jamás". After two years I'm still in mourning. I've always loved traveling on trains, but to climb between clean sheets, on a comfortable bed aboard one of them gives me an almost sinful feeling. I know it gives me sinful thoughts!

One of my favorite routes aboard one of the Ferrocarriles sleeping cars was the Veracruz line. From Mexico City it allowed me to wake up in the morning, with the train going at a leisurely pace through the lush landscape of Veracruz (as I won't travel at night without a Sleeper, I guess I'm not taking the train to Veracruz any more. I'm a little tired of Veracruz anyway. It's got a good Carnival, but a lousy beach to sleep it off on, the next morning. Mazatlan has both, plus it is easier to get to and has easier access to the beach.).

Physical security has never been a problem on board the passenger trains of any class service. I never met anyone in person who has been assaulted. A couple of first hand stories of stolen baggage aboard second class trains have been related to me. In any case, there's little scope for crime aboard the trains now, as the drug war police are well represented. Drug dogs abound on the buses, ferries and around all major events.

Generally, as with other forms of transport, the inconvenience caused by the Mexican authorities with guns goes largely unnoticed. On the train, the five-hour trip was extended another hour and a half, as three different stops were extended by inspections and interrogations. Dogs, military and migration authorities conducted micro-inspections of baggage. Everyone including the conductors were unhappy with these delays. Although people failed to voice any complaint to the armed authorities directly, they did complain to each other. They were annoyed equally at both the U.S.A. and Mexican governments for these invasive and time consuming searches.

As with many other issues, more than one reason exists for these Mexican government actions. I feel that efforts to gain favored-trading partner status with the U.S.A. intensifies drug searches. I felt further enlightened on the issue when I read in a Mexico City paper, that the police were having a record "property seizure" year, with drug prosecution being the impetus. Unlike the U.S.A., there is no burden of proof needed for this action in Mexico. The different law enforcement agencies including the army, are aware of this source of lucrative, easily obtained bounty.

Many of the routes are still enjoyable. Unlike Amtrak trains in the U.S.A., you can stand in the vestibule, hang your head out, and breath the fresh, sometimes too fresh, air. This can be a dangerous proposition, as the bushes along side the tracks are usually only trimmed by the passing trains themselves. Times existed when there were only eight inches of clearance in the tunnels. The vestibules are also a great place to suck on a beer and get some discussion going with the locals, or any traveling gringos.

On this last trip, the gringos represented were: a family of three from Colorado; a French backpacker; and a Cuban American from Miami. The Cuban American was a rather suspicious character who claimed that he had been robbed by the police before boarding the train. He showed no papers and played like he couldn't speak Spanish when questioned by the first authorities that boarded the train. I knew he spoke Spanish, but this was not my business. I just made sure I kept my distance from him during the next two searches.

The rocking and the rolling of the ride makes walking an amusing adventure. Now with the NAFTA agreement, money has been expended in upgrading the tracks for freight. At least I think this is the reason. Whatever the determining factor, the ride was noticeably smoother on some routes.

While the train tracks have improved, the number and route of the passenger trains more closely resembles the service record's decline. A case in point would be Mexico City's schedule for March 1998. They now have only eight scheduled departures to five different destinations. Three of these routes are now suspended indefinitely. With those three suspensions, there are now only five scheduled departures per day. Compare that with a few years ago when there were five daily departures just to Oaxaca alone. Of the five departures that remain, only three are daytime trips.

With the 'Privatizing' of the railroads, it is not clear what the future of passenger trains, both current and 'suspended', is to be. Many passenger routes are in limbo (such as the Guadalajara – Puerto Vallarta route) until the private companies and the Federal government come to an understanding as to who will underwrite the costs of maintaining passenger service.
Train Times – Mexico City
This was the schedule of trains out of Mexico City.
Train #
Departs Mexico City:
Destination:
Days
101-102
8:20 am
Veracruz via Jalapa
Mon. Wed. Fri.
51-52
8:45 am
Veracruz via Orizaba
Daily
53-54
20:15
Veracruz via Acultzin
Daily
1-2
9:00 am
Nuevo Laredo
Mon. Wed. Fri.
111-112
19:00
Oaxaca
Daily
Suspended:
13-14
20:00
Ciudad Juarez
Daily
5-6
20:30
Guadalajara
Daily
31-30
21:00
Uruapan/Lázaro Cárdenas
Daily
Even with the decline of the train system and the upgrade of the buses and roads, I still lean towards the train. Trains offer vistas not visible from the roads. They are usually substantially lower in price than a second class bus ticket and are pedestrian friendly. I appreciate all of those attributes, but what I really love about them is the sense of history they carry, and the suggestion of romance – even without the sleepers.
[Editor's note, 2009: Sadly, there are no longer any passenger train services in Mexico except for a limited number of tourist services such as the Copper Canyon train, known as El Chepe.]
Published or Updated on: July 1, 1998