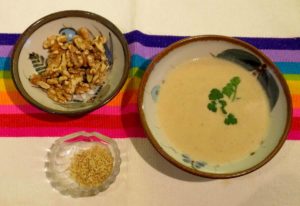 Walnuts, used famously in the classic chiles en nogada, are grown in central Mexico. This soup is reminiscent of the nogada sauce and looks nice garnished with a sprinkling of chopped fresh parsley and, if available, pomegranate seeds. It is important that a good homemade stock is used.
Ingredients:
4 tablespoons butter
4 tablespoons flour
8 cups good, homemade chicken stock
2 ½ cups finely ground walnuts
1 ½ cups heavy cream (whipping cream)
½ teaspoon nutmeg
salt to taste
parsley for garnish

In a large saucepan, heat the butter. Add the flour and whisk with a wire whisk to make a roux. When the roux begins to turn golden brown, gradually add the chicken stock, whisking constantly. Add the nutmeg and salt to taste.
Simmer the mixture over low heat, stirring occasionally, another 10 minutes.
Add the nuts and cream and cook, stirring, another 10 minutes. Soup may be thinned with a little broth or milk if desired. Ladle into soup plates and garnish with parsley. Serves 8.
Link to source articles
Published or Updated on: November 1, 2008