The Best How-To Book on Moving to Mexico, by Carol Schmidt, Norma Hair and Rolly Brook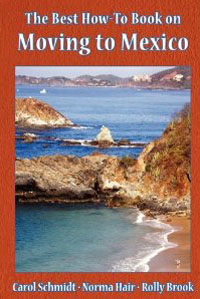 Salsa Verde Press, Laredo, 2009
Available from www.amazon.com (Paperback)
MexConnect is reader-supported. Purchases made via links on our site may, at no cost to you, earn us an affiliate commission.
Learn more.
A lot of us now living in Mexico managed in the past to escape the northern climes — in part due to the confidence we developed reading books on how to live in Mexico. Although many now heavily rely on on-line sites like MexConnect.com, comprehensive guides continue to be published in book form and on Kindle as well.
I think the first book I bought about actually living in Mexico was the Howell & Merwin book, Choose Mexico: Retirement Living on $400 a Month. That was back in 1985, but even then, talking to people who had made the leap, I learned that $400 was really awfully minimal living, particularly in places most Canadians and Americans wanted to be: San Miguel de Allende, Puerto Vallarta, the Lake Chapala area. A few years later, in 1997, I bought their slightly updated version, with the title also updated, to Choose Mexico: Live Well on $600 a month. Well, even at $600 it was rather minimal living. The latest version (2007) is simply and more safely titled Choose Mexico for Retirement. Those books by Howell & Merwin introduced me to lots of possibilities, though, and I thank those authors for the information they gave me. Likewise I discovered new things in books like Live Better South of the Border by "Mexico" Mike Nelson, which I passed on to a fellow passenger on Autobus Americanos who wanted to know about AA locations in Mexico. "Mexico" Mike also wrote those useful Sanborn's Travelog series of guidebooks for drivers to Mexico (1986-1998). I also like the very informative and very useful book curiously titled Mexico: The Owner's Manual, a new edition just released by International Living.
But still new ones arrive!
The Best How-To Book on Moving to Mexico is written by three people who have made the move, and two of them are familiar to regular readers of MexConnect. Carol Schmidt and Norma Hair met each other in 1979 "when both were on the state board of directors of California NOW." They lived in RV parks in Arizona and Washington before moving to San Miguel de Allende in May of 2002. Carol connected with www.mexconnect.com, writing columns and moderating their San Miguel de Allende forum. She accumulated, with Norma's help, enough columns and features to put together a book , San Miguel: Retiring to Mexico on Social Security (Salsa Verde Press, 2006), and she has still more books about Mexico in mind: San Miguel de Allende on a Budget; Falling in Love with Mexico by Bus; and Ten Years in Love with San Miguel. The third editor, Rollins "Rolly" Brook, "after visiting all 50 states in the USA and many countries around the world… found himself most at home in Mexico." In 2000 Rolly retired to Lerdo, Durango, and from there, in addition to moderating a MexConnect forum, he documents his new life in Mexico on his own website.
Clearly this is no trio on extended vacation. They actually live here… permanently.
These authors are bold and direct. The opening chapter is titled "Why We Say This is the Best How-To Book on Moving to Mexico." "We deliberately chose the title… because this book is exactly that. You'll find the rules and the practical advice you expect, plus our personal experiences of what it is like to fall in love with Mexico and make the big move to a happier, healthier, less stress-filled, more fulfilling, fun and creative way of life. Welcome to your journey. And hang loose."
The book is divided into four parts.
Part One: Your Deal-Breaker Questions: Costs, Health Care, Personal Safety
This covers topics like, "Is it really a quarter to a third cheaper to live in Mexico?" "Health care, most likely your main worry." "Crime and Personal Safety."
Each chapter goes into detail. For example, "Heath care…" covers
Cost of doctors
ERs and hospital care
Differences in health care in Mexico
Medical tourism
Medicare and Canadian health care programs
Keeping Medicare Part B
Varying quality of care
The two government hospital systems and private hospitals
Applying for IMSS
Private insurance plans
Medical evacuation companies
Different attitudes toward prescription drugs, hospices, living wills, medical power of attorneys, prepaid funeral plans
Living in Mexico with disabilities and with HIV/AIDS
Allergies, amoebas and food poisoning
Dentistry
Visioncare
Alternative and holistic medicine
Rolly's experience in a Hospital Angeles ER
Carol's detailed report on having two knee replacement surgeries in Querétaro.
Part Two: Where in Mexico Is Best For You?
Carol and Norma chose the historic colonial city of San Miguel with its year-round temperate climate, "many liberal and artsy expats to help them settle in," a central location, plenty of activities and organizations, and many "free or low-cost happenings…."
Rolly chose to be the only expat in a tiny town in northern Mexico. This chapter gives a "sweeping overview of some of the favorite expat areas in the 31 states of Mexico". They tell us that:
"Ajijíc [sic] has an outstanding welcome center for newcomers, the Lake Chapala Society. LCS is a former garden home that is now the site of a 30,000-volume lending library, classrooms to learn Spanish or take computer classes, an outdoor café, information centers about the community and about government programs such as immigration and health care, patios for card games and conversation, and rotating medical services such as hearing and vision specialists."
What about largely undiscovered towns and cities?
"…Colima, about an hour east of Manzanillo in the mountains, giving it a mild year-round climate. It has been voted the city with the best quality of life in the country. Real estate is reasonable, music and other cultural experiences are of high quality, the lifestyle is relaxed and intellectual. Expect Colima to draw more and more expats in the future."
Part Three: Making the Move
When you've made the decision to move to Mexico, here is the nitty-gritty, how to do it. Which Visa do you need? FMT? FM3? FM2? Dual citizen? What about taking pets across the border? What is a menaje de casa? Should I just have a garage sale and buy new in Mexico? What items are prohibited? What about a car? ("Only one vehicle is allowed in your name.") Can I get a car-importation permit on-line? Liability insurance. Getting Mexican car plates. Should I just buy a Mexican-plated car when I arrive? Do I really need a car?
Part Four: Living in Mexico
Once you've arrived and begin to settle in, you need to know how driving is different in Mexico. And you need to know how to find inexpensive accommodations, and how to rent and to buy. You'll also need to know how to hire a housekeeper, a gardener, or other employees and — should you wish to work — how to get a work permit, how to start a business (teaching English is a popular business for expats).
You'll want to fit in, and this means learning Spanish, and how to use Mexican banks and ATMs, and how to get phone and internet service, and perhaps even cable and satellite TV. How to make phone calls economically both inside and outside of Mexico. And what should you do about stray animals? About the poverty around you? About politics? And what is the INAPAM card (discount card for senior citizens). And what about all those holidays and celebrations? And how to you type Spanish accents on your English language keyboard? (Alt160 for á for example).
Appendix
The Appendix includes such things as "Grocery Price Comparison between Dallas, TX, and San Miguel de Allende," March 2009. At Kroger (in Dallas), a head of iceberg lettuce was $1.59; at Mega (in San Miguel) $.53, one third the price. Fresh green beans in Dallas, $1.99, in San Miguel, $0.61. Orowheat multigrain bread, in Dallas $3.99, in San Miguel $2.47. Total Cereal in Dallas $3.48, in San Miguel $1.98.
Mexican Consulates and Embassies are listed, with complete addresses, telephone numbers and email addresses. There is also a list of Mexico's World Heritage Sites (like the Monarch Butterfly Biosphere Reserve, as well as the town of San Miguel). And there is a list of Pueblos Mágicos, cities that have been declared Magical Cities by the Mexico Secretariat of Tourism.
You also have information on the Vehicle Pollution Control Policy Hoy No Circula, which tells you what days you are allowed to drive in Mexico City (it depends on the last digit of your vehicle license plate).
And finally, Rolly provides in both English and Spanish a sample menaje de casa, the list of household goods you are required to have (five copies in Spanish) when you move your possessions across the border.
Well, hats off to Carol, Norma, and Rolly! The Best How-To Book on Moving to Mexico just might be that best book. I think you better have it handy in the car when you head to Mexico.
Published or Updated on: April 24, 2010